iPhone 8 Durable? You Might Not Want To Drop Your Glass Device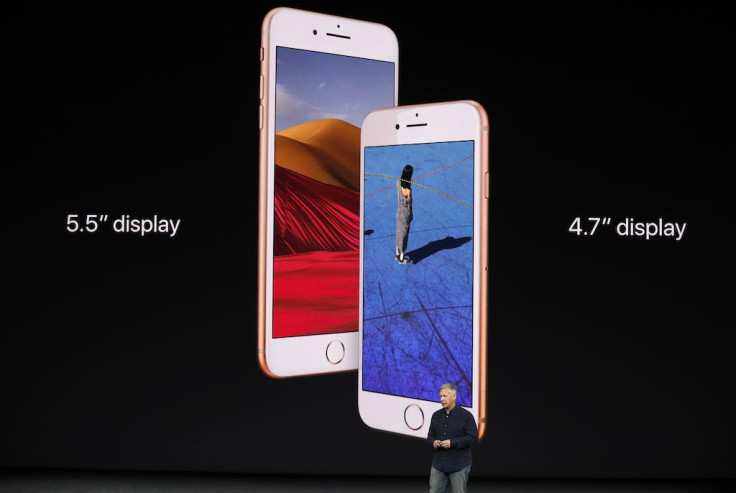 The iPhone 8 and iPhone 8 Plus are now in stores, and recent durability tests show users might want to be careful with the devices.
The smartphones were revealed alongside the iPhone X last week by Apple Senior VP Phil Schiller, who announced all three iPhones will include a glass back and front. Schiller said the glass on the devices is the "most durable glass on a smartphone ever."
The material was changed from aluminum to glass this year to make way for the iPhone lineup's wireless charging capabilities. The glass back and front was quickly criticized by people on social media, saying the smartphones' prices were too much for them to have glass backs and fronts.
Now that the iPhone 8 and 8 Plus are out, people have been testing the devices' durability -- and they didn't so well.
YouTuber PhoneBuff tested the iPhone 8 against Samsung's Galaxy Note 8. The smartphones underwent numerous drops, including front face, on its back and corners. Both devices were still functional after the first back drop test, however the glass on the back shattered for the Note 8 and iPhone 8. The glass on the devices broke for other series of tests as well. PhoneBuff then tested the devices in a bonus round that included 10 drops. While both devices suffered major damage, the iPhone 8 didn't do as well compared to the Note 8, since it wasn't functional anymore. The iPhone 8 also lost a chunk of glass on the back off the device.
Below is the video with the series of tests by PhoneBuff:
MobileReviewsEh also tested out the iPhone 8's durability. The first drop of the iPhone 8 didn't crack the phone, however, the second drop did create a rupture inside the glass though it didn't actually break.
The YouTuber then conducted a series of scratch tests with a sharp knife, keys, coins and his dog's paws. Those objects did not scratch the device, but the file from his leatherman and a rock did damage to the smartphone.
The YouTuber dropped the iPhone 8 on its back from a 6-foot height on a pile of rocks and saw no damage. He then did a 3.5-feet drop on the sidewalk. That cracked the iPhone's back, with part of it sticking out.
Waterproof tests on the iPhone 8 were also uploaded to YouTube. YouTuber Jonathan Morrison left the iPhone 8 and Galaxy S8 in a water fountain for an hour. Both smartphones worked perfectly after the test.
Apple is selling the iPhone 8 64GB and 256GB capacity models starting at $699, while the iPhone 8 Plus versions start at $799. The iPhone X will be offered in 64GB and 256GB models starting at $999. Pre-orders for the smartphone begin on Oct. 27 and start shipping on Nov. 3
© Copyright IBTimes 2023. All rights reserved.