IPO Update: Etsy Inc (ETSY), Party City Holdco Inc (PRTY), Virtu Financial Inc (VIRT)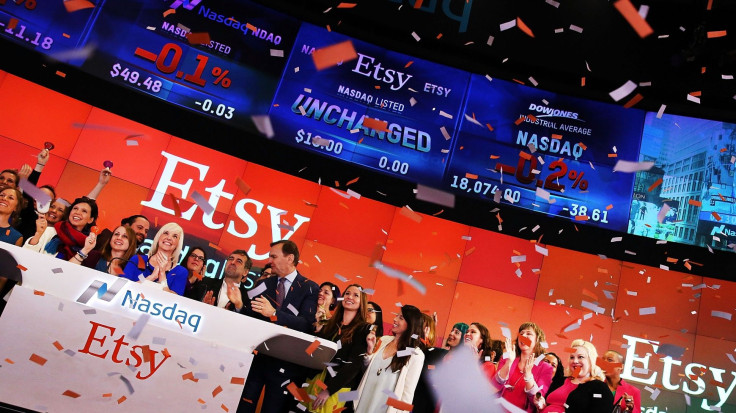 Etsy Inc. (NASDAQ:ETSY) soared more than 120 percent in its first hours of trading Thursday, as the Brooklyn, New York, e-commerce platform for handmade and vintage goods made its stock market debut. Its initial public offering valued the company at nearly $4 billion. Shares of the company's stock opened for trading at $31 and rose as high as $35.67, more than doubling its initial pricing of $16 per share Wednesday evening.
Etsy is offering 16.7 million shares and could raise as much as $267 million, more than double the preliminary estimate of $100 million the company stated in a March S-1 filing with the Securities and Exchange Commission. As of Dec. 31, the site had roughly 20 million active buyers and 1.4 million active sellers. Etsy says it hopes to use money generated from its IPO to grow the business.
U.S. retailer Party City Holdco Inc. and high-frequency trading firm Virtu Financial Inc. are also making their Wall Street debuts Thursday, setting the stage for the biggest day for IPOs this year.
Last year was the biggest for U.S. IPOs since 2000. Between Jan. 1 and Dec. 16, 2014, there were 288 IPOs, with a dollar volume totaling $94.8 billion, Dealogic reported. That compares with 432 IPOs and $104.6 billion in 2000. So far in 2015, only 41 U.S.-listed IPOs have raised $6.7 billion, down sharply from the 94 deals that brought in $20 billion during the same period a year ago, Dealogic said.
Under normal circumstances, the first quarter is the slowest period for IPOs, but last year was an anomaly, said Jackie Kelley, global and Americas IPO leader at Ernst & Young. "We were having an amazing year in 2014, and the whole ecosystem with the banks, lawyers and accountants supporting these transactions was operating like a really well-oiled machine all year," Kelley said.
However, the early 2015 IPO pipeline got pushed out at the end of last year instead, due to market volatility, Kelley explained, but the pipeline is rebuilding this year. "The Etsys and other recognized names that have IPOs over $100 million are really going to be critical at getting the momentum going in the IPO markets this year," Kelley said.
Party City Shares Leap 20%
Shares of Party City Holdco Inc. (NYSE:PRTY) rallied more than 20 percent Thursday to $20.50 after it priced its IPO at $17, the high end of its previous range of $15 to $17 per share. The largest U.S. party supplies retailer made its stock market debut with an initial public offering of 21.9 million shares that raised nearly $372 million, valuing the company at more than $2 billion.
Party City reported net income of $56.1 million on revenue of $2.27 billion for 2014, and carries a debt load of more than $2 billion, as of Dec. 31.
As part of the company's growth strategy, it plans to open more than 350 additional Party City stores in the U.S. and Canada, at a rate of about 30 per year, its S-1 filing with the SEC said.
Virtu Financial Jumps 18%
Virtu Financial Inc. (NASDAQ:VIRT), a high-frequency electronic trading firm, began trading on the Nasdaq on Thursday, and raised $314 million by offering 16.5 million shares at $23, jumping more than 18 percent after pricing shares at $19. The deal values Virtu at $2.6 billion.
The company is one of the world's largest high-frequency trading companies. Virtu is a market maker that offers to buy and sell securities across a broad range of asset classes, including equities, foreign exchange, commodities, options and fixed income on more than 200 exchanges around the world.
The underwriters for the deal include Goldman Sachs, JPMorgan, Sandler O'Neill, BMO Capital Markets, Citi, Credit Suisse, Evercore Partners and UBS Investment Bank.
© Copyright IBTimes 2023. All rights reserved.
FOLLOW MORE IBT NEWS ON THE BELOW CHANNELS