Iran Nuclear Deal: Thousands In New York Protest Controversial Accord; Call On Congressional Members To Vote 'No'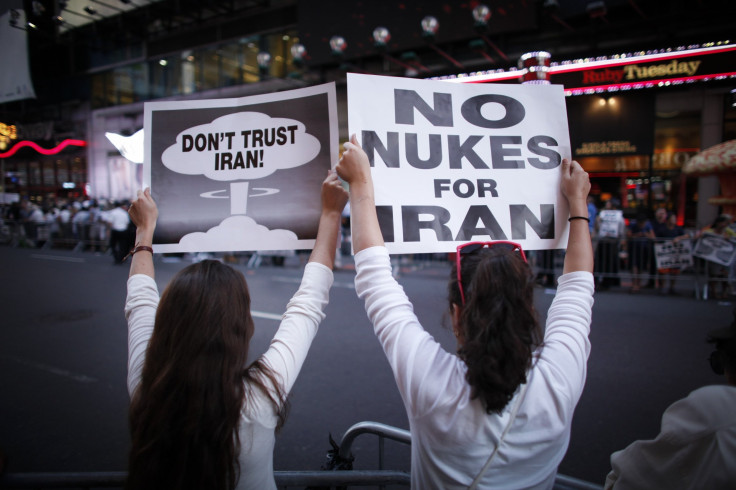 Protesters gathered outside the New York City offices of U.S. Sen. Kirsten Gillibrand, D-N.Y., on Tuesday, calling on the lawmaker to retract her support for the controversial nuclear deal reached in July between Iran and a group of global powers. Speakers, including U.S. Sen. Lindsey Graham, R-S.C., former U.S. Sen. Joe Lieberman of Connecticut and former CIA Director James Woolsey, denounced the deal, which they said was dangerous and promised to embolden Iran.
"Obama says you're crazy if you vote no," Graham said. "Let me tell you: You're crazy if you vote yes."
Lieberman called the deal "the worst agreement that's been negotiated diplomatically in the United States of America."
The rally is the second in New York City in recent months held by the group calling itself Stop Iran Rally Coalition. Organizers estimated the protest Tuesday attracted several thousand, a disappointing crowd compared to some 12,000 that turned out for the previous rally in July.
The protest rally was supported by Stand With Us, the Zionist Organization of America and about 70 more pro-Israel groups, along with several right-wing Christian organizations. Also present were veterans of the American army who served in Iraq and victims of terrorist attacks, primarily in Israel, who held Iran accountable for violence around the world.
"It's not good for America, and it's not good for Israel," said Avi Haar, a Long Island resident. "We're going to try our best until the very end," he said, accepting that the agreement was likely to pass.
Demonstrators expressed support for Israeli Prime Minister Benjamin Netanyahu, who has become the accord's most vocal international critic. Speakers cited, as reasons to reject the nuclear accord, the Iranian regime's hostility to Israel, its support for proxy groups abroad and its poor domestic human rights record.
Present at the rally were rainbow gay pride flags that a rally organizer said was meant to counter Iran's persecution of homosexuals. "We are people of 'live and let live'; we are not barbarians," one speaker told the crowd.
Across the street were several dozen ultra-Orthodox, anti-Zionist protesters, some of whom held Iranian flags in support of the deal.
Gillibrand's Senate colleague, U.S. Sen. Chuck Schumer, D-N.Y., has said he will vote against the agreement, while Gillibrand has voiced support for it, saying she saw no "viable alternative" to preventing Iran from building a nuclear weapon. Rally participants called on Gillibrand to change her stand when Congress votes on the deal this month, and challenged Schumer to take a lead in the fight against it.
"I'm a constituent of senators Schumer and Gillibrand, and I think it's important to tell them we oppose this deal," said David Aaronson, 19, who attended the rally with his father. He said Iran could be compared to Germany 70 years ago because they, too, "hated Jews."
Congress is scheduled to vote on the agreement Sept. 16. If approved, Iran will commit itself to ending its nuclear program, and in exchange, international sanctions that have crippled the country's economy will be lifted. President Barack Obama is hoping to muster at least the one-third support in Congress necessary to wield a presidential veto that would block a potential congressional rejection of the agreement. Obama may have the votes he needs, the New York Times reported.
Republicans in Congress and a number of high-profile Democratic politicians have come out bitterly opposed to the nuclear deal, which was negotiated with the United States, Britain, France, China, Russia, Germany and the European Union.
Despite the skeptics, Obama and Secretary of State John Kerry, who negotiated the agreement, have repeatedly insisted the deal is based on an unprecedented level of inspections at Iran's nuclear facilities -- not trust. Obama has billed the accord "the most consequential foreign policy debate" since the vote for war in Iraq in 2003.
© Copyright IBTimes 2022. All rights reserved.
FOLLOW MORE IBT NEWS ON THE BELOW CHANNELS