ISIS Beheads Haruna Yukawa: Why The Japanese Hostages Were In Syria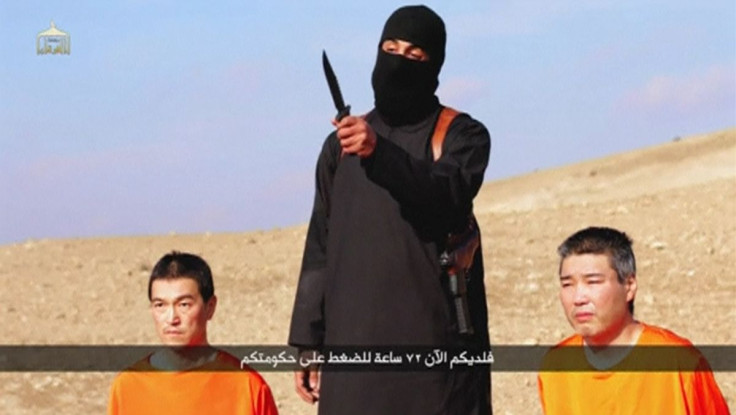 One Japanese hostage of the Islamic State group, Haruna Yukawa, apparently was killed in a graphic beheading video, while the other Japanese hostage of the Islamist militant group, Kenji Goto, was shown relaying a new demand made by his captors, according to a tweet posted Saturday by the previously reliable SITE Intel Group, based in Bethesda, Maryland:
Yukawa and Goto were captured in Syria after returning to the war-torn nation despite being keenly aware of its dangers. For many in Japan, the hostage crisis that unfolded this week before the release of the beheading video raised questions about what the two men were doing in Syria in the first place.
Yukawa claimed to be a private military contractor, and Goto was a respected war correspondent. Their capture reflect a tale centered on Yukawa's chase of his dreams and Goto's dedication to Yukawa as a friend.
Born Masayuki Yukawa in 1973, Yukawa grew up near Tokyo. During the past decade, Yukawa lost his business and house to bankruptcy -- and his wife to lung cancer. He was forced to live in a public park for almost a month, according to his father and Yukawa's blog, Reuters reported.
At the suggestion of a fortune teller, Yukawa decided to change his name to the feminine-sounding Haruna, and at one point attempted suicide by cutting off his genitals. "I thought if I failed, I would live as a woman and leave the rest to destiny," Yukawa wrote on his blog. He was saved by his wife before her death when she rushed him to a hospital.
Yukawa then became fascinated with the idea of a becoming a military contractor, setting up the Private Military Co. He persuaded Nobuo Kimoto, the leader of a local nationalist group, to become an adviser to his company. "His idea sounded interesting at the beginning, but he had no money or experience," Kimoto said, according to Japan Times. Yukawa dreamed of providing security to Japanese companies in conflict areas such as the coast of Somalia. Investigations into the company found the firm existed in name only.
Yukawa met Goto in northern Syria last April when the former was captured by the anti-government militant group Free Syrian Army. Born in 1978, Goto was a war correspondent with a reputation as a reliable reporter for Japanese broadcasters. "He understood what he had to do, and he was cautious," Naomi Toyoda, who reported with Goto from Jordan in the 1990s, told Reuters. Goto launched a video-news company in 1996 called Independent Press, mainly covering conflicts, poverty, refugees and children in war zones.
Goto, who happened to be in Syria at the time of Yukawa's abduction, was brought in as an interpreter to interrogate the would-be military contractor, who spoke limited English. Goto was able to secure Yukawa's release from the militant group.
Yukawa was thrilled at meeting Goto and posted pictures of themselves together on his Facebook page. They then both left Syria, but Yukawa later returned there on his own. He was believed to have been captured again sometime after July when the Islamic State group released a YouTube video showing Yukawa lying on the ground, bleeding. In the video, Yukawa said he was not a soldier and that he was a "half-doctor."
"I need to go there at least once and see my fixers and ask them what the current situation is. I need to talk to them face to face. I think that's necessary," Goto said at the time, according to Reuters, referring to contact people responsible for setting up meetings. Goto said Yukawa was "hapless and didn't know what he was doing."
Goto returned to Syria in October, saying he wanted to go to Raqqa, an Islamic State group hub, to film U.S. airstrikes in the area, said Toshi Maeda, a freelance journalist and Goto's friend, according to AP. Goto said nothing of looking for Yukawa at the time. "Whatever happens, this is my responsibility," Goto said in a video recorded shortly before he set out for Raqqa.
The capture of Yukawa and Goto was revealed in a video released last week by the militant group formerly known as either ISIL or ISIS, which demanded a ransom of $200 million in exchange for their lives. The amount matches what Japanese Prime Minister Shinzo Abe had promised in nonmilitary aid to Middle East countries to fight terrorism in the region. The Islamic State group gave Japan 72 hours to pay up or else they would be executed. The militants previously released beheading videos featuring at least five other hostages from nations fighting them. Those hostages were American and British nationals.
The apparent death of Yukawa marked the first time a Japanese hostage had been used in an Islamic State group video. Some wondered whether the hostage crisis was intended to punish Abe for his increasing involvement in the Middle East.
Abe vowed to save the two hostages, but he refused to give in to the terrorists' demands for ransom. He sought help this week from Middle East leaders and tried contacting the Islamic State group via third parties, thus far to no avail.
FOR FREE to continue reading
✔️ Unlock the full content of International Business Times UK for free
offer available for a limited time only
✔️ Easily manage your Newsletters subscriptions and save your favourite articles
✔️ No payment method required
Already have an account?
Log in
© Copyright IBTimes 2023. All rights reserved.