ISIS-Controlled Areas Near Turkish Border Targeted In Second Day Of Airstrikes In Syria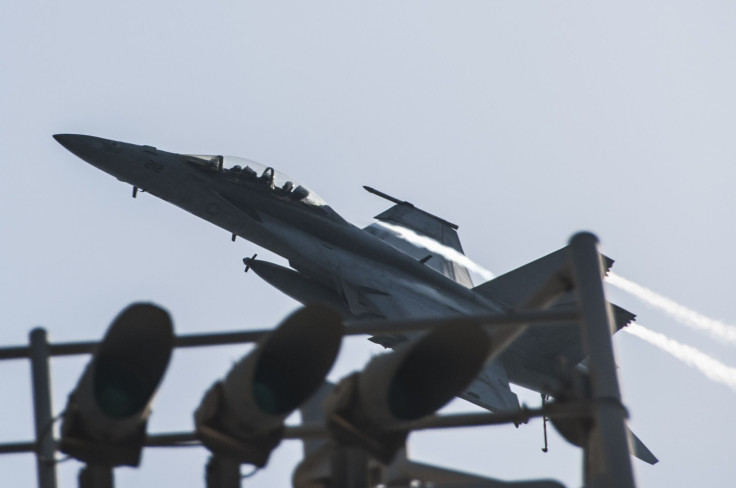 The United States-led coalition's airstrikes on the Islamic State group's strongholds in Syria continued for a second day with 13 airstrikes being carried out Wednesday along the Iraqi border, The Daily Star reported, citing officials from the Syrian Observatory for Human Rights.
The airstrikes reportedly targeted the Islamic State group-controlled border town of Albu Kamal, which is on a strategic border crossing between Syria and Iraq. The region was the focus of heavy bombardment by the U.S.-led forces even on Tuesday, with more than 20 airstrikes reportedly hitting the area. Overnight airstrikes also targeted Syrian territory further north, along the Turkish border, according to media reports.
Rami Abdulrahman, who runs the Syrian Observatory for Human Rights, told Reuters that military aircraft, coming from the direction of Turkey, had struck a number of targets nearly 20 miles west of the Kurdish-populated city of Kobane, also known as Ayn al-Arab.
Turkey, which has so far refused to participate directly in the global fight against the Islamic State group, denied carrying out the airstrikes, stating that neither its airspace, nor its air bases were used for the attack, according to an Al Jazeera report.
And, as of now, there has been no confirmation from the Pentagon that the attacks near Kobane were carried out by the U.S.-led coalition.
At least 50 al Qaeda militants, 70 members of the Islamic State group -- formerly known as ISIS -- and eight civilians have been killed so far in the airstrikes in Syria, according to the Syrian Observatory for Human Rights.
© Copyright IBTimes 2023. All rights reserved.