ISIS Hostages: As Terror Group Grows, It May Have At Least A Dozen More Captives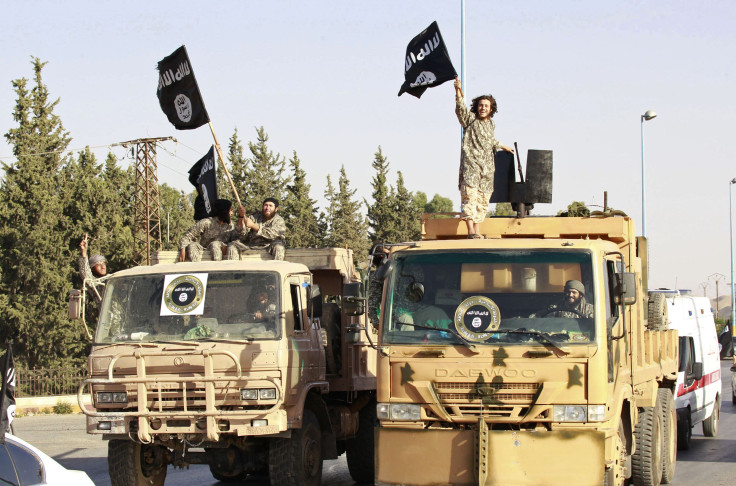 Islamic State militants could have at least a dozen prisoners who have yet to appear in the group's propaganda videos. But ISIS leader Abu Bakr al-Baghdadi might be the only one who knows the exact number as humanitarian organizations and governments fear releasing hostage information could put them in even greater danger. The U.S. State Department said the militants still have a "small number of Americans" but will not say how many for "safety reasons."
The fragmented situation on the ground makes it difficult to know which missing people in Syria are actually Islamic State hostages and which may be held by other groups, or even by the Assad government. Recently threatened U.S. aid worker Peter Kassig reportedly was captured by the Islamic State directly, but other hostages were used as currency among factions in the Syrian civil war, or given as tokens of loyalty by brigades wishing to pledge allegiance to the militant group formerly known as the Islamic State of Iraq and Syria.
There are five foreign journalists still missing in Syria, according to Reporters Without Borders: U.S. journalist Austin Tice, a Lebanese national, a Mauritanian citizen, a Jordanian and British journalist John Cantlie, who recently appeared in ISIS propaganda videos. Four Western journalists reportedly were taken captive Aug. 20 near Idlib in northern Syria: two Italians, one Dane and a Japanese national. The International Committee of the Red Cross confirmed three of its staffers are missing in Syria, but cannot say who is holding them. ISIS also asked for a ransom for a 26-year-old American aid worker, but her identity has not been released for safety reasons. It is still unknown if she is one of the three missing ICRC workers.
ISIS usually arrests entire groups and then chooses hostages to transfer to the group's de-facto headquarters in Raqqa, where the beheading videos are reportedly filmed. The three missing ICRC workers were originally taken in Idlib with four others who were released the following day, ICRC spokesman Ewan Watson said. U.S. journalist Steven Sotloff was arrested with three other people, all of whom were released, CNN reported. Sotloff was beheaded in ISIS' second video.
"I can't give you any information on identities," Watson said when asked why certain ICRC members were released. "It's difficult to see a rationale here. It's not entirely clear."
In the latest video, purporting to show the beheading of British aid worker Alan Henning, ISIS also threatens to do the same to American Peter Kassig. ISIS detained Kassig in October 2013 when an ambulance team with which he was working was stopped on the road from Turkey to Deir Ezzor, having to pass through Raqqa, a spokesman for an activist and citizen journalist group in Deir Ezzor said. After ISIS released the video threatening Kassig, the spokesman told the International Business Times that he worked with Kassig and said he "saw our friend Peter" in the video.
"Our team knew him very well. We called him Beter al-Deir [Peter from Deir], as if he was one of us from Deir Ezzor. We have lost Peter months ago. First we didn't know exactly where he is, but then we heard he was arrested by ISIS. He was arrested with a doctor and the ambulance team and some other people," the spokesman said. "They were arrested for nearly a week and then released without Peter." Those who were released were Syrian nationals, he added. IBTimes could not independently confirm his relationship with Kassig, but received from the spokesman several pictures of Kassig working in Deir Ezzor.
At least seven known or possible ISIS hostages were taken in Idlib. Of those, U.S. journalist James Foley, Cantlie and ISIS' latest victim, Alan Henning, were reportedly transferred to Raqqa. In the war's early years, Idlib was largely controlled by the Free Syrian Army, fighting regime forces, which raises the question of how exactly ISIS got hold of hostages who were thought to have been kidnapped by rival brigades or even by the Syrian regime. Western hostages are highly valuable to ISIS; it is possible ISIS traded regime prisoners for Westerners held by the government, or even that rival brigades in need of funds sold their Western hostages to ISIS. A request for comment from the State Department about prisoner exchange had not been answered at the time of publication.
"Foreign nationals, including journalists, staff of international organizations and religious figures, are among a wide range of individuals targeted by [ISIS] for abduction and arbitrary detention," a report from Amnesty International said.
Sotloff's family members say they believe he was sold from a rebel brigade to ISIS for $25,000 to $50,000.
Originally, Foley was also thought to be held by regime forces. Syrian sources who have worked previously to locate and rescue kidnapped journalists in Syria recently told International Business Times he was kidnapped by the Syrian rebel brigade Jaish al-Mujahedeen, along with Cantlie and Dutch photographer Jeroen Oerlemans in 2012. The group then changed its name to Dawood Brigade, under the leadership of Hassan Aboud, after original leader Mohammad Absi was executed by a rival faction. In early July, Dawood's leader left Idlib and went to Raqqa where the group reportedly offered Foley to ISIS in a show of good faith. Members of the Free Syrian Army reportedly helped Cantlie and Oerlemans escape in 2012, but the videos are a good indication Cantlie is with ISIS.
When U.S. journalist Austin Tice went missing in 2012, the State Department said it believed he was being held by the Assad regime, but after two years of silence, many are left wondering whether Tice was also traded to militants.
"There are a vast array of different intelligence agencies all jockeying for position," a European journalist who had been kidnapped and released told Vanity Fair last year in an article about Tice. "They can use high-profile prisoners as leverage among themselves, as well as for their dealings with the outside world."
As ISIS continues to make financial and territorial gains across Iraq and Syria, it's a possibility that those still missing in Syria could fall into the militant group's hands.
FOR FREE to continue reading
✔️ Unlock the full content of International Business Times UK for free
offer available for a limited time only
✔️ Easily manage your Newsletters subscriptions and save your favourite articles
✔️ No payment method required
Already have an account?
Log in
© Copyright IBTimes 2023. All rights reserved.