ISIS Palmyra Beheadings: Islamic State Militants Execute Government Forces, Decapitating Some, In Ancient Syrian City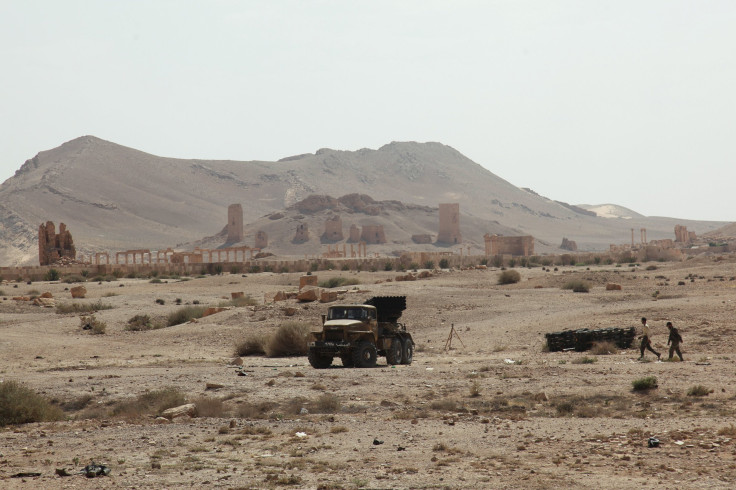 The Islamic State group has beheaded at least four people in Palmyra, the historic city in eastern Syria it gained control over Wednesday, according to images sent to news media. The images showed men wearing civilian clothing.
Some reports listed the executed men as fighters with the Syrian regime, the Independent reported. Other activists in Palmyra said the men were from a Sunni tribe called the Shaitat, which hails from the eastern Syrian province of Deir Ez-Zor and opposes the militant group, the Telegraph reported.
Since Wednesday, the militant group has been expanding its control in the area around Palmyra, a desert oasis classified as a UNESCO World Heritage site for its stunning monuments and ruins that date back 2,000 years. Situated along what was once a key trade route connecting India, Persia and China to the Roman Empire, Tadmor, as the city is called in Arabic, is home to a vast colonnaded street, the Temple of Ba'al and funerary towers several stories high – a fusion of ancient Persian and Greco-Roman styles. A Mamluk castle built in the 13th century stands atop a hill nearby, overlooking the ruins.
So far, the group does not appear to have damaged the ancient temples and other monuments for which the city is renowned. In Iraq, Islamic State militants have previously destroyed artifacts they regard as idolatrous, including statues and reliefs.
An estimated 70,000 residents are said to remain within Palmyra after regime fighters fled, although the government reportedly said it evacuated the city.
"We still don't have accurate figures about how many civilians there are in Palmyra but there are plenty," an activist in Palmyra told the BBC, adding that his relatives wanted to leave but had no way to flee. "People think the West cares more about the civilization than about the people who created or initiated this civilization," he added.
Control of Palmyra is particularly advantageous for the Islamic State group because of the city's location near Syria's gas and oil fields. It was the second major victory in a week for ISIS, which on Sunday gained control of Ramadi, a provincial capital in western Iraq, leading the government there to enlist the help of Shiite militias backed by Iran to regain control of the city and the province.
© Copyright IBTimes 2023. All rights reserved.
FOLLOW MORE IBT NEWS ON THE BELOW CHANNELS