ISIS Takes Over Two Towns On Mount Sinjar, Yazidis Plead For US Coalition To Save Them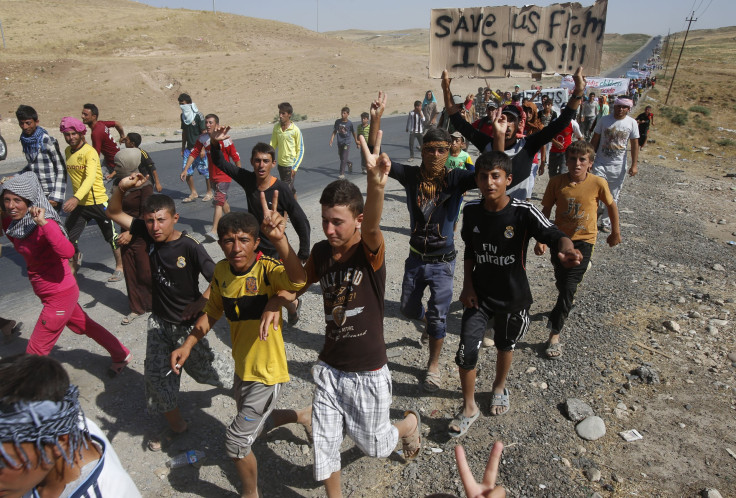 The Islamic State group has taken over two towns on Sinjar Mountain Monday, indicating that the Sunni militant group is advancing on territory that the U.S. had said that it had secured during its airstrikes on the region back in August. U.S. officials warned months ago that if ISIS militants succeed in advancing this far, the Yazidi population could be at risk of "a potential genocide."
U.S. airstrikes on the area in August seemed to have secured the region. "The situation on the mountain has greatly improved," President Obama said in am Aug. 15 speech. "We broke the ISIL siege of Mount Sinjar. We saved many innocent lives. Because of these efforts, we do not expect an additional operation to help rescue people off the mountain, and it is unlikely that we are going to need to continue humanitarian air drops on the mountain."
But the Washington Post reported Monday that Yazidi volunteers who have been protecting the area for more than two months retreated from villages north of the mountain after the extremists attacked. The volunteers said they had pulled back to a shrine on the mountain but the militants were close by.
It was not immediately clear how many Yazidis were affected by the group's takeover Monday. Some news reports said that as many as 700 families could have been displaced by the ISIS siege. Tens of thousands of Yazidis were forced to flee from the mountain this summer. Since then, many of those who fled have returned home, thinking that the U.S. had pushed back the militant group from the area.
Now ISIS is back in the area, looking to take back the towns it held before the U.S. airstrikes. One of the most vulnerable populations among the Yazidis are women. Earlier this month, ISIS said it had enslaved women and children in several villages on Mount Sinjar. In an article in its online magazine, ISIS claimed that the group gave women to soldiers who fought on the mountain.
© Copyright IBTimes 2023. All rights reserved.