ISIS Rapes, Tortures, Marries Captured Yazidi Women As Young As 13: State Department Report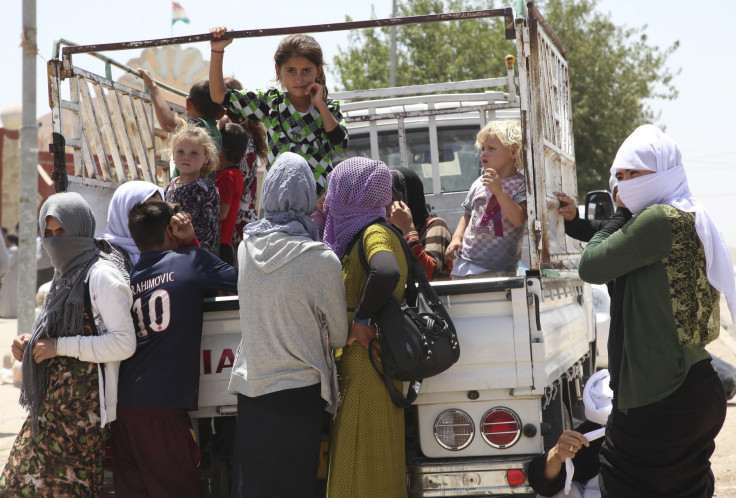 Members of the Islamic State are experienced traffickers of women and children. They rape, torture and marry off the women and children from the towns they've seized. Some of these women even commit suicide to avoid a future that would enlace them with the terrorist group.
The group formerly known as the Islamic State of Iraq and Syria (ISIS) abducted between 1,500 and 4,000 women and children from Iraq's minority Yazidi community, according to a report by the U.S. State Department released Friday. Some of them were taken to Syria and sold to ISIS fighters as "brides." Others were raped and tortured in Iraq and subsequently brought back to their families.
Kurdish news outlet Rudaw interviewed an anonymous Yazidi mother who said all three of her daughters had been raped by Islamic State fighters and then committed suicide. "My daughters were calling on people to kill them, but no one wanted to do that," she told Rudaw. "So they jumped from the mountain and ended their bitter life."
When the Islamic State declared open war on Iraq's Yazidi minority in August, tens of thousands of Yazidi people were forced to flee to Mount Sinjar. Hundreds of men were executed and hundreds more died from poor living conditions on the mountain. But hundreds of Yazidi women were reportedly abducted and taken to ISIS camps in Syria. Their families haven't heard from them since.
One such Yazidi woman spoke to Italian newspaper La Repubblica last week while still in ISIS captivity. She told the news outlet she didn't know where she was but that she was being held in a large house guarded by armed men with 40 other women and girls, some as young as 13 years old.
"They laugh at us because they think they're invincible," she told La Repubblica over the phone. "They think they are supermen. But they are only people without hearts."
The State Department said Friday that they were "discussing how best to marshal resources to address ISIL's targeting of women and girls and how to make sure those who have been abducted and trafficked are returned to their families." But it's unclear what will happen to the many women in ISIS camps in Syria when the U.S. begins their air campaign on the militants' strongholds.
© Copyright IBTimes 2023. All rights reserved.