ISIS Threatens Germany: Islamic State Jihadists Vow Attacks On European Soil For 'Spilling The Blood Of Muslims' In Afghanistan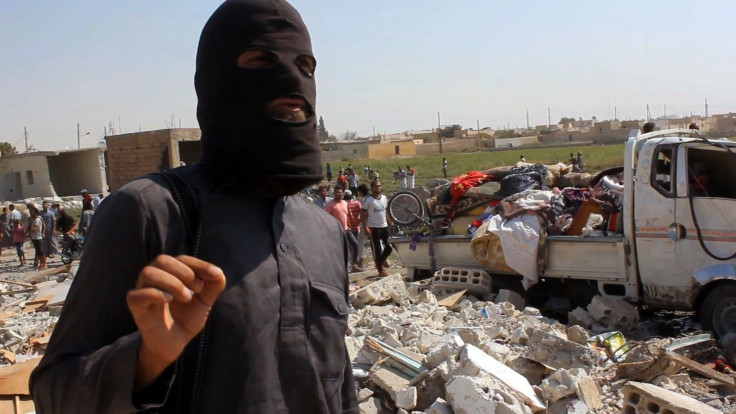 In a recent execution video from the Islamic State group, two European nationals claiming to be members of the militant group threaten Germany with attacks as they use assault rifles to kill two men in Palmyra, Syria. In a rare German-language video message, the militants from the group -- which is also known as ISIS or ISIL -- call on their "brothers and sisters" in Europe to join them in Syria or to carry out attacks in their home countries.
The two militants have been identified as German national Abu Amar al-Almani and Austrian fighter Abu Usama al-Gharib, who reportedly served prison time in both Turkey and Austria for his support of al Qaeda, Vocativ reported. They said their call for lone-wolf attacks was to avenge "spilling the blood of Muslims in Afghanistan," where Germany's government fought alongside a U.S.-led coalition.
Near the end of the video, the militants execute two captives, who they claim were members of Syria's military. The execution is set to a song by Abu Talha al-Almani, a German rapper who formerly went by the name "Deso Dog" and was born Denis Cuspert. He joined the jihadist group in 2012. Al-Amani has appeared in numerous ISIS propaganda videos, including one that featured him holding the severed heads of ISIS opponents, NBC News reported.
Earlier Wednesday morning, a German intelligence official said the country had managed to hinder the flow of fighters into Syria. At least 720 people were believed to be fighting in Syria, the intelligence official told Reuters, though the number could be much higher. This year, significantly fewer German nationals were believed to have traveled to Syria in comparison to 2014.
ISIS draws much of its support in Germany from disaffected people, including homeless youths. The militant group has attracted a number of teenagers from both Europe and the United States. Last month Turkish authorities arrested a 13-year-old German boy who sought to enter Syria through Turkey's southern border.
© Copyright IBTimes 2023. All rights reserved.