ISIS In Turkey: US Orders Diplomats, Military Dependents To Leave Over Security, Islamic State Concerns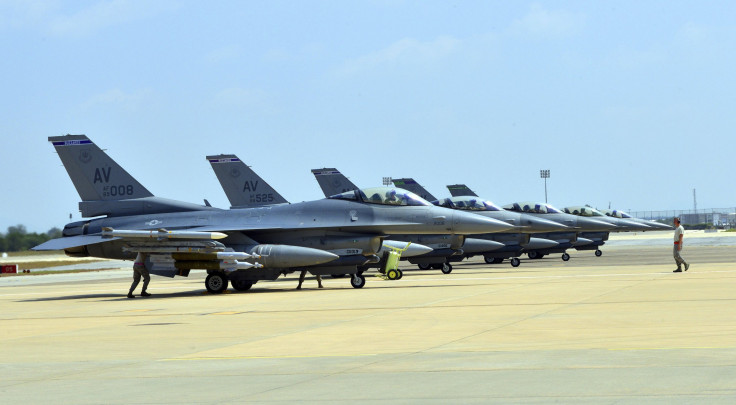 In a sign of growing uncertainty and volatility in southern Turkey, the U.S. State Department and Pentagon Tuesday ordered diplomats and military dependents to exit the region because of fears about security.
"The decision to move our families and civilians was made in consultation with the government of Turkey, our State Department and our secretary of defense," Air Force Gen. Philip M. Breedlove, head of the U.S. European Command, said in a statement on its official blog Tuesday. "We understand this is disruptive to our military families, but we must keep them safe and ensure the combat effectiveness of our forces to support our strong ally Turkey in the fight against terrorism."
The order covers American diplomats and military dependents in the major southern city of Adana, home of the Incirlik Air Base, and the cities of Ismir and Mugla. Militant calls for a lone-wolf attacks on the air base contributed to the decision to issue the order, the Associated Press reported. About 680 people and 287 pets are expected to be relocated. The relocations will begin Wednesday, the U.S. military publication Stars and Stripes reported.
Despite the order, American officials said they were still committed to fighting the Islamic State group, aka either ISIL or ISIS. The order came after Turkey experienced several terrorist attacks in recent months. Ankara, its capital, was hit by an attack this month that killed at least 37 people, while Istanbul, its most populous city, was hit by an attack in January that killed at least 10. ISIS claimed responsibility for both of them.
"It's not possible to prevent these sort of attacks 100 percent of the time. We are considering all kinds of possibilities and taking all kinds of measures," Turkey's Interior Minister Efkan Ala said after the attack in Ankara.
The U.S. State Department updated its Turkey travel warning Tuesday over "increased threats from terrorist groups" throughout the country and specifically told travelers to avoid its southeastern reaches. Besides the Turkish government's battle with ISIS, it is also fighting Kurdish rebels linked to the Kurdistan Workers' Party, aka PKK, in that region.
The announcement about the relocation came as Turkish President Recep Tayyip Erdoğan prepared to travel to Washington for a nuclear security summit. U.S. President Barack Obama is not expected to meet with Erdoğan, a sign of cooling relations between the two countries.
© Copyright IBTimes 2023. All rights reserved.
FOLLOW MORE IBT NEWS ON THE BELOW CHANNELS