Islamic State Yazidi Slaves: Thousands Remain In ISIS Captivity As Iraqi Kurdistan Marks One Year Since Sinjar Massacre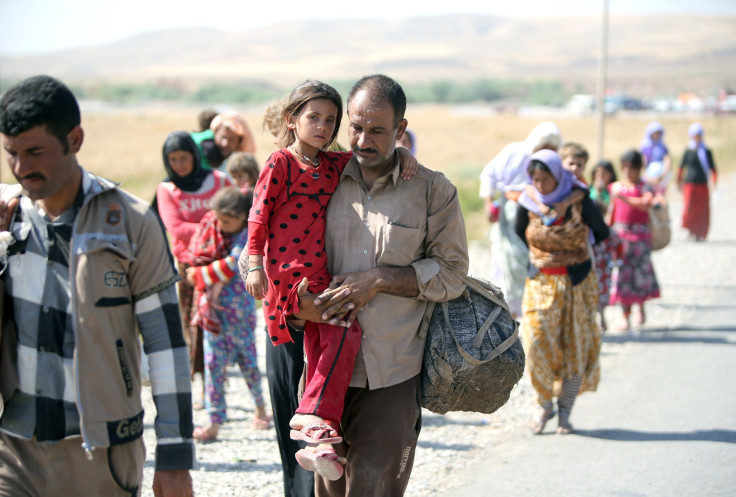 Nearly 3,000 missing people from the minority Yazidi religious sect remain unaccounted for and are believed to be held by the Islamic State group, authorities from Iraq's Kurdistan region said Monday. The revelation came as ceremonies were held throughout the region marking one year since militants from the group, also known as ISIS or ISIL, surrounded Sinjar Mountain and massacred thousands of people, Rudaw, a Kurdish news site, reported.
Sinjar received international attention in August 2014 as tens of thousands of Yazidis were trapped on the mountain and Iraqi Kurdish forces fought to drive away ISIS fighters while airlifting civilians to safety. Eventually the Kurdish forces, backed by United States coalition-led airstrikes, were able to push back ISIS fighters, but not before thousands were summarily executed or killed by ISIS, and thousands of women were kidnapped and sold into slavery.
Yazidis are a Kurdish-speaking minority who practice an ancient religion considered heretical by ISIS extremists. Nouri Shingali, who oversees Yazidi affairs for the semi-autonomous Kurdish government in Iraq, said the government has carefully documented missing Yazidis since the Sinjar attack, adding that while 1,850 have been released by ISIS, about 2,500 are still considered missing, Rudaw reported.
Many of those released have reportedly had their ransoms paid for by Shingali's office, while ISIS has generally released elderly Yazidis without requiring ransom money. Authorities fear up to 1,000 men were killed by the group since last year's attack, as Human Rights Watch reported Tuesday the discovery of mass graves late last year.
ISIS militants, who espouse a puritanical interpretation of Islam, have deemed it permissible to take concubines during war. Thousands of Yazidi women were sold as slaves or given as gifts to fighters, though many have reportedly managed to escape.
Now a year on since ISIS' major assault against Yazidis, Human Rights Watch, based in New York City, has called for greater support for survivors of ISIS captivity and violence.
"A year on from the major crimes that ISIS perpetrated against the [Yazidis], the international community needs to do more to help the survivors. It should press Iraqi authorities to speed up the provision of new identification documents and send experts to help preserve evidence of mass killings and identify remains for the surviving family members," Christoph Wilcke, a researcher with the group, wrote Tuesday.
© Copyright IBTimes 2023. All rights reserved.