Israel Election Results 2015: What Does The Future Hold For Arab Political Power?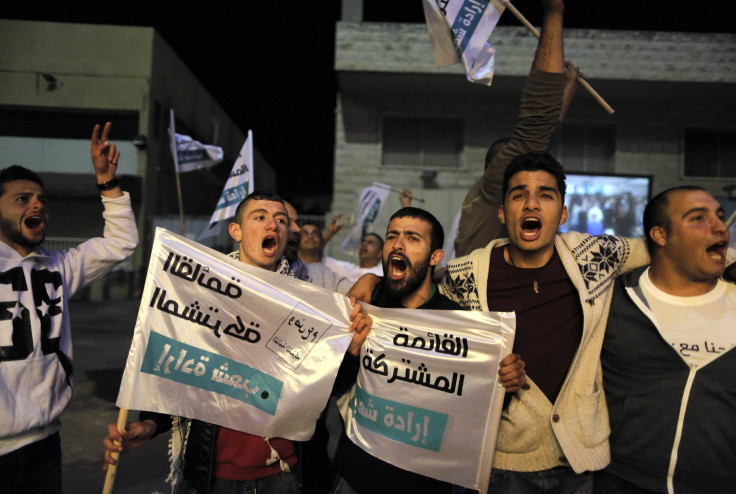 Despite unprecedented gains in Israel's election Tuesday, the historic rise of the Arab Israeli coalition to become the third-largest bloc in the parliament will not necessarily translate into immediate influence. The alliance of four small Arab parties was made for political survival and could fracture when a new government is formed in the coming weeks.
"They're not really unified in any way," Elliot Abrams, a former U.S. official and senior fellow for Middle Eastern studies at the Council on Foreign Relations, said in a conference call with reporters Wednesday. He described the Joint Arab List as "an umbrella that represent a plethora of views … so they hung together to get into the Knesset and will now scatter ideologically. Their political power is not going to be all that great as a bloc except on some national security issues."
The Joint Arab List, comprised of the Hadash, Balad, United Arab List and Ta'al parties, won the third-highest share of seats (14 out of 120) in the Knesset during Israel's hotly contested elections. But Prime Minister Benjamin Netanyahu's Likud party doesn't need the bloc to form a government, and would never ally with it in any case. Likud can form a majority with its natural ideological allies, the nationalist and ultra-Orthodox Jewish parties. This means even if the Arab Israeli coalition stays together it will remain a minority party with limited influence.
A major factor in the Joint Arab List's gains may have been a controversial statement by Netanyahu posted to social media during the voting Tuesday. He said, "The right-wing government is in danger. Arab voters are coming out in droves to the polls. Left-wing organizations are busing them out," according to a translation from Israeli newspaper Haaretz. The remark, which apparently helped drive Netanyahu's supporters to the polls, was condemned by critics as racist, and the White House said it was "deeply concerned" over the prime minister's "divisive rhetoric."
But Netanyahu's statement may have also bolstered the Joint List's appeal among Arab voters, said Robert M. Danin, the Eni Enrico Mattei Senior Fellow for Middle East and Africa Studies at the Council on Foreign Relations. "The question is whether they can hang together, even on economic issues. We're going to find out," Danin said.
Danin said the coalition, which represents parties with views ranging from Communist to Islamist, may have produced a few leaders, notably Ayman Odeh of Hadash, a far-left Arab-Jewish party that advocates equality and draws large support from Arab Israelis. Odeh was born Muslim but identifies as atheist, and Jewish Israelis first got a look at him during debates in the run-up to the election, Danim said.
Netanyahu's blunt appeal, along with his last-minute abandonment of the goal of a two-state solution, may have won him votes, but the rising influence of Arab Israelis may mean politicians won't get away with such statements one day.
"He has vilified his country's Arab citizens; no decent American would tolerate it if a white politician were to speak this way of blacks, or if a Christian were to speak this way of Jews. Netanyahu has become Israel's George Wallace," wrote William Saletan in Slate. A New York Times editorial said Netanyahu "forfeited any claim to representing all Israelis" through his words. He appeared to backtrack, declaring in his victory speech -- after all his supporters had voted -- that he wants security and prosperity for "all citizens of Israel, Jews and non-Jews alike."
Far-right parties have pointed to the higher birth rate among Arab Israelis in comparison to Jews in warning that Arabs threaten Israel's existence as a Jewish state. The Palestinian Central Bureau of Statistics predicts Palestinians in Israel, the West Bank and Gaza will outnumber Jews by next year, according to the Forward, while some projections show Israel (without the occupied territories) becoming an Arab-majority state by 2048. Those trends present a dire threat to Israel's claim to be both democracy and a Jewish state.
Former Prime Minister Ehud Barak described the dilemma in a 2010 speech: "If, and as long as between the Jordan [River] and the [Mediterranean Sea], there is only one political entity, named Israel, it will end up being either non-Jewish or non-democratic. ... If the Palestinians vote in elections, it is a binational state, and if they don't, it is an apartheid state."
There are about 1 million Arab Israelis, or about 20 percent of Israel's population and 15 percent of the country's eligible voters. The coalition of parties representing them, which partly campaigned on combating racism, got about 11 percent of the vote, and 14 Knesset seats out of 120. Because Israeli politics is so fragmented, the roughly 25 parties don't need to court diverse segments of the population. For example, Netanyahu's Likud gained the most Knesset seats with only a quarter of the vote.
Non-Zionist Jews, like American blogger Naomi Dann of Jewish Voice For Peace, have called for Israel to be more inclusive of Arabs. "[W]hile Israel calls itself 'the only democracy in the Middle East,' 4.5 million Palestinians in the West Bank, East Jerusalem and Gaza (over 36% of the people living under Israeli rule) do not have the right to vote for the government that ultimately decides their fate," she wrote.
FOR FREE to continue reading
✔️ Unlock the full content of International Business Times UK for free
offer available for a limited time only
✔️ Easily manage your Newsletters subscriptions and save your favourite articles
✔️ No payment method required
Already have an account? Log in
© Copyright IBTimes 2023. All rights reserved.