Israel-Gaza Cease-Fire Monday Will last For 7 Hours, Allow For Humanitarian Aid To Enter Gaza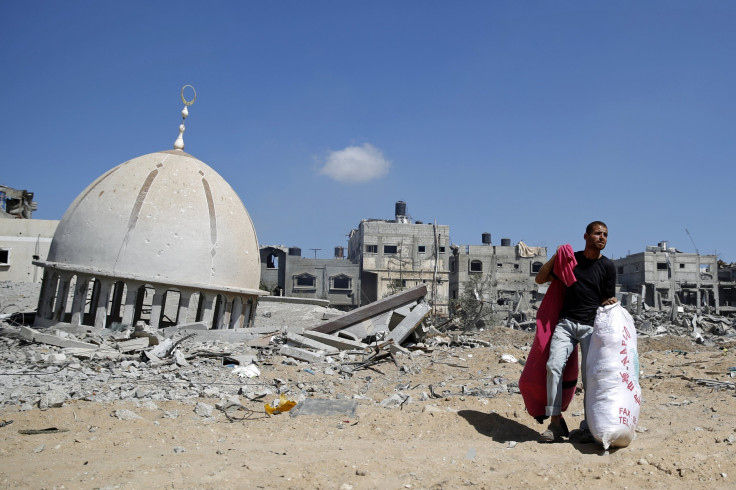 Israeli officials said Sunday the military would stop pounding much of the Gaza Strip from 10 a.m. to 5 p.m., local time, Monday to give displaced Palestinians a chance to return to their homes. Humanitarian aid workers will also be permitted to enter the Gaza Strip for those seven hours, Israel said.
However, the military warned it would respond if Hamas fired on Israel during that time. The cease-fire will not apply to areas near the southern Gaza town of Rafah where Israeli ground forces are still working to destroy tunnels, a Defense Ministry official said in a statement to the Jerusalem Post.
Israeli officials still have yet to send a delegation to Cairo to discuss a permanent cease-fire with Hamas. Delegations from Hamas and Islamic Jihad arrived in Cairo Sunday to participate in the peace talks organized by U.S. and Egyptian officials although Israel has consistently accused the Palestinians of misleading international mediators about the conditions that have fostered the conflict.
"Israel's stance could change within the next few hours," a diplomatic source told the Eyptian newspaper El Youm I-Saba, as quoted by the Jerusalem Post.
Sunday's news a temporary cease-fire agreement had been reached came after a similar agreement was reached on Friday though that deal lasted only two hours, when the Israeli military announced that one of its soldiers was missing and two others had been killed amid fighting in southern Gaza. Frustrated by 3 1/2 weeks of fighting that has killed 1,500 Palestinian civilians and dozens of Israeli soldiers, U.S. President Obama admitted during a White House press conference Friday stopping the fighting "will take some time."
"It's going to be very hard to put a cease-fire back together if the Israelis and the international community can't feel confident Hamas can follow through on a cease-fire commitment," he said.
© Copyright IBTimes 2023. All rights reserved.
FOLLOW MORE IBT NEWS ON THE BELOW CHANNELS