Israel Offers Small Olive Branch to Turkey in Wake of Earthquake
Opinion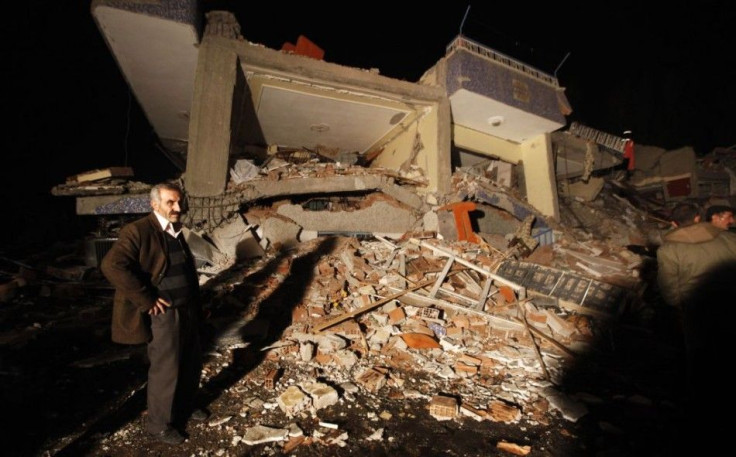 When disagreements arise between long-time allies, it would make sense; and if the alliance was worth anything all in the first place, to mend fences.
Since September, however, that has seemed out of the question for Israel and Turkey. Not sharing common borders, the two have had, perhaps, more important, homologous interests, similar sorts of problems, but those have apparently proved not sufficient for maintaining the diplomatic course they had traversed for decades.
Therefore, the relationship between Israel and Turkey had soured; Turkey's Prime Minister Recep Tayyip Erdogan has, in recent years, warmed to Hamas and indulged in anti-Zionist rhetoric. But still, the two countries had been able to maintain relations, however terse. Things collapsed completely after nine Turks were killed by Israeli commandos during a raid on a flotilla attempting to break Israel's blockade of the Gaza Strip last May.
In order for the partnership to continue, Turkey demanded that Israel apologize -- for something the Jewish state was absolutely unrepentant for -- and pay restitution to the families of the nine victims. When Israel refused, saying that its own soldiers had a right to defend themselves, Turkey expelled the Israeli ambassador and downgraded long-held trade and defense ties.
It appeared the two nations had reached an impasse.
So when eastern Turkey suffered a 7.2 earthquake that demolished hundreds of buildings, leaving thousands homeless, accompanied by a rising death toll -- it is currently at more than 1,500 -- Israel extended an olive branch in the form of swift foreign aid. Turkey unwisely rebuffed their offering, insisting on taking care of its own crises.
Israeli President Shimon Peres told his Turkish counterpart Abdullah Gul that Israel is willing to provide any aid required in Turkey at any time. Reuters reported that Gul replied that Turkey was still assessing the damage and it wanted to handle the disaster on its own.
Israel's government did the right thing by offering aid despite Turkey's atrocious behavior toward the Jewish state in recent years, Jonathan Tobin wrote for Commentary. By repudiating even humanitarian assistance from Israel, Ankara has demonstrated the depth of its malevolence. While the United States should also do what it can to help the Turks, Erdogan has given the Obama administration one more reason to reassess its heretofore-supine stance toward his country. A government that would rather see its people perish than acknowledge assistance from Israel has lost any moral legitimacy.
However true, there are many, the United States included, that would like to see the former allies restore, at base, a cordial relationship.
When the Turkish government on Tuesday retracted its former statement, and accepted Israel's assistance -- to which Israel promptly responded, airlifting supplies to Turkey and promising a shipment of much-needed pre-fabricated homes to be sent Wednesday -- it was considered a step.
A small step, but a step nonetheless.
© Copyright IBTimes 2023. All rights reserved.