Israeli Police Shoot Dead 'Terrorist' Palestinian In East Jerusalem After He Rams Car Into 2 Officers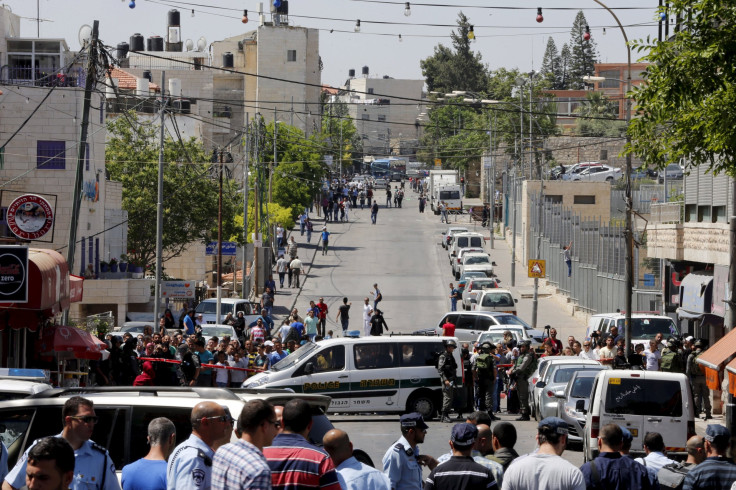 Israeli police shot dead a Palestinian driver Wednesday, who drove his car into a crowd in East Jerusalem neighborhood and injured two police officers. The two were taken to a nearby hospital, while the Israeli police said the driver was a "terrorist."
The incident took place in At-Tur on the Mount of Olives. The driver had veered off the road and struck the two border police officers who were moderately injured, Luba Samri, a police spokeswoman said, according to Agence France-Presse (AFP). Jerusalem Post reported that the male and the female officers injured their legs and hips.
The driver was identified as Amran Abu Dhaim, who later succumbed to his wounds, Ynet News reported, citing Palestinian sources. AFP reported that no further details were immediately available on the driver, besides the fact that he was a resident of East Jerusalem.
"The terrorist drove into them while they were on patrol in A-Tur and both were treated at the scene and then evacuated to Hadassah University Medical Center in Ein Kerem and Shaare Zedic Medical Center," police spokesman Micky Rosenfeld said, according to Jerusalem Post. Rosenfield added that several police units reached the cordoned off location to investigate the incident.
"Police have heightened security to prevent further terrorist attacks," Rosenfield said, according to the Jerusalem Post.
Moshe Edri, the Jerusalem police chief, told Haaretz, that "Border Patrol officers acted as was expected of them, neutralized the terrorist and prevented further harm to innocent people."
Following the incident, protests started at the location while bystanders also hurled stones at the security forces, Ynet News reported. Magen David Adom, Israel's national emergency medical service, said that it had also received a report of two pedestrian women being hit by the car at the location. The women were treated on the spot, the service reportedly said.
"The driver never tried or intended to run anyone over," Mufid Abu Ranam, a resident in At-Tur, said, according to Ynet News, adding: "He tried to overtake a car and his car skidded. And despite that, the police shot him."
Israel had taken over East Jerusalem in 1967 during the Six Day War in a move that was not internationally recognized. The region has since seen a surge in violence as Palestinians seek to establish the capital of their future state in East Jerusalem, AFP reported.
© Copyright IBTimes 2023. All rights reserved.