Jailed Al Jazeera Journalists To Be Given Retrial In Egyptian Court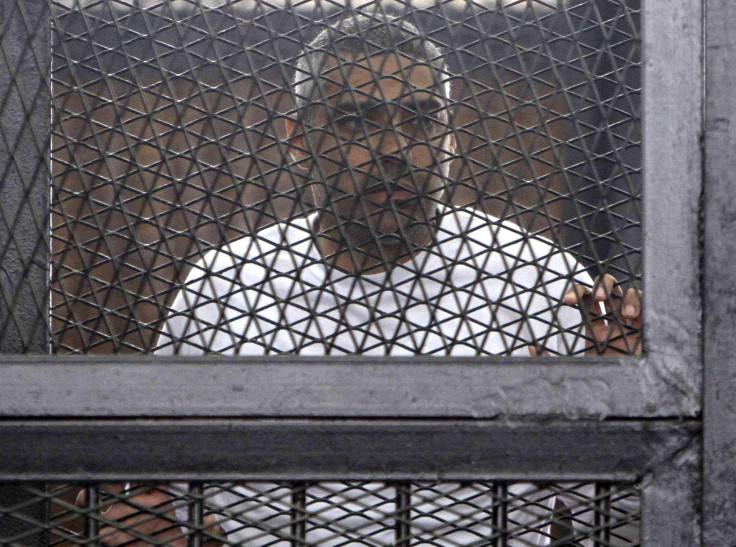 Journalists Mohamed Fahmy and Baher Mohammed may soon be able to join their colleague Peter Greste in leaving Egyptian prison. Court officials in Cairo announced Sunday that Fahmy and Mohammed, who worked for Al Jazeera, will be granted a retrial that is expected to begin Feb. 12, according to the Associated Press.
Fahmy and Mohammed have been in jail for more than a year after being accused of assisting the Muslim Brotherhood, a group now labeled a terrorist organization by the Egyptian government. Fahmy was sentenced to seven years in prison, and Mohammed was sentenced to 10 years.
Along with Greste, the two were arrested in December 2013 and later convicted. Their trial was widely declared a sham, with the White House calling their prison sentences "a blow to democratic progress in Egypt."
Greste was released and deported to his native Australia this month. Calls for the release of Fahmy and Mohammed have escalated since then.
"I know that our freedom, and more importantly the freedom of Egypt's press, will never come without noisy, sustained pressure from individuals, human-rights groups, governments and anyone who understand the fundamental importance of a free press to Egypt's fledgling democracy," Greste said in a statement last year after he was sentenced.
Upon Greste's release, Al Jazeera demanded the release of Fahmy and Mohammed, saying in a statement, "The Egyptian authorities have it in their power to finish this properly today, and that is exactly what they must do."
Egypt's highest court had ordered a retrial of the three journalists, as BBC News reported New Year's Day. But no date was set at that point.
Attorney Amal Clooney Saturday requested an in-person meeting with Egypt's president and foreign minister to lobby for the release of Fahmy, who the lawyer represents. In a letter to Egyptian President Abdel-Fattah el-Sissi, Clooney expressed interest in meeting with the leader "as soon as possible."
"Since Mr. Greste's release, Mr. Fahmy's Egyptian counsel has been informed by Egyptian government officials that his release was to follow, and that it was imminent," Clooney wrote in the letter obtained by Canadian news site CTVNews. "This was to be expected, given that Mr. Fahmy has been the victim of the same injustice as Mr. Greste."
© Copyright IBTimes 2023. All rights reserved.
FOLLOW MORE IBT NEWS ON THE BELOW CHANNELS