Janet Yellen Philadelphia Speech Live Stream: US Fed Chair Could Offer Clues To Next Interest Rate Rise, Ahead Of June FOMC Meeting [VIDEO]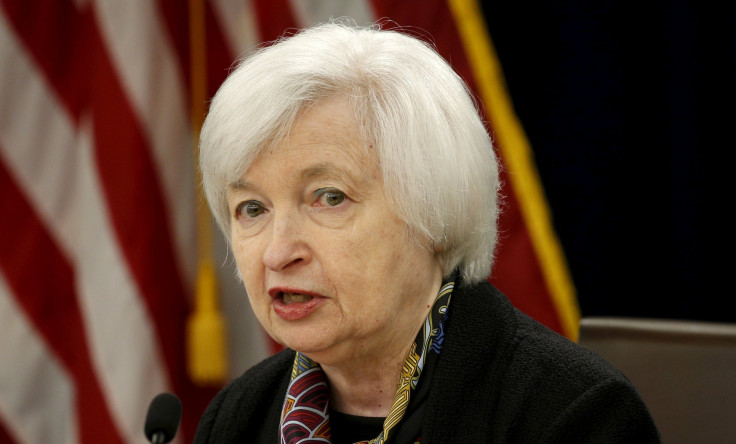 This story was updated at 1:50 p.m. ET.
Federal Reserve Chair Janet Yellen said on Monday that interest rate hikes are likely on the way because "positive economic forces have outweighed the negative" for the United States, though last month's weak jobs report bears watching.
In the last public comment from any U.S. central banker before a policy meeting next week, the Fed chief stressed that surprises could emerge that change her expectations for rates.
The speech was broadly buoyant, with Yellen listing four risks to the U.S. economy -- slower demand and productivity, and inflation and overseas risks -- before downplaying them all.
"If incoming data are consistent with labor market conditions strengthening and inflation making progress toward our 2 percent objective, as I expect, further gradual increases in the federal funds rate are likely to be appropriate and most conducive to meeting and maintaining those objectives," Yellen said in Philadelphia.
She added that since the overall U.S. labor market has been "quite positive" the report of a sharp slowing in employment growth in May "was disappointing."
Original story:
When will the Fed next raise interest rates? Investors will be listening closely for an answer to that question when U.S. Federal Reserve Board Chair Janet Yellen gives a speech Monday at the World Affairs Council of Philadelphia.
Her speech is scheduled to begin at 12:30 p.m. EDT. The subject — spoiler alert — is "Economic Outlook and Monetary Policy."
Yellen's speech comes slightly more than a week before the next Federal Open Market Committee meeting, scheduled for June 14-15, when Federal Reserve officials will decide whether to increase interest rates.
"Markets will be waiting with bated breath to see whether she strikes a more hawkish tone or one of continued cautiousness ahead of the June FOMC meeting," said Bank of America economists, referring to Yellen's Philadelphia speech, the Financial Times reported.
Economists have been split over when they think the Fed might next raise interest rates, although they appear to be delaying their predictions after seeing recent data.
Yellen's speech comes three days after the Labor Department released the most dismal jobs report in nearly six years. The report, published Friday, showed that the U.S. created just 38,000 jobs in May and that, due to a shrinking workforce, the unemployment rate dropped 0.3 percentage points to 4.7 percent. Predictions for jobs created in May had hovered around 160,000.
Of those surveyed by the Wall Street Journal in May, 31 percent said the Fed would raise short-term rates at the June meeting, 21 percent said it would do so during the FOMC July meeting, and a separate 31 percent said it would be September.
That picture has likely changed following the May jobs report. A separate analysis by Bloomberg of movements in federal funds futures showed that expectations for an increase in June or July had dropped precipitously, to 2 percent and 27.5 percent, respectively.
The Federal Reserve last raised interest rates in December, from a range of zero percent to 0.25 percent up to 0.25 percent to half a percentage point. It was the first increase in nearly a decade and was largely viewed as an indication that the U.S. economy was finally recovering from the 2008 recession.
At the time, the Fed indicated that future rate increases would be incremental and deliberate.
"The Committee expects that economic conditions will evolve in a manner that will warrant only gradual increases in the federal funds rate," FOMC officials said in a statement in December. "The actual path of the federal funds rate will depend on the economic outlook as informed by incoming data."
Data from Reuters were used to report this story.
© Copyright IBTimes 2023. All rights reserved.