Japan Economic Outlook 2015: Economists Forecast Q4 GDP To Expand 3.7%, Economic Growth To Increase 0.6% In 2015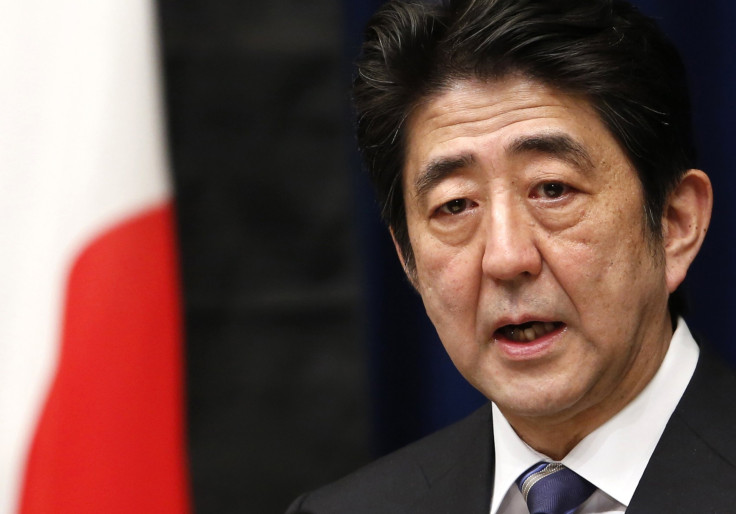 The health of Japan's economy will be revealed Sunday evening when the world's third largest economy posts gross domestic product for last quarter after stunning the global financial markets in November when it unexpectedly fell into recession. Economists forecast Japan's economy expanded more than 3 percent at the end of 2014, largely driven by improvements in exports, less business failures, higher employment and a weakening yen.
What to Watch:
The consumption tax increase that went into effect in April is widely blamed for pushing Japan's economy into recession, weighing on consumer spending, and leading to two consecutive quarters of contraction in the second and third quarters. The recession prompted Japanese Prime Minister Shinzo Abe to delay a second sales tax hike at then end of last year for 18 months.
For the July to September quarter, Japan's GDP contracted at an annualized of 1.9 percent after its economy shrank 7.1 percent during the April to June period.
Economists expect Japan's GDP, the broadest measure of goods and services produced across the economy, expanded at a 3.7 seasonally adjusted annual rate in the fourth quarter from the previous quarter, according to analysts polled by Thomson Reuters.
The Three Prongs of 'Abenomics'
Abe, who was elected for a second term in December 2012, launched his plan to bolster Japan's economy at the start of his first term in 2006-07. He introduced it as a three-pronged approach to combat two decades of deflation and stagnant economic growth with new monetary, fiscal and structural policies, dubbed "Abenomics."
Abe's monetary policy consists of printing additional currency to make Japanese exports more attractive and generate modest inflation. The second prong, fiscal policy, entails new government spending programs to stimulate demand, and the third prong, structural reforms, includes various regulations to make Japanese industries more competitive.
The Bank of Japan surprised the global financial markets in October by expanding its already massive stimulus program with more quantitative easing, in an effort to reenergize the struggling economy as inflation stalled following the tax hike in April. Bank of Japan Governor Haruhiko Kuroda agreed to inject 80 trillion yen, or $724 billion, into the economy through its quantitative easing program, up from 60 to 70 trillion yen.
"The only part of QE [quantitative easing] that has been successful so far is driving inflation to a somewhat more reasonable rate, but that actually has come down a bit in the last two months partly because of the decline in global oil prices. The Bank of Japan is committed to price stability, so as soon as you see Japan's inflation rate drop below 2 percent again, we'll probably see more money stimulus added," said Bart van Ark, chief economist and chief strategy officer at The Conference Board.
After falling into recession, Abe called for a snap election last December in a bid to get the public to back his "Abenomics" recovery plan, and the vote tally gave Abe a renewed mandate when he and his ruling Liberal Democratic Party maintained a supermajority.
Japan's Pros:
Japan's global competitive strength in key technology sectors is still fairly good. "It's helped, of course, by a very weak yen. Investments in exports is probably one of the ones that will probably surprise us on the upside," said van Ark.
The country's economy likely saw improvement last quarter, expectedly driven by improvements in manufacturing orders, less business failures and higher employment, The Conference Board's Leading Economic Index for Japan released Thursday showed. "There's still a fair amount of weakness in business confidence, but we expect that to recover as well fairly soon," van Ark said.
Japan's Cons:
Japan is still facing a long-term challenge of an aging labor force. The third arrow of structural reforms in "Abenomics" is the hardest to accomplish because it takes considerable time to pay off in terms of faster growth. It also often creates pain before an economy can generate gains, says van Ark.
Another problem Japan is facing is weak consumption, or the amount of money spent by households in the economy. "Some people are hearing about low oil prices kicking in to help the consumer, but there's really not a lot of evidence that lower oil prices will be spent immediately. Japan has an aging population and people would typically keep that money in the bank or save it rather than spend it," van Ark said.
Japan's GDP Forecast For 2015:
Economists are forecasting positive growth out of Japan in the first half of 2015. "We're putting our annual GDP growth projection for 2015 at only 0.6 percent, particularly because we still have a weak handoff [following contraction in the second and third quarters], even if the fourth quarter comes through well [on Sunday]," van Ark said.
© Copyright IBTimes 2023. All rights reserved.