Jeb Bush 2016 And The Other Republican Hopefuls: Where Do They Stand?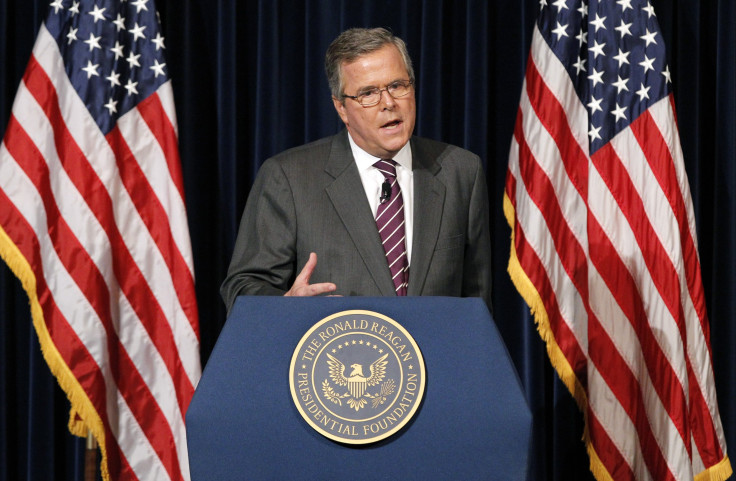 There could be another President Bush in the White House one day, as former Florida Gov. Jeb Bush said he will decide on a 2016 presidential run before the end of this year.
Speculation has been mounting for some time, as Bush occasionally returns to the spotlight and comments on major issues like immigration. Moreover, around the same time last year, Bush said he was thinking about being a White House contender.
Bush's isn't the only name floating around in the GOP. But it is safe to say with a father and brother who served as president, Bush has some advantages over the other candidates -- some of whom are relatively young and inexperienced on certain issues. Here's the state of preparation for some of the other GOP presidential hopefuls:
Chris Christie
The New Jersey governor's presumptive front-runner status among Republican candidates in most presidential polls came crashing down in January, when it was revealed that his staffers apparently orchestrated a four-day traffic jam by closing multiple lanes near the George Washington Bridge as political retribution. Christie's poll numbers have been plummeting since. Other surveys show 39 percent of Republicans say they definitely would not vote for him, while 41 percent said they would consider doing so. Christie said the "Bridgegate" scandal won't be a factor in his decision about a 2016 run. "There's no baggage here because I didn't do anything," he told Fox News' Megyn Kelly.
Christie's name has been cleared in the incident, he says, based on an internal review by his own office and conducted by his personal attorney -- which hardly resolves the issue. For now, he's being noncommittal, like the other Republicans. "I think I'm older and more experienced," he told Fox News. "It's certainly something I've said to everybody that I'll consider."
But while he is doing that, the Washington Post reported that Christie appears to be brushing up on his foreign affairs knowledge by meeting with former secretaries of state Henry Kissinger and Condoleezza Rice.
Marco Rubio, Ted Cruz, Rand Paul
These Tea Party-linked senators, all spending hawks who helped shut down the government last October, are also leading foes of the new health care law, commonly called Obamacare. Rubio and Paul (both serving since 2011) and Cruz (serving since 2013) may all be newcomers on the political scene, but they are dreaming big. Their actions suggest they may want their next job to be commander-in-chief.
Cruz, the junior senator from Texas, is a dual citizen of the U.S. and Canada, but has taken steps to renounce his Canadian citizenship. Only a year into his first Senate term, Cruz has made multiple trips to Iowa, the first state to vote in the 2016 Republican campaign.
Cruz isn't the only contender scoping out Iowa. Last month, Paul took on Iowa Republican Chairman A.J. Spiker as an adviser to his political action committee RAND PAC. This is a serious indication that the Kentucky senator means business and wants to win the coveted caucus. Florida Sen. Rubio was the first to make the trip to Iowa, in November 2012, right after Mitt Romney lost the election.
For Rubio, the choice may be tougher: make a presidential bid in 2016 or seek re-election to the Senate, since Florida, unlike some other states, bans a candidate from appearing twice on the same ballot. Rubio, once a boy wonder in the party, has found his light fading after helping Democrats draft an immigration reform bill last year. That angered the GOP conservative base, which opposes the pathway to citizenship for undocumented immigrants included in the legislation. Nevertheless, he's been staking a spot for himself on the national stage concerning some of the nation's most pressing issues such as poverty, and steadily increasing his foreign policy profile with recent trips to Asia.
Scott Walker
Though the Tea Party three have been racking up air miles to places that count in 2016, the governor of Wisconsin doesn't need to get on a plane to earn his Midwestern cred. And unlike Rubio, Cruz and Paul, he is actually removed from the Washington gridlock voters routinely say they deplore.
Walker has said the Republican nominee should be a governor. "I think it's got to be an outsider," Walker told ABC's "This Week" last November. "I think both the presidential and the vice presidential nominee should either be a former or current governor -- people who have done successful things in their states, who have taken on big reforms, who are ready to move America forward."
Walker visited neighboring Iowa last May, where he gave the keynote at a fundraiser and met leaders. He also went to China on a trade mission, and like other candidates, has networked with some big donors like casino magnate Sheldon Adelson.
Rick Perry
Four terms as governor of Texas make Perry the longest-serving chief executive in the state's history. He tried to reach the nation's highest office in 2012, but failed after a bumbling primary campaign most noted for forgetting which three federal agencies he would cut if elected president.
Perry's support among Republicans began to sink after his "oops" moment. But that gaffe isn't enough to stop him. At least that's what Perry suggested when he spoke to Jimmy Kimmel in March. The Texas governor has announced he will not seek re-election in 2014, but has indicated he may make another try for the White House. "America is a great place for second chances," he said. "Let's just leave it at that."
Bobby Jindal
The Louisiana governor is another one undecided about his plans for 2016. But he's been a frequent visitor to Iowa, South Carolina and New Hampshire last year and the year before. The Associated Press reported that Jindal went to Iowa seven times in 2012 alone.
If policy initiatives are any indication, then Jindal's recent unveiling of a health plan to replace Obamacare and a promise of more proposals to come could be construed as a campaign platform that's taking shape. Having lambasted Republicans for being the "stupid party," Jindal seems to be offering ideas of his own, which could set him apart from a pack associated with a party many voters say they see as obstructionist and negative.
Paul Ryan
The 2012 vice presidential nominee has been talking about big issues like poverty, the debt, and immigration reform. Most of all, he has actually got solutions through compromise by stepping up last year to cut a budget deal to keep the government open for two years. But his most recent budget proposal has been attacked by the conservative wing of his party as not tough enough on spending. What we know so far is that the House Budget Committee chairman from Wisconsin said he isn't focusing on 2016 just yet, and will "worry about those things later on."
© Copyright IBTimes 2023. All rights reserved.