Megyn Kelly vs. Donald Trump: Fox Host Earns Praise From Liberals For Taking On Trump's Sexism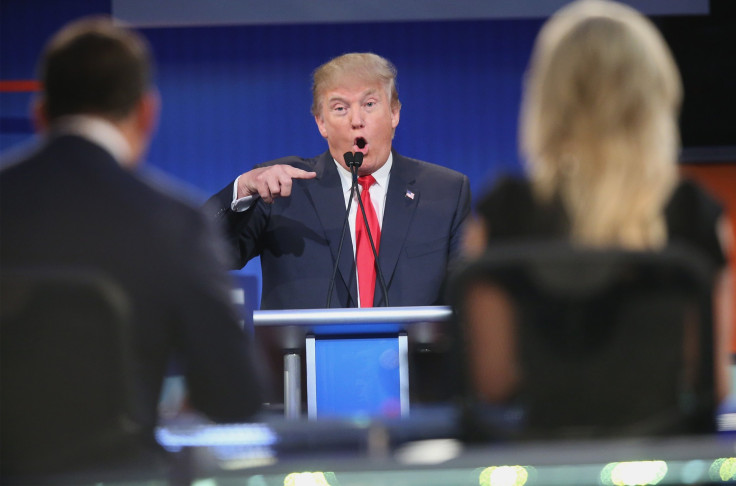 Megyn Kelly, touted by Fox News as the conservative network's sharpest rising star, earned praise from Fox fans and liberals alike after she stared down GOP front-runner Donald Trump over sexist comments he made in the past during the first GOP debate in Cleveland. "You've called women you don't like fat pigs, slobs, dogs and disgusting animals," Kelly commented as she began questioning Trump.
"Only Rosie O'Donnell," Trump quipped. "Does that sound to you like the temperament of a man we should elect as president?" Kelly pressed on, not missing a beat.
Trump may have won back the crowd with an attack on "political correctness," but Kelly won over liberals for going for Trump's jugular. "Have to admit, @MegynKelly is killing it," conceded Atlantic writer and liberal blogger Peter Beinart. Paul Murray, a journalist at Sky News who was tweeting his farewell to liberal icon Jon Stewart only hours before, chimed in, too. "Megyn Kelly's question to Trump re what he's called women over the years was awesome!"
"These are very good tough questions," wrote the New York Times' Farhad Manjoo. "Fox is killing it. Megyn Kelly in particular was great," another writer responded.
"Megyn Kelly Grills Donald Trump Over Sexist Comments," blared a headline at ThinkProgress, a hub of progressive news, which uploaded the sparring match within minutes after it aired.
ThinkProgress editor Kay Steiger tweeted that it was "a clip for the ages."
Perhaps most devastating to Trump, Republican spinmeister and pollster Frank Luntz noted that his conservative focus group loved Trump's dig at O'Donnell but bailed on him after he started to condescend to Kelly.
© Copyright IBTimes 2023. All rights reserved.