Jeff Bezos Car Collection: 7 Best Cars In The Billionaire's Garage
KEY POINTS
Jeff Bezos reportedly has in his collection a $3.5 million Bugatti Veyron Mansory
The Amazon founder reportedly spent more than $4 million to get one of only seven units of the Lykan HyperSport
Another rare car in his collection is a Ferrari Pininfarina Sergio
Just like other billionaires, Amazon founder Jeff Bezos is also fascinated by the rarest and most expensive cars in the world.
Currently the second-richest person in the world with a net worth of $172.6 billion, according to Forbes, Bezos is reported to own a number of expensive assets and properties, including a $165 million Beverly Hills estate, a $78 million property in La Perouse Bay, Hawaii, and a trio of Manhattan apartments overlooking Madison Square Park in New York City that cost a total of $80 million.
The billionaire is also said to be building a $500 million, 417-foot-long megayacht, the New York Post reported.
In addition to these, Bezos has an expensive car collection, with some of his vehicles costing upward of $4 million.
Here's a look at some of the cars in Bezos' garage, courtesy of HotCars.com.
7. Lincoln Stretch Limousine
Bezos uses this luxury vehicle for business or pleasure trips. He was once spotted pulling up to the set of "Star Trek Beyond," where he played the role of an alien, in the limousine, Vulture reported.
His Lincoln MKT stretch limousine can accommodate eight passengers and features flat screens, a minibar, a privacy partition and mood lighting.
6. Cadillac Escalade
Last year, Bezos was spotted with his girlfriend Lauren Sanchez pulling out of his 2020 Cadillac Escalade to have a dinner date at the Italian restaurant Jon & Vinny's in Los Angeles, according to photos published by Daily Mail.
5. Ferrari Pininfarina Sergio
The Amazon founder also owns a Ferrari Pininfarina Sergio that is worth over $3 million.
Only six units of the Sergio supercar were created, and these were sold to customers handpicked by Ferrari. The supercar was named in honor of Sergio Pininfarina, son of the legendary carmaker Battista Pininfarina, who died in 2012.
4. Bugatti Veyron Mansory
Bezos also has in his collection a $3.5 million Bugatti Veyron Mansory. This is reportedly the billionaire's fastest car and one of the fastest vehicles ever created by Bugatti.
The Bugatti Veyron comes with an 8.0-liter quad-turbocharged, W16 cylinder engine, which is one of the most powerful engines in the world. It produces up to 1,000 horsepower (BHP), allowing the car to go up to 253 miles per hour.
3. Lykan HyperSport
Bezos reportedly spent more than $4 million to get one of only seven units of the Lykan HyperSport produced by W Motors. The Lebanese limited-production sports car has an eye-catching design that makes it resemble the Batmobile and 15-carat diamond-plated headlights.
2. Koenigsegg CCXR Trevita
The Koenigsegg CCXR Trevita is reportedly one of the rarest and most expensive cars in Bezos' collection. The car cost around $4.8 million, according to HotCars.com.
The CCXR Trevita comes with a 4.8-liter V8 engine that produces 1,018 horsepower (HP) and takes just 2.9 seconds to reach 62 miles per hour.
Boxing champion Floyd Mayweather once owned a Koenigsegg CCXR Trevita, according to CNBC.
1. Lamborghini Veneno Roadster
Another expensive car in Bezos' garage is his Lamborghini Veneno Roadster.
Worth over $5 million, the ultra-rare vehicle was released to mark Lamborghini's 50th birthday.
Bezos' Veneno Roadster is reportedly one of only nine units created.
But despite his massive net worth and love for expensive cars, one of Bezos' favorites is his 1996 Honda Accord.
During an interview with CBS a few years ago, Bezos said his Honda Accord is a "perfectly good car."
Up until 2013, even after he became a billionaire, he was still driving the car, according to Business Insider.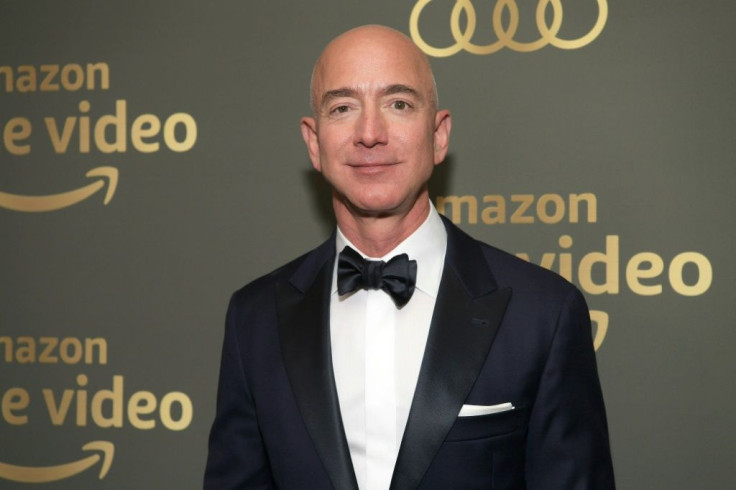 © Copyright IBTimes 2022. All rights reserved.
FOLLOW MORE IBT NEWS ON THE BELOW CHANNELS