Job creation: Fixing America with an infrastructure bank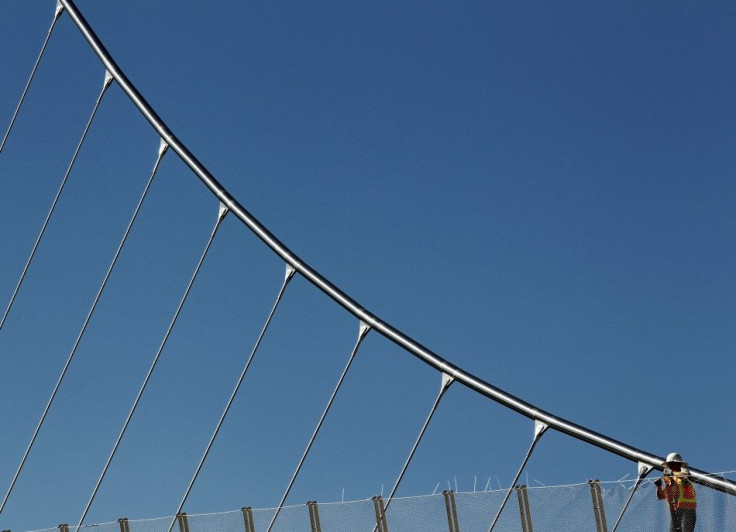 We have iPhones, iPods and iPads. Why not an "iBank?"
This wouldn't be an electronic gizmo that's obsolete in a year, though. It would be a public-private partnership to bolster America's infrastructure. It will create jobs, cut the deficit and repair what needs to be fixed all over the country.
An infrastructure bank, or iBank, solves a lot of problems without busting the budget. Instead of providing direct government grants or earmarks for specific projects, loans are made by a government-banking entity.
The U.S. is inexcusably late to the game on this time-tested idea. The European Investment Bank has financed some $350 billion in projects from 2005 through 2009. China spent 9 percent of its gross domestic product — also roughly $350 billion — to build subways, highways and high-speed rail in 2009 alone. Brazil invested $240 billion over the past three years.
The idea is not without high-level support. President Obama recently called for the creation of an iBank. In backing a U.S. iBank, Senator John Kerry of Massachusetts testified last year that "a national infrastructure bank will make Americans builders again."
If the iBank became reality — and really it's a necessity to compete in a globalized economy — there's no shortage of projects. According to the American Society of Civil Engineers, more than $2 trillion is needed to fix U.S. bridges, dams, waterways and wastewater plants.
The sheer scale of a big fix is staggering: Some 69,000 bridges need to be repaired. The outdated electrical grid needs to be modernized everywhere. You can build solar plants and windmills all you want, but if you have no power lines to transport the electrons from the deserts and plains, you're whistling in the wind.
Several spin-offs of an iBank have been floating around for years, and the idea already has support across the political spectrum. A "Clean Energy Bank" would fund solar energy equipment. Sen. Bernie Sanders of Vermont, supports legislation that would install 10 million roof solar panels. Sen. Mark Kirk of Illinois proposed a "Lincoln Legacy" infrastructure bill.
How is the iBank different from just handing out the money to each Congressional district and letting the local representative decide where the money should go?
In Kerry's vision, federal dollars would be matched with private dollars from pension funds and endowments. Kerry told the Time's Joe Klein recently that "a $10 billion federal contribution will leverage about $640 billion in private investments." Kerry claims he has support from business, labor and Republican Senators.
Instead of doling out pork-barrel funding for bridges to nowhere, an independent board would decide which projects are needed most. It's the inverse of a military base closing commission. Instead of shutting down facilities, this entity would greenlight and finance the most-worthy projects.
One thing an iBank wouldn't be is another big-check stimulus plan, which Congress passed in 2009. That nearly $800 billion package was a huge fiscal band-aid to help states, school districts and wage earners through the recession. Yes, there were some public works projects that created short-term jobs, but the bulk of the money went to tax relief and the states.
The U.S. needs a new approach to economic triage. The June jobs report was nothing short of dismal as employment growth hit a wall with only 18,000 new jobs coming on the market.
Crumbling infrastructure will cost the U.S. economy nearly 1 million jobs and shave $3.1 trillion from gross domestic product by 2020, the Society of Civil Engineers estimates.
What about the budget? Isn't there a disconnect between the current passion for cutting the federal deficit and spending money to fix America?
There's little question that putting people to work will help the economy. Working people pay income, sales and property taxes, which flow back into communities. The steadily employed buy homes, vehicles and appliances. Increased tax revenue in turn reduces the deficit.
The iBank may be able to accomplish what a decade of personal income and estate-tax cuts didn't: Provide the necessary public-private capital to revive the economy. Not even Harry Potter can make magic work on the U.S. economy without some significant infrastructure investment.
© Copyright Thomson Reuters 2023. All rights reserved.