Julian Assange, And 5 Other Top Cases Of People Trapped Inside Embassies
"We want to be very clear, we're not a British colony. The colonial times are over," said Ecuadorean Foreign Minister Ricardo Patino on Thursday.
Those words were sparked by British government demands for Ecuador to release WikiLeaks founder Julian Assange -- the online publisher of secret government documents and diplomatic cables which have embarrassed the U.S. government -- from its embassy in London into British custody.
Assange was officially granted asylum by Ecuador on Thursday (he has stayed in their embassy for the past two months), but the prospect that he will actually cross the Atlantic from Britain to enter the South American country remains uncertain. If he were to actually leave the embassy, he would almost certainly be arrested: if not in the process of boarding an embassy vehicle, then at least in the process of getting from the vehicle to a plane.
The UK Foreign and Commonwealth Office, the country's foreign ministry, has threatened it may revoke the diplomatic status of the Ecuadorian embassy, making it legal for police to enter the premises and arrest or take possession of Assange.
Patino called the warning an "explicit type of blackmail." Ecuador's government said it stands behind Assange since it believes his fears of political persecution are "legitimate".
The UK says it is obliged to extradite Assange to Sweden, where he is wanted for trial for the alleged sexual assault of two women who worked as volunteers for WikiLeaks. Assange supporters say the extradition is a front for efforts to punish Assange and part of a defamation campaign to smear his character. Supporters are concerned over a possible secondary extradition from Sweden to the U.S., where Assange may face the possibility of a death sentence on charges of espionage.
But the actual act of "storming" the Ecuadorian embassy by British forces would cross a major boundary in international law, one so enshrined that it is hard to think of even a historically similar case. The sanctity of foreign embassies has long been a principle of international law and has been formally protected since the Vienna Convention of 1961, which enshrined diplomatic immunity and protected diplomats from fear of harassment and coercion in host countries.
Tony Brenton, a former UK ambassador to Russia, told the BBC that "the Foreign Office have slightly overreached themselves here." "If we live in a world where governments can arbitrarily revoke immunity and go into embassies then the life of our diplomats and their ability to conduct normal business in places like Moscow where I was and North Korea becomes close to impossible," said Brenton.
Assange, an Australian national, has not received any formal assistance from his own government. Scott Ludlam, a senator from the leftist Green Party in Australia, told media in Canberra that "What the Ecuadorian government has done in effect is offer Julian Assange the protection that the Australian government has failed to do."
Assange told reporters after the asylum approval from Quito that "It is a significant victory for myself and my people. Things will probably get more stressful now."
That makes the situation now look like an impasse between Assange, backed by the Ecuadorian government, and the UK, which has isolated and limited his avenues of escape.
People who are or claim to be politically persecuted, and are trapped inside of foreign embassies, are nothing new in the annals of international politics. Some stay for years, other simply for a few months or even a few days before being expelled. Assange's example may follow what happened to some of the people listed here, who remained effectively confined incramped and isolated conditions as national governments discussed face-saving measures and conditions for their release or exile.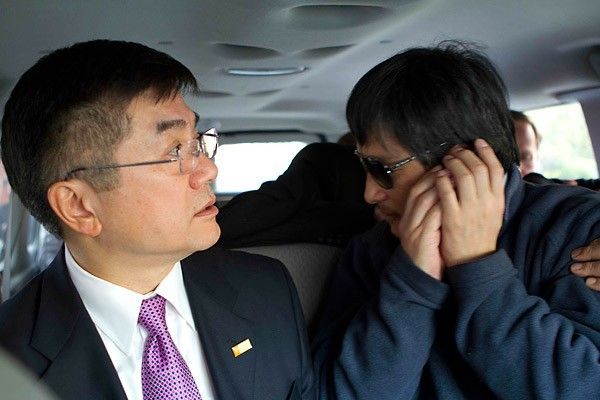 © Copyright IBTimes 2023. All rights reserved.
FOLLOW MORE IBT NEWS ON THE BELOW CHANNELS