Julian Assange's Legal Team Optimistic WikiLeaks Founder Will Be Free After UN Decision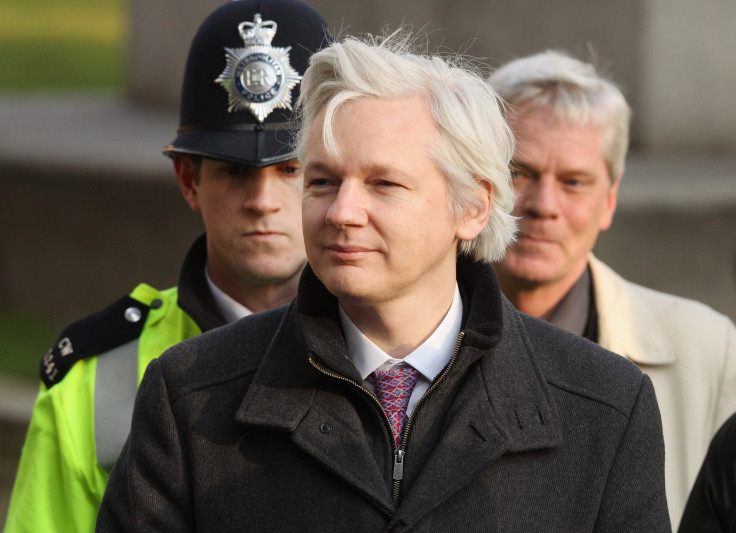 The waiting isn't over yet for Julian Assange. A United Nations panel has reportedly decided that the WikiLeaks founder has been "arbitrarily detained" in Ecuador's London embassy, a significant win for Assange's legal team. But his future remains murky, depending largely on whether Sweden, the United Kingdom and the United States abide by the U.N. decision.
Assange became an international figure in 2010 when WikiLeaks, the anti-secrecy organization he founded, published hundreds of thousands of U.S. diplomatic cables, secret U.S. military video footage and other classified or sensitive material.
He's been holed up in the Ecuadorian Embassy in London since August 2012, when the South American country granted him asylum against extradition to the U.S. or Sweden, where he is wanted on suspicion of sexual assault. London police have spent years outside the embassy, waiting for Assange to step foot on British soil, where he could be taken into custody.
Now, though, the United Nations Working Group on Arbitrary Detention is due to announce Friday that Assange is being "arbitrarily detained" inside the embassy, the BBC reported Thursday. It was not immediately clear on what basis the U.N. body made its finding, and how it might relate to his case in Sweden.
The ruling is the culmination of a 16-month process that began when Assange filed an application [PDF] asserting that the threat of arrest resulted in him being "deprived of his liberty in an arbitrary manner for an unacceptable length of time."
But it's still not clear what will happen to Assange if he leaves the embassy, and London's Metropolitan Police have maintained they will arrest him no matter the U.N. decision. Swedish prosecutors told the Associated Press the U.N. ruling has "no formal importance" to his case in that country.
"The first step is for Sweden and the U.K. to implement the decision," Carey Shenkman, an attorney who has spent months working on Assange's behalf, told International Business Times. "It was confirmed that we won the case, and our first step is going to be to look through the decision. We're optimistic this is a game-changer."
None of the relevant countries is required to abide by the decision, though failure to do so could set a dicey precedent for their own citizens held in international detention.
"I would say it's an authoritative decision because Sweden and the U.K. committed to this process, and because of the U.N. decision's standing in international law," Shenkman said. "It's certainly in their best interest, because it looks really silly to play in a ballgame and then disregard it when you don't like the outcome."
Assange previously said he would surrender to British police if the U.N. ruled against him. If not, though, he wrote on Justice4Assange.com, "I expect the immediate return of my passport and the termination of further attempts to arrest me."
Assange, an Australian national, and WikiLeaks are also the subject of a yearslong U.S. grand jury investigation into the group's involvement with Chelsea Manning, the former U.S. Army soldier who leaked a vast database of U.S. military information to Wikileaks. Manning (formerly Bradley Manning) has since been convicted under the Espionage Act and was sentenced in August 2013 to 35 years in military detention. The U.S. government's investigation into WikiLeaks was first revealed in court documents last year, inspiring an outcry from free speech advocates across the world.
Others are not as confident as Assange's legal team. "My guess is that Britain and Sweden won't be moved by the U.N. decision. I assume the Brits will say, 'Look we've examined the law on this, and he's not being illegally held because he's there voluntarily,'" said Robert Jervis, a professor of international affairs at Columbia University, adding that the legal situation in the U.S. is much more complicated and speculative.
"If Assange concerted with Chelsea Manning, then he's guilty," Jervis said. "But if Manning just sent him this stuff and WikiLeaks posted it, then Assange is a publisher, which brings the freedom of the press into it and puts WikiLeaks on similar grounds as the New York Times under American law. But the empirical evidence is unclear, and I think this is why the jury is still hung up, on how much of a conspirator he was."
WikiLeaks has continued to operate while Assange is trapped in the embassy. The group most recently leaked details on the secret Trans-Pacific Partnership trade deal as well as thousands of documents obtained from Saudi Arabia's Foreign Ministry, revealing sensitive details on that country's tension with Iran.
© Copyright IBTimes 2023. All rights reserved.