July 4th Playlist 2021: 25 Songs For Your Independence Day Celebrations
As you gear up for your July 4 celebrations, you may be in the mood for some music that will put you in the patriotic spirit. There are tons of hits that celebrate America and the pride of the country, and putting them on your playlist for Independence Day is the perfect way to celebrate the holiday.
If you are looking for some classic hits, you might want to tap into Oprah's curated list of favorites, which includes Faith Hill, Whitney Houston, Toby Keith, and Ray Charles.
Some of our favorite songs include:
"American" by Lana Del Ray
"God Bless the U.S.A" by Lee Greenwood
"American Boy" by Estelle ft. Kanye West
"American Girl" by Tom Petty and The Heartbreakers
"Born in the U.S.A" by Bruce Springsteen
"Sweet Home Alabama" by Lynyrd Skynyrd
"Fight for Your Right to Party" by Beastie Boys
Looking for something a little more contemporary? You'll find that Spotify's July 4th playlist is extensive as well as patriotic with hits from classic artists like Steven Tyler and John Mellencamp to current favorites such as Jamey Johnson, Brantley Gilbert, Zac Brown Band, Luke Combs, Eric Church, and Tyler Farr.
Some of our recommendations include:
"Firework" by Katy Perry
"American Soldier" by Toby Keith
"Jack & Diane" by John Mellencamp
"Rockin' in the Free World" by Neil Young
"Thank God I'm a Country Boy" by John Denver
"America Will Survive" by Hank Williams, Jr.
"It's A Great Day To Be Alive" Travis Tritt
"Springsteen" by Eric Church
"Heartland" George Strait
iHeart Radio also offers its own album of patriot songs that include hits from Bing Crosby, Neil Diamond, and Chuck Berry.
We love these chart-topping songs:
"America" by Neil Diamond
"Home On The Range" by Bing Crosby
"This Land Is Your Land" by Counting Crows
"Back In The U.S.A." by Chuck Berry
"America, The Beautiful" by Frank Sinatra
"Fly Like An Eagle" by the Steve Miller Band
"Surfin' U.S.A" by The Beach Boys
"We're An American Band" by Grand Funk Railroad
"Some Gave All" by Billy Ray Cyrus
If you would rather listen to some live music on July 4, tune into PBS's 41st annual broadcast of the Capitol Fourth at 8 p.m. to 9:30 p.m. ET Sunday on the American Forces Network.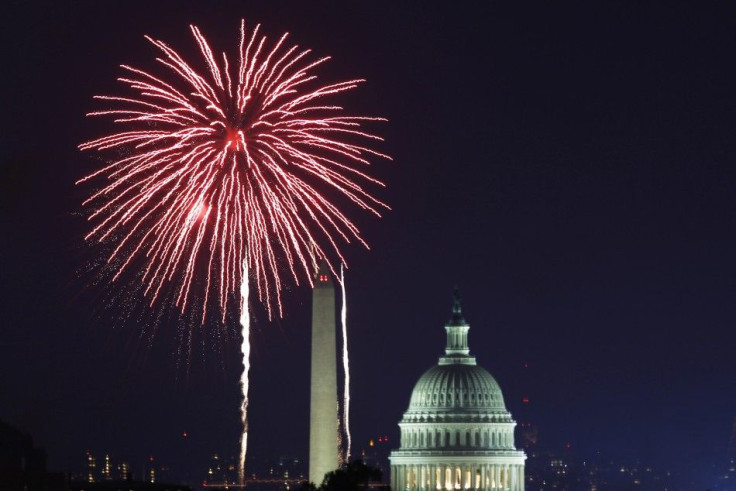 © Copyright IBTimes 2023. All rights reserved.