Kenyan 'Gay' Students Sent Home From School For Alleged Homosexuality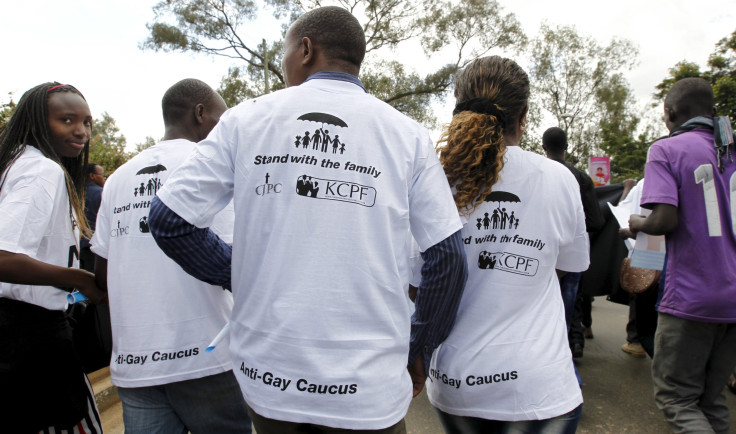 Nineteen Kenyan students were sent home from school on the suspicion that they were gay. Nine students from St. Mary's Kibabi Boys High School in Bungoma County were sent home last Friday, and 10 more were sent home Monday after they were accused of homosexuality, according to Kenyan newspaper the Star.
Principal Mathew Namunwa has asked the boys to report back next week with their parents, pending a school investigation into the allegations. The boys had been involved in a heated debate with other students on homosexuality, in which they argued for gay rights. Their anti-gay opponents then accused the boys of homosexuality, which has been illegal in Kenya since colonial British rule.
"We all know this is a societal issue, and we cannot pretend or run away from it but discuss it and find a way out," Namunwa told the Star on Wednesday, adding that any students found to be gay would be counseled.
Tensions over the debate on LGBT rights in Kenya have heightened in recent weeks as the African nation gears up for U.S. President Barack Obama's upcoming visit for the Global Leadership Summit. Earlier this month, a Kenyan gay couple was evicted from their home in the capital city Nairobi because of their sexual orientation and told by the landlord to "go wait for your Obama."
In Kenya, sex between people of the same gender is illegal and punishable with up to 14 years in prison. Activists have said that LGBT Kenyans are often subject to threats, extortion or harassment and many never report such cases to the police in fear of persecution.
"There have been more beatings, evictions and attacks when public discourse focuses on the community. It gets heightened, and it will only increase momentum as Obama's visit gets closer," Kenyan LGBT activist Denis Nzioka told Gay Star News last week.
Kenyan leaders have ridiculed the U.S. Supreme Court's watershed ruling last month that legalized same-sex marriage nationwide, and some have even warned Obama not to bring his "gay agenda" with him during his trip next week. Activists have taken to the streets to protest against any promotion of homosexuality in the Christian-majority country.
"We want Obama, we want Michelle, and we want a child. We do not want Obama and Obama, we do not want Michelle and Michelle. We want Obama and Michelle, and we want a child," the protesters chanted during demonstrations in Nairobi earlier this month, according to Kenyan news site Capital News.
However, the Obama administration, which lauded the court decision, has made it clear the president won't back off LGBT rights. "When the president travels around the world, he does not hesitate to raise concerns about human rights," White House Press Secretary Josh Earnest told the press ahead of Obama's trip. "I am confident that the president will not hesitate to make clear that the protection of basic fundamental human rights in Kenya is also a priority and consistent [with what] we hold dear here in the United States of America."
© Copyright IBTimes 2023. All rights reserved.