Kerry, Iran Counterpart Discuss Nuclear Talks, Islamic State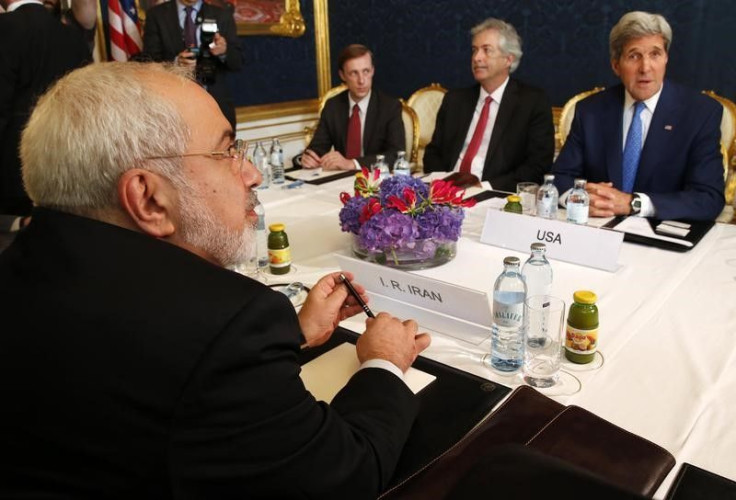 NEW YORK (Reuters) -- U.S. Secretary of State John Kerry met his Iranian counterpart for more than an hour on Sunday and stressed the need to make progress in nuclear negotiations this week on the sidelines of U.N. meetings.
Kerry and Iranian Foreign Minister Mohammad Javad Zarif also discussed the threat posed by Islamic State militants in Syria and Iraq, a senior State Department official said, without elaborating.
"They spent time reviewing the status of the EU-led P5+1 negotiations on Iran's nuclear program," the official said.
"They discussed both the progress that has been made and the work that still needs to be done," the official added. "Secretary Kerry noted that this week is an opportunity to make additional progress and stressed that it is our intention to do so."
The two diplomats met one-on-one before being joined by others, the official said, adding that they agreed to meet again "as needed" while in New York to advance the talks.
The talks with Iran include the United States, Britain, Russia, China, France and Germany.
Washington cut off diplomatic ties with Tehran during the hostage crisis after the 1979 Islamic revolution. The United States and its allies agreed to nuclear talks with Tehran last year to hammer out a long-term nuclear accord that would bring an end to international sanctions that have crippled the Iranian economy in exchange for curbs on Tehran's atomic program.
Iran rejects Western allegations that it is building the capability to produce atomic weapons under cover of a civilian nuclear energy program.
Under a November 2013 interim deal, Iran froze some parts of its atomic program in exchange for limited sanctions relief.
Kerry and Zarif also discussed the threat posed by Islamic State, the official added.
Tehran has sent mixed signals about its willingness to cooperate on tackling Islamic State, which has seized huge swaths of territory across Syria and Iraq.
Senior Iranian officials told Reuters that Iran was ready to work with the United States and its allies to stop Islamic State fighters but would like to see more flexibility on Iran's uranium enrichment program.
Kerry said on Friday that Iran had a role to play in defeating Islamic State, indicating that Washington's position may be shifting, although he also insisted that it had to be kept separate from nuclear negotiations.
U.S. President Barack Obama is not scheduled to meet Iranian President Hassan Rouhani in New York, senior U.S. officials have said.
© Copyright Thomson Reuters 2023. All rights reserved.