Kesha Teases New Music, Epic Duet With Mystery Artist In Sweet Message For Fans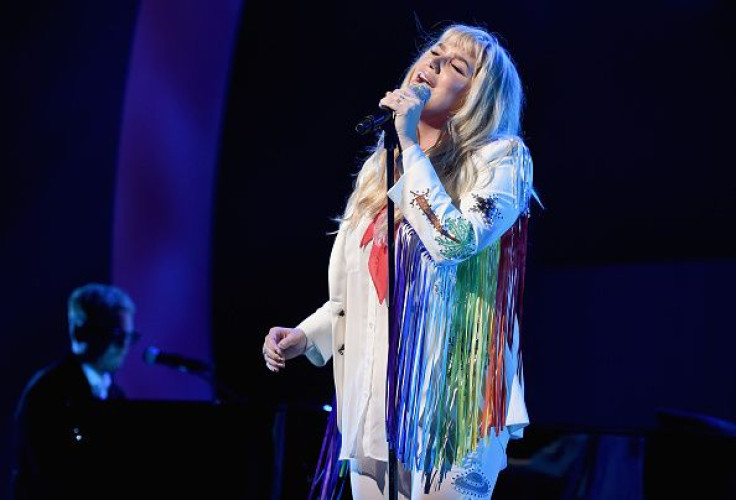 Kesha is happy to announce that she is back in the studio.
The singer has shared a message to fans, thanking them for supporting her and teasing her upcoming project.
In an Instagram post, the "Tik Tok" singer said: "Just got back a mix of me and someone singing a duet crying happy tears never in my life imagined this dream could ever actually come true. Please pray one day y'all can hear this music."
Kesha also said that this is the most vulnerable she has been in terms of the music she is putting out. The singer added that she will do whatever it takes for her fans to hear the art she has been making.
This is the first time the singer has been hopeful about releasing new music after she sued former collaborator Dr. Luke, real name Lukasz Gottwald, for sexual and emotional abuse. Gottwald denied all of the allegations, saying Kesha filed the lawsuit so she can cut ties with his label, Kemosabe Records.
Kesha dropped the lawsuit against the producer in August, according to Time, in order to be able to create music again.
After the lawsuit was dropped, Sony announced that the singer will release a new album soon. Despite the announcement from Sony, Kesha's lawyer, Daniel Petrocelli said in an interview in October that the singer "has received no commitments on promotions, songs, or even a release date."
This year has been difficult for the singer, not only because of the lawsuit but also because of the fact that she was not able to release original music for her fans. Despite the challenges, Kesha's efforts were lauded with a Trailblazer Award from Billboard Women in Music.
Accepting the accolade, the singer said: "It's mind-blowing to be honored like this after a very public year I've had. I feel stuck and I feel sad and quite frankly, today, I feel bloated. This is a huge reminder I can't give up and I have to keep fighting for my truth and keep fighting for my dreams."
Kesha's last album, "True Colors," was released in 2015.
© Copyright IBTimes 2023. All rights reserved.