Kherson Counteroffensive: Why Is Ukraine Silent If Its Forces Are Winning?
KEY POINTS
With media barred from accessing frontline areas ,reports from Kherson are scarce
The balance of power around Kherson could favor the Ukrainians
Unverified report suggest that Ukrainian forces might be suffering heavy losses
Kyiv's silence about the outcome of its much-anticipated counter offensive is raising questions whether President Volodymyr Zelensky and his team have overplayed their hand in trying to take on entrenched Russian forces too early. Especially with some unverified reports on social media suggesting the Ukrainians have taken heavy losses.
The situation on the ground remains opaque and Zelenskyy has said no details of the campaign would be made public. Kyiv has even refused to confirm or deny that a counteroffensive is under way, although Russia's Defense Ministry confirmed that its forces had repelled a counterattack.
A military spokesperson in Ukraine's southern command told reporters that the country's forces "have broken through the first line of defense" with success in three areas of the Kherson region. But reports seem to indicate that the fighting appears to have bogged down along the second line of defense as Ukraine's forces face more entrenched Russian troops.
Observers say that the balance of power around Kherson could favor the Ukrainians. While Ukrainian supply lines are largely intact, the Russians' supply lines are in disarray after being hit by American-made High Mobility Artillery Rocket Systems (HIMARS) and other deep-strike weapons.
With authorities in Kyiv having barred reporters from accessing front-line areas, information coming from Kherson is scarce and most media outlets are forced to rely on official statements and military briefs, which say little of the actual picture. Active disinformation campaigns by both sides have further muddled the picture.
International media is unable to verify battlefield reports independently, making it hard to discern whether Russian forces are actually losing ground to the Ukrainians. But some chatter on social media seem to suggest that the turn of the battle may not be as Ukraine expected.
Commenting about Ukraine's counter-offensive in Kherson, German journalist Julian Röpcke in a tweet said that terrible videos were coming from Kherson in which the counteroffensive (by Ukraine) looked to be a failure.
IBT had Thursday reported that the operation in Kherson is getting bogged down. With much of the Kherson region, which borders the Black Sea, having been seized during the initial days of the invasion, Russian forces are said to be well-equipped and dug in.
Against this backdrop, a video message by Oleksiy Arestovych, a senior adviser to President Zelensky, is being seen as a desperate attempt to put a spin on a high-profile battlefield failure.
"The fact that we have not taken Kherson yet does not mean that the operation in the south has stalled or failed," Arestovych said in the video. "It is carried out in a planned manner. We destroy enemy logistics, air defense systems, fuel and ammunition depots... There will be no quick wins. Initially, a strategy was taken to systematically grind Putin's army. It is long, so there is a lot of work to be done."
Terming Ukraine's counteroffensive in Kherson as "more symbolic than strategic," Robert Fox, defense correspondent of the Evening Standard (UK) wrote Thursday that Zelensky ordered the attack on Kherson "against strong military advice."
Pointing out that a military defeat in Kherson would be a setback which Kyiv would find hard to recover from, Fox said Ukraine "needed to gather more fully-trained forces, complete with tactical and strategic reserves to ensure success."
Separating the wheat from the chaff is not easy because of the information vacuum. Interestingly, an unverified Twitter user in a series of tweets pointed out that discussions on a possible counteroffensive in Kherson had been underway for over two months. Ukraine's armed forces chief Gen. Valerii Zaluzhnyi was strongly opposed to the idea of carrying out an attack without ample preparation and troop mobilization. But again, this information and the Twitter handle are unverified.
Fox, too, alluded to a sense of urgency to start the counteroffensive as Zelensky feared that a stalemate would erode support among Kyiv's western allies.
This is especially true in the UK where the exit of Prime Minister Boris Johnson is expected to dilute support for Ukraine as the costs of war hit the economy hard.
Italy's far-right parties could also seek to broker a deal with Russia to ensure restoration of supplies of cheap gas from the country. Germany's defense chief Gen. Eberhard Zorn on Wednesday warned that the west must not underestimate Moscow, pointing out that apart from the army, which may be tied down in Ukraine, Russia also has a navy and air force, which may pose a significant threat.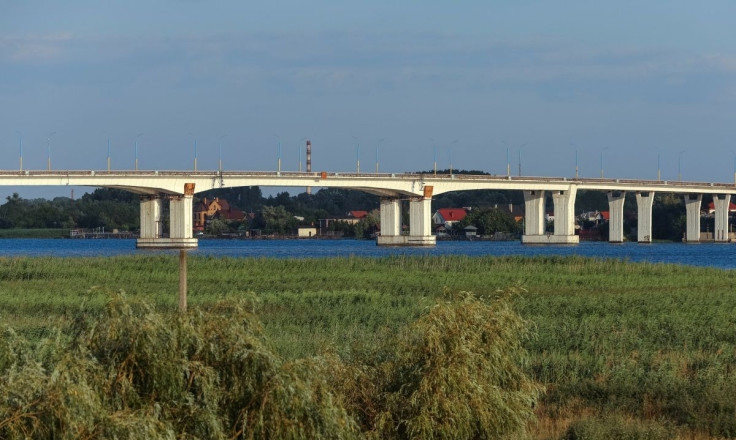 © Copyright IBTimes 2022. All rights reserved.
FOLLOW MORE IBT NEWS ON THE BELOW CHANNELS