Kindle Fire: A Tablet, Not an iPad, But a New Content Platform for the Handheld Market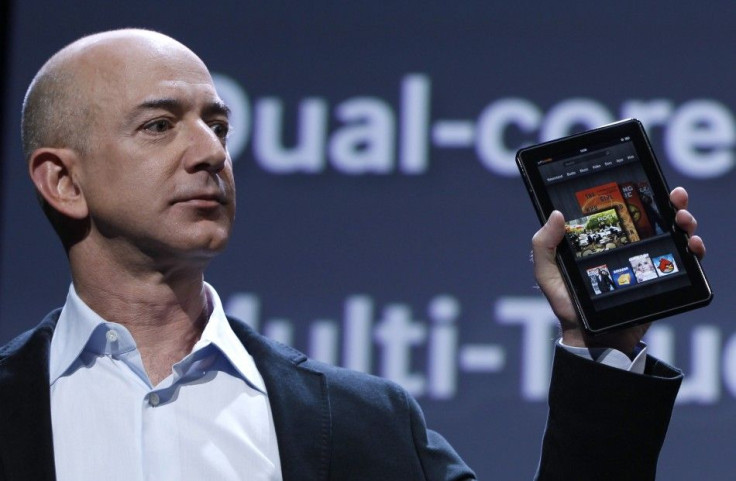 Amazon's new tablet, the Kindle Fire, is out as the world's biggest e-retailer taps into a burgeoning market now dominated by Apple's iPad. The new tablet is being pitched as a complete handheld entertainment platform. Typical of Amazon's history, it's being tagged as an electronic shopping mall.
Seattle-based Amazon will price it from $199, $200 below iPad2, and offer key entertainment features including a million books, Netflix, 100,000 movies as well as TV shows. It's also trimming prices of its regular Kindles to $79 and introducing a new $99 Kindle Touch that will offer cell phone connectivity for $149.
We see Kindle Fire as a content platform, Amazon CEO Jeff Bezos said repeatedly at the Kindle Fire's New York introduction. With reports that Amazon may be bidding for Hewlett-Packard's WebOS from Palm, the company could be seeking additonal functionality for new Kindle Fires on tap for 2012.
The seven-inch tablet from Taiwan's Quanta will somewhat resemble Research in Motion's BlackBerry PlayBook but will work better, offer more entertainment and have a downloadable Amazon app for e-mail. Unlike the iPad, it weighs less (only 14.6 ounces vs. iPad's 21.3 ounces) and seems to be more of a handheld device for entertainment, reading and shopping -- all things Amazon handles well.
The Kindle Fire will ship Nov. 15, in plenty of time for holiday sales but unlikely to shave much off Apple iPad sales for the year. Market researchers IHSiSuppli estimate the iPad will account for about 75 percent of global tablet sales in 2011.
The Amazon Kindle Fire will contain a dual-core OMAP chip from Texas Instruments, like other Android products. It will not be based on Bezos' Lab 126 tablet patent, which may be used for a future tablet. But the tablet will use an Amazon-tweaked version of Google's Android OS. Much of its support will come from the new Silk services emanating from Amazon's cloud computing. Apple plans to disclose more about its cloud offerings very soon.
For entertainment, the product will offer wide varieties of content, including movies and shows from News Corp's Fox and other publishers including Hearst and Conde Nast as well as Amazon's current MP3 services and others. It offers Amazon Prime streaming media free for a month, with charges thereafter. In content, that will be a major challenge to the iPad.
A major shortcoming to RIM's PlayBook, which sold only about 200,000 units in the most recent quarter, was that it lacked e-mail capability, which frustrated RIM users familiar with the BlackBerry. Apparently, Bezos made sure his product won't miss out on this vital app.
Pricing starts at $199.
Apple, which makes a huge mark-up on each iPad, could counter Amazon's move by lowering iPad prices or, for the first time, keep selling an older version of a popular product.
The company may announce the iPad3 as early as next week at its Cupertino, Calif., headquarters. Apple has indicated it may introduce iPhone4 then. Rather than stop selling the iPad2, it might chop the price well below the current $499 list. Engineers at IHSiSuppli who reversed-engineered it believe the iPad2 believe it only costs $368. Now they estimate the Kindle Fire costs about $204.
Amazon shares, after a big September run-up, fell 3.3 percent this week, closing at $216.23 Friday as Apple shares fell 5.7 percent for the week, closing at $381.32.
© Copyright IBTimes 2023. All rights reserved.