Kurdish Rebels Attack Police, Military In Turkey, Policeman Killed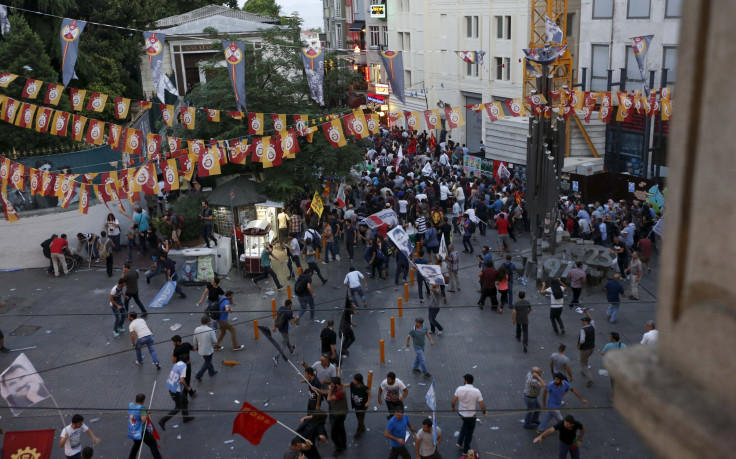 DIYARBAKIR, Turkey (Reuters) - Kurdistan Workers Party (PKK) militants attacked a military outpost and a police car in southeast Turkey overnight, killing a policeman, officials and security sources said on Sunday, in further violence jeopardizing a fragile peace process.
The Turkish military launched an air campaign against PKK camps in northern Iraq on July 24 after a resurgence of militant attacks. State-run Anadolu news agency said more than 260 militants had been killed, including senior PKK figures, and more than 400 wounded by Aug. 1.
It gave no source for the figures. The fighting threatens tenuous peacemaking efforts, with the PKK having declared last month that it was stepping up attacks and accusing Turkey of violating a 2013 ceasefire.
Late on Saturday, PKK gunmen fired on a police car in the town of Midyat in Mardin province, killing one officer and wounding another, the governor's office said in a statement.
PKK fighters also launched rockets at a military outpost in the Bulanik district of Mus province, triggering a brief gunfight, security sources said. No casualties were reported.
A day earlier, six people were killed in clashes between security forces and militants in the mainly Kurdish southeast of the NATO member country.
Alarmed at the violence, Turkey's pro-Kurdish Peoples' Democratic Party (HDP) leader urged the PKK on Saturday to "remove its finger from the trigger" and said the government should launch talks to restore calm.
The HDP has played an important role in the peace process with regular visits to PKK leader Abdullah Ocalan in his jail on Imrali island south of Istanbul. Those visits were halted before the June parliamentary election and the government has indicated they will not be permitted to resume.
The HDP called in a statement on Sunday for an end to military operations and restoration of the truce, saying that reviving peacemaking hinged on bolstering Ocalan's ability to negotiate.
"If the process is to continue, it is necessary to create the conditions for Mr Ocalan to conduct negotiating efforts on his own initiative, in a time frame set by him, with delegations from all sections (of society) proposed by him," it said.
Anadolu said 24 security force members had been killed in attacks in the last month, and 12 PKK rebels killed in clashes.
As well as PKK targets, Turkish jets have hit Islamic State insurgent positions in neighboring Syria. Ankara has also allowed the U.S.-led coalition trying to roll back Islamic State territorial gains to use its air bases.
The PKK, designated a terrorist group by Ankara, the United States and European Union, launched its insurgency in 1984. More than 40,000 people have been killed in the conflict.
© Copyright Thomson Reuters 2023. All rights reserved.