Kwanzaa Facts: 5 Things To Know About The African-American Cultural Holiday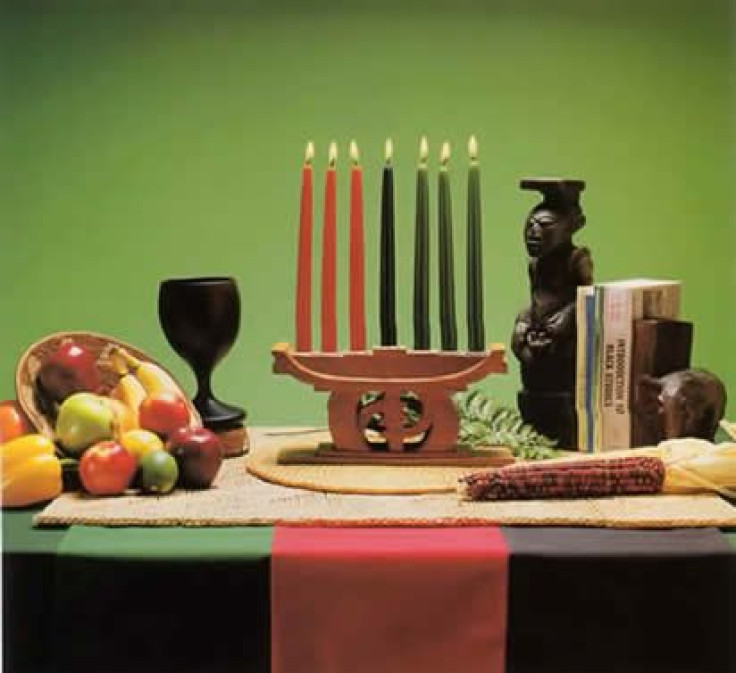 As people celebrate the holidays this season, many may be curious about Kwanzaa, the biggest outlier among the winter festivities. Although it's a relatively new tradition, its roots are deeply ingrained in African culture and it carries with it a message that resonates with all mankind.
Below are a few facts about the African-American cultural celebration, which takes place during the seven days following Christmas.
It's Not Too Religious
Unlike Christmas and Hanukkah, Kwanzaa was not born out of religion. Instead it is a largely social and communal holiday that grew out of the civil rights movement. Established by professor and activist Maulana Karenga in 1966, Kwanzaa was meant as a way to bring the African-American community together once a year for a celebration of its culture and heritage. Over the years, the exclusive nature of Kwanzaa was stripped away by Karenga, and it is now looked at as a chance for people of all races and backgrounds to celebrate African culture the same way we celebrate Irish and Mexican culture on St. Patrick's Day and Cinco de Mayo.
What Does 'Kwanzaa' Mean?
According to the History Channel's website, "Kwanzaa" is derived from the Swahili phrase "matunda ya kwanza," or "first fruits." The Swahili word spells "kwanza" with six letters; the site says another "a" was added by Karenga in the spirit of inclusiveness when seven children wanted to carry the six letters to a celebration.
How Is It Celebrated?
Families celebrate Kwanzaa in many ways. Celebrations typically include a feast on Dec. 31, accompanied by dancing, African drums, singing, storytelling and more. Many also partake in the kikombe cha umoja, or unity cup, which is passed from person to person; some of the drink is poured out in honor of departed ancestors. The celebration is seven days long because a candle-lighting ceremony is held each evening on the kinara, a seven-stick candleholder. Each night, families and others in the community gather to discuss the true meaning of Kwanzaa.
What Is The Meaning Of Kwanzaa?
The number seven holds a lot of significance in Kwanzaa. There are seven basic principles called Nguzo Saba. Each was created by Karenga in an effort to highlight a different aspect of African-American culture. These rinciples are:
- Unity (Umoja)
- Self-Determination (Kujichagulia)
- Collective Work and Responsibility (Ujima)
- Cooperative Economics (Ujamaa)
- Purpose (Nia)
- Creativity (Kuumba)
- Faith (Imani)
Each principle is represented by one of the candles in the kinara and is the focus of the celebration each night.
What To Wear?
There is no dress code for Kwanzaa. Many choose to attend in traditional African clothing, while others just wear jeans. However, the official colors of the holiday are red, black and green (these are the colors of the kinara candles). According to the Huffington Post, black represents the people, red is for the blood of those uniting and green is for the land of Africa. So, wearing an outfit sporting those three colors would be ideal.
© Copyright IBTimes 2022. All rights reserved.
FOLLOW MORE IBT NEWS ON THE BELOW CHANNELS