Kyrie Irving Addresses Free Agency, Hints At Long-Term Celtics Stay
Kyrie Irving is almost certain to become an unrestricted free agent in the summer when he opts out of the final year of his deal and his future with the Boston Celtics remains unclear at the moment. But his recent comments while on the Knuckleheads podcast with Jayson Tatum will give the Celtics fans some optimism about retaining their top star.
The 26-year-old point guard joined the Celtics via trade from the Cleveland Cavaliers in 2017 after winning one NBA championship alongside LeBron James. He was keen to lead his own team and got that opportunity with the Celtics.
Irving suffered a season ending injury before the playoffs in his first season with the Celtics, but the team went on to reach the Eastern Conference finals without their talisman, only losing in Game 7 of the finals against James' Cavaliers.
The Celtics were tipped as the favorites to progress from the East this season, but they have been inconsistent in the regular season and are currently fifth in the Eastern Conference. Moreover, Irving, who had verbally committed his long-term future to the Celtics, has now backtracked with many expecting him to leave in the summer.
However, Irving indicated he was looking at a long-term partnership with Tatum during a recent interview. The point guard was keen to win championships with the Celtics and also for the young forward to shine alongside him.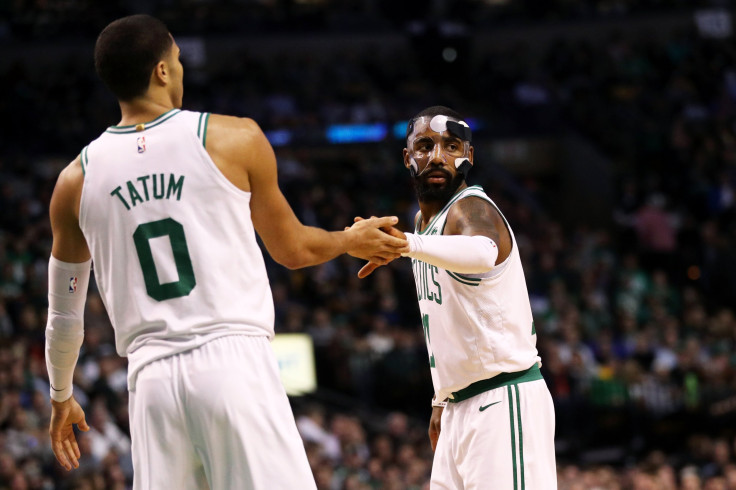 "I see the same thing in what me and [Tatum] talk about now. We're six years apart. And I try to tell him, I'm like, look: 'I'm a liaison between all of this… Whatever you need me to do. I'll get out your way once you get to that point [of greatness]. You go ahead. This is yours. You want it? Go take it,'" Irving said during the podcast, as quoted on HoopsHype.
"And I tell J as well: 'Me and you in this, going for the guts and glory. When it's all on the line? I know I need you right next to me. So let's get this thing going.' I have a different relationship with all of my teammates but specifically with him, how special he is," the Celtics point guard added.
The 2016 NBA champion is happy to lead Tatum towards stardom in the NBA and then step aside, and the Celtics management would be happy to hear the guard's comments as they are keen to retain him and make further additions in the summer.
The Celtics are keen to add Anthony Davis in the summer, but might have to sacrifice Tatum to sign the New Orleans Pelicans power forward. But first of all, they would be keen to ensure Irving's long-term future remains at TD Garden in Boston.
© Copyright IBTimes 2023. All rights reserved.