Labor Day Travel 2014: Knee Defender, Controversial Device To Block Plane Seats From Reclining, May Be A Big Hit As Sales Soar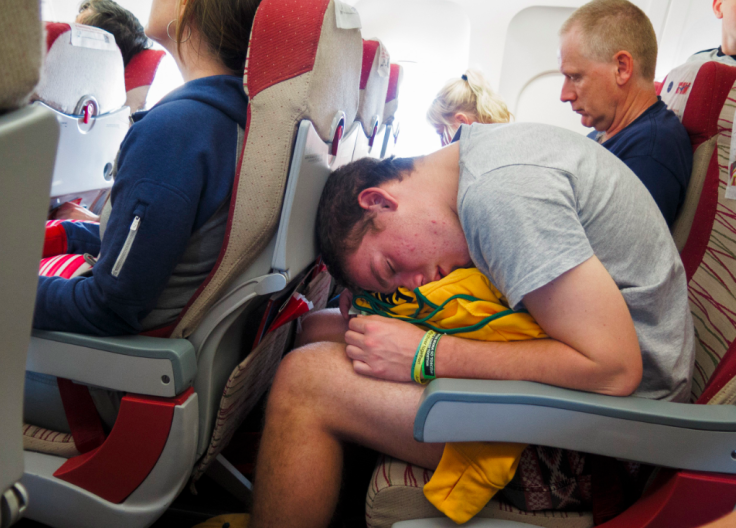 Ira Goldman is one happy flier these days. Goldman's little contribution to air travel comfort has flown under the radar until now, but sales of his Knee Defender, a set of small clips that prevent the passengers in front of you on a plane from reclining their seat, has taken flight.
Credit for that goes to an incident between two fliers, let's call them "the Recliner" and "the Defender." According to reports, "Defender," a male passenger on United Airlines Flight 1462 last Sunday, refused to remove the device when asked by a flight attendant to do so. "Recliner," a woman in the seat ahead of him, tossed a cup of water at the man. Both passengers were taken off the plane in Chicago after an emergency landing that was prompted by the incident.
Following the wide circulation of the news, the company's website crashed amid soaring demand and suddenly brisk sales.
So as you head out for your Labor Day flight, be ready for travelers newly empowered with their shiny new accessory to keep you uncomfortably upright during your trip.
There may be quite a few of them, as the industry reports even more people flying this year than last, according to ABC News. Industry group Airlines for America predicted Thursday that 14 million people would fly on U.S. airlines during the seven days ending Sept. 2, the day after Labor Day. The busiest day is expected to be the Friday before the holiday weekend.
"We had 500 times the normal traffic. Maybe Amazon can handle that, but I can't," Gold told CNN Money this week. The inventor said that he should have enough of the $21.95 product to meet immediate demand, but said he'll be placing a new order with the factory in China.
Some individual airlines ban Knee Defenders, but there is no Federal Aviation Administration prohibition against it.
The FAA had this to say on the controversial device, in a statement given to Washington insider news organization The Hill,
"While the product does not violate any FAA regulations, it is up to individual airlines to prohibit it. We expect passengers to comply with airline policies and directions given by the flight and cabin crew," the FAA statement continued. The FAA discourages the use of any device that alters the performance of any part of an airplane."
And, according to the website StackExchange, these are the airlines that ban or discourage use of Knee Defenders:
Airlines that ban the Knee Defender

Air Canada
American Airlines
Continental Airlines
Delta Airlines
Qantas
Southwest Airlines
United Airlines
Virgin Australia
WestJet

Airlines that discourage but don't ban the Knee Defender

British Airways
JetBlue Airways

Airlines that allow the Knee Defender
© Copyright IBTimes 2022. All rights reserved.
FOLLOW MORE IBT NEWS ON THE BELOW CHANNELS