The Latest Controversy Around The Mistral Warship: Armed Russian Marines Guarding The Vladivostok?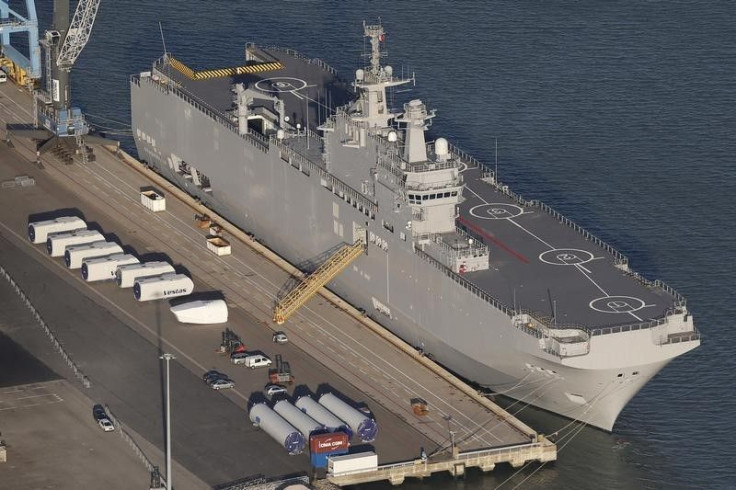 The controversy around the Mistral amphibious assault ship bought by Russia but not delivered by France took a new turn Monday, when Russian sources gave conflicting reports about whether there were Russian marines guarding the ship while it is still docked in a French port.
Russian newspaper Gazeta.ru, citing officials within the general staff of the navy, said "the ship is being guarded by a few dozen Russian marines" in the port of Montoir-de-Bretagne, near Saint-Nazaire, according to a report from a Ukrainian news site. The report suggested that armed Russian marines had boarded the ship, known as the Vladivostok, along with Russian sailors and officers -- a highly unusual move in a foreign country, and before the ship has been formally delivered to Russia.
The handover of the first of the two $1.5 billion Mistral-class ships by the French company that built them for Russia has been halted by the French government, because of Russia's annexation of Crimea and military involvement in eastern Ukraine.
"There are Russian marines aboard whose task is to ensure the security of the warship and to test the working capacity of the airlift delivery systems," said the Gazeta report, which was translated from Russian.
Those reports that armed Russians were on board the ship were denied, however, by top Russian navy officers, who told the government-owned news agency RIA Novosti that the story was an "extraordinary invention." "The warship has not been handed over to Russia yet," said the navy source. "The crew does not stay on board of Mistral carrier but stays on board the Smolny (training) ship" in Saint-Nazaire.
There are, however, dozens of Russian personnel already aboard the ship testing its systems, waiting for the green light from the French government to take official ownership.
© Copyright IBTimes 2023. All rights reserved.