France Mistral Ship Update: Hollande Suspends Decision To Deliver Warships To Russia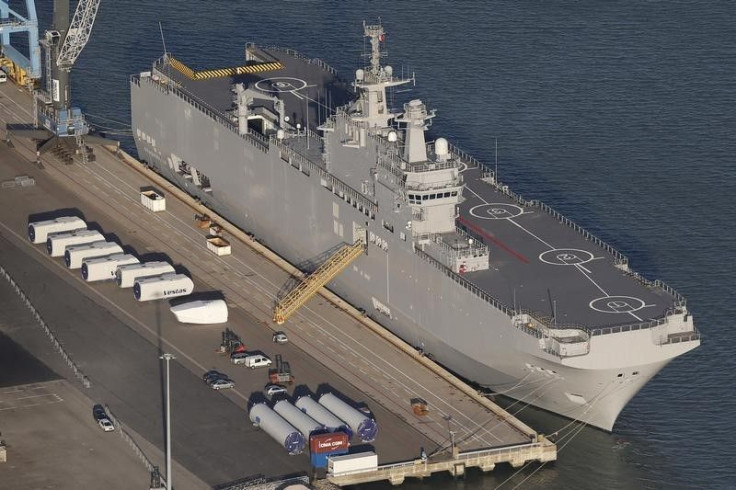 France will indefinitely postpone a decision on whether to deliver the first of two Mistral-class helicopter carriers to Russia, according to a statement by the office of French President François Hollande. The $1.6 billion deal for the two ships has been the subject of debate both within France and among its NATO allies since Russia annexed Crimea in March.
"The President of the Republic considers that the situation in the east of Ukraine still does not permit the delivery of the first [Mistral ship]," the statement read, according to Reuters. "He has therefore decided that it is appropriate to suspend, until further notice, examination of the request for the necessary authorization to export the first [Mistral ship] to the Russian Federation."
Hollande and his government initially pressed on with plans for a handover scheduled for last month even as the European Union imposed economic sanctions on Russia. France changed its tone after months of pressure from its NATO allies just days before a ceasefire was signed between pro-Russian rebels and the Ukrainian government in Minsk, Belarus, on Sept. 6. Hollande's office said the "conditions that would allow France to authorize the delivery … aren't met as of now."
After two months of relative calm, tensions have again risen in eastern Ukraine. NATO accused Russia of moving large numbers of troops and equipment into the region earlier this month and shelling has killed civilians around Donetsk, a separatist stronghold in the east.
Russian Deputy Defense Minister Yury Borisov told Russian media that Moscow will pursue legal action if France nixes the deal altogether but will reportedly "patiently wait" for the contract to be fulfilled, according to Russia Today.
"If [France] won't deliver [the ship], we'll sue and impose penalties. The behavior of the Russian side is strictly regulated by the signed contract," Borisov said, according to Tass. An anonymous source with the Kremlin told RIA Novosti that the Kremlin will wait "until the end of the month" before making "serious claims" over the ships.
The deal for the state-of-the-art helicopter carriers was signed in 2011. The first of the two ships was scheduled for delivery in the last quarter of this year, while the second one was scheduled for delivery next year. Russian sailors have trained on the ship despite France's refusal to deliver it.
© Copyright IBTimes 2023. All rights reserved.