At Least 245 Dead In Syria After Turkey Earthquake
At least 245 people were killed in Syria on Monday as buildings collapsed after a 7.8-magnitude earthquake that had its epicentre in neighbouring Turkey, state media and a medical source said.
More than 230 people were killed and over 600 injured in government-controlled parts of war-torn Syria, the health ministry said, while a hospital told AFP that eight others were killed in northern areas controlled by pro-Turkish factions.
"Six hundred and thirty-nine people were injured and 237 were killed in the provinces of Aleppo, Latakia, Hama and Tartus," the Syrian health ministry said in a statement.
AFP correspondents in northern Syria said terrified residents ran out of their homes after the earthquake struck before dawn near the Turkish city of Gaziantep, about 40 kilometres (25 miles) from the Syrian border.
Rescuers rushed to search for survivors under the rubble of collapsed buildings in the pouring winter rain.
In Aleppo alone, 24 people had died and 100 were injured when 20 buildings collapsed in the province, the official news agency SANA had said, quoting an official in the province.
Even before the tragedy, buildings in Aleppo, Syria's pre-war commercial hub, often collapsed due to the dilapidated infrastructure after more than a decade of war as well as little oversight to ensure safety of new construction projects, some built illegally.
SANA said the earthquake was felt from the western coast of Latakia to Damascus.
"This earthquake is the strongest since the National Earthquake Centre was founded in 1995," Raed Ahmed, who heads the centre, told SANA.
Near the border town of Azaz, an AFP correspondent saw rescuers pull out survivors as well as five bodies out of the rubble of a three-storey building that crumbled.
In northern Syrian areas controlled by pro-Turkish factions, at least eight people were killed in the regions of Azaz and Al-Bab, Omar Alwan, the medical response coordinator for the area told AFP, adding the number was likely to rise as search and rescue operations were ongoing.
"We have been working on rescuing survivors and recovering the dead from under the rubble," he said, as dozens of rescuers and residents toiled in the darkness, looking for survivors in the rubble with their flashlights.
In the neighbouring rebel-held Idlib region bordering Turkey, the White Helmets rescue group said there were "dozens of victims and hundreds of people injured and stuck under the rubble".
"Our teams are on the highest levels of alert to respond," and rescue survivors, they said on Twitter.
In Azmarin on the Turkish border, at least 10 buildings had collapsed, an AFP correspondent in the town reported.
The 7.8-magnitude earthquake hit near Gaziantep in southeastern Turkey on Monday at 04:17 am (0117 GMT) at a depth of about 17.9 kilometres (11 miles), the US Geological Survey said.
The tremors were felt in Lebanon, Syria and Cyprus, according to AFP correspondents.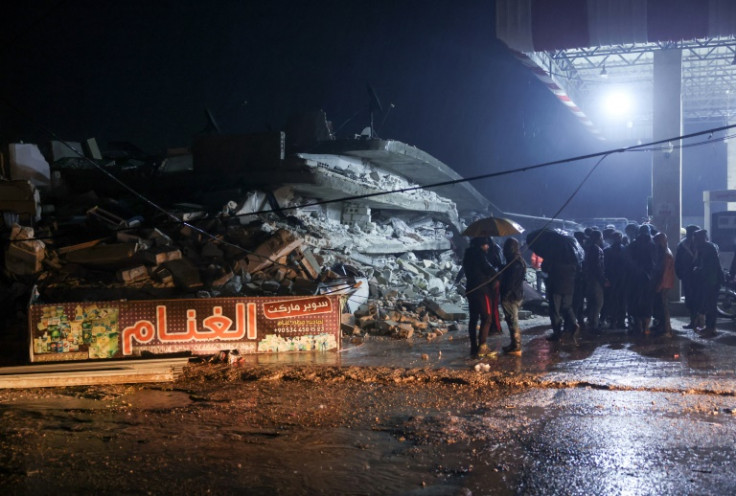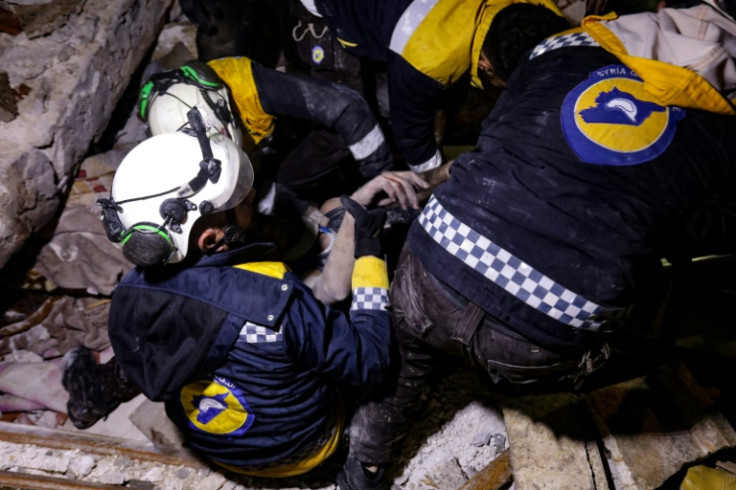 © Copyright AFP 2023. All rights reserved.