LinkedIn site disrupted in protest-wary China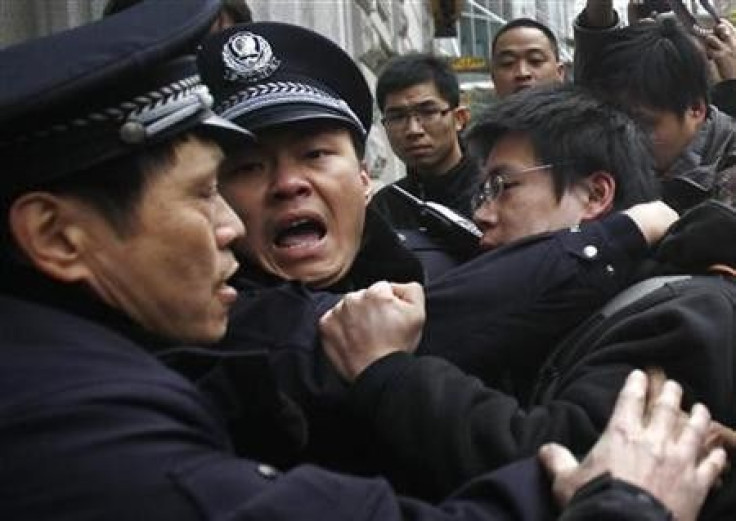 Access to the networking site LinkedIn was disrupted in China on Thursday, following online calls on other sites for gatherings inspired by protests against authoritarian regimes across the Middle East.
It was not immediately clear whether the blockage on domestic Chinese internet lines of LinkedIn, one of the few foreign networking sites not previously blocked by Beijing, was due to state censorship.
The disruption, however, comes in the wake of a rash of detentions in China after an overseas Chinese-language website, Boxun, spread a call for Jasmine Revolution gatherings to press the Communist Party to make way to democratic change.
Attempted demonstrations in Beijing and elsewhere on Sunday were tiny and swiftly extinguished by swarms of police.
A rash of detentions and censorship of online discussion of the Middle Eastern protests suggests Beijing remains nonetheless nervous about any signs of opposition to one-party rule.
The idea that China could succumb to the kind of unrest rocking authoritarian governments across the Middle East was absurd, a senior Chinese official said.
The idea that a Jasmine Revolution could happen in China is extremely preposterous and unrealistic, said Zhao Qizheng, former head of the government's information office, according to a report on Thursday in the Wen Wei Po, a Hong Kong-based newspaper under mainland Chinese control.
In a city of 15 million people, to have a few people standing around has no practical significance, said Zhao, apparently referring to the fizzled protest in Beijing.
But we're also sure that there are a few people who hope that some kind of turmoil will break out in China.
LinkedIn has no reputation as a magnet of dissent.
Long-term disruption to the site would exclude the company from the world's biggest Internet market by number of users -- about 450 million and growing. That could hurt its planned initial public offering in New York and anger the United States, which has criticized Chinese Internet censorship.
Last year, Beijing feuded with Washington after Google complained of censorship and online hacking coming from within China.
DETENTIONS, JASMINE BLOCKED
Zhao's remarks were Beijing's highest-level public response so far to online calls for Jasmine Revolution protests.
Few think China's ruling Communist Party faces a fate similar to the overthrown leaders of Tunisia and Egypt.
China's rapid economic growth has diluted discontent about corruption and inequality. It has also enabled sharply higher funding for domestic security, arming police with sophisticated surveillance equipment and intimidating hardware.
Relatively few people in China can see the online calls for protests, which have circulated mostly on overseas websites blocked by Beijing. Facebook and Twitter are blocked too.
But Beijing gets jittery about any signs of organized opposition to the party, and officials are on edge ahead of the annual meeting of the national parliament in early March.
Authorities have hindered the spread of information in China and detained dissidents. The Chinese word for jasmine has been blocked in searches of popular Chinese websites.
Human Rights in China, an advocacy group based in New York, listed 29 rights lawyers and dissidents detained, confined, searched or questioned by police or government agents since February 16, although it is unclear how many were targeted because of the Chinese Communist Party's fears of the calls for gatherings.
Some detained activists have been later released. In other cases, their families have no idea of their whereabouts.
We haven't had any word about where he is, said Qiu Danrong, whose husband Liu Anjun was bundled into a van by men in plain clothes on the weekend. Liu runs a group that helps petitioners who come to Beijing to press complaints.
It's impossible to find out anything, so we just have to wait and wait for any news or until he's let out, said Qiu.
© Copyright Thomson Reuters 2023. All rights reserved.