Long-Range Hamas Rockets Are Evidence Of Ties To Syria, Iran, Israelis Say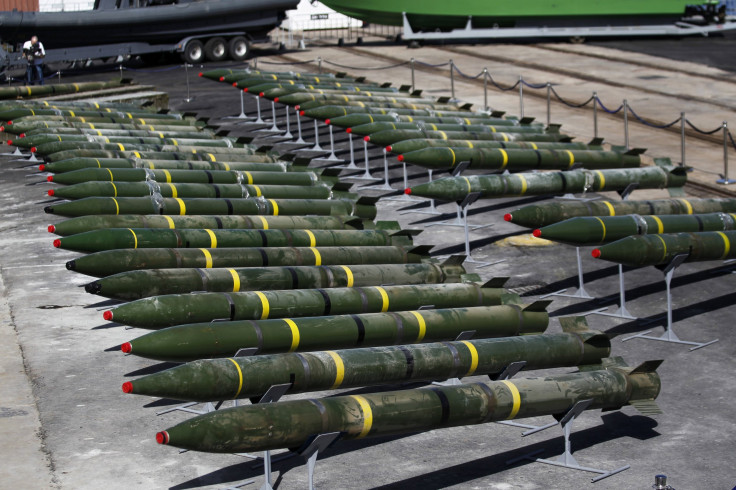 In an alarming development to the escalating crisis in Israel, Hamas is accused of receiving support from Syria and Iran to assemble the arsenal of rockets it has been firing across the border of the Gaza Strip this week.
Members of the Israeli Defense Force (IDF) have asserted to USA Today that Hamas is firing rockets into Israel at a rate of approximately one every 10 minutes, a figure based on the estimate that Hamas has fired more than 400 rockets at Israel in 72 hours. The claim comes as Israel continues to increase its air assault on Gaza, killing Palestinians while intercepting Hamas missiles with the Iron Dome at a reported success rate of 90 percent.
The Israelis say that the Iron Dome has become more important than ever since they've found evidence that Hamas, which has controlled the Gaza Strip since 2007, has an arsenal of 10,000 crude surface-to-surface missiles including "M-302 type rockets," which NBC reported are similar to a shipment of rockets the IDF intercepted at sea earlier this year.
M-302 were first developed by the Syrian military and are currently being used by Hezbollah, Hamas and Syrian President Bashar Assad's government forces, which are in the midst of a brutal three-year civil war. Hamas only acquired the weapons in 2014, but have already found that they're capable of reaching previously insurmountable distances, with blasts reported in the coastal town of Hadera 30 miles north of Tel Aviv and 70 miles from the Gaza Strip.
Whether the Islamist organization is able to make its own weapons has been a point of contention among military experts who have sought to understand exactly how much support Hamas has from other Middle East powers.
"Hamas is capable of manufacturing fairly basic rockets on its own," Patrick Megahan, research analyst at the U.S.-based Foundation for Defense of Democracies, told NBC. "After all, we're seen rebel groups in Syria manufacture some of their own crude rockets with little to no outside help. What Iran and Syria offer is munition of better quality produced in mass, which is harder to do in a garage or basement in Gaza where material is limited."
Hamas leaders have insisted that their weapons are made at home and not trafficked in from elsewhere. Not only is the M-302 manufactured by Syria, though, its designed is based on the Chinese Weishi-2 (WS-2) rockets.
"These were made under license from the Chinese," Tal Inbar of Israel's Fisher Institute for Air and Space Strategic Studies told NBC, adding that the Chinese may have simply sold the weapon's blueprint to Syria and are not suspected of working with Hamas. "If anything, China has closer ties to the Israeli military."
Four months ago, Israel announced that it had seized a ship on the Red Sea carrying dozens of long-range rockets believed to be supplied by Iran and intended for insurgent fighters on the Gaza Strip. The Panamanian-flagged cargo vessel Klos C was stopped in international waters and found to be carrying the weapons.
"The M-302 in its most advanced model can strike over 100 miles, and if they would have reached Gaza, ultimately that would have meant millions of Israeli under threat," Israeli military spokesman Lieutenant-Colonel Peter Lerner said at a press conference at the time.
A United Nations investigation into the suspected weapons trafficking determined that Iran aimed to send the missiles to Sudan, from where they would be smuggled into Egypt and the Gaza Strip. Based on "statements made by the captain to Israeli officials" and the "container stowage plan from Bandar Abbas," the U.N. panel declared that "the shipment of arms and related material found aboard the Klos C is a violation of Iran's obligations" under a section of a 2007 Security Council decision prohibiting arms transfers.
© Copyright IBTimes 2023. All rights reserved.