Lotte Group Vice Chairman Found Dead, Suicide Suspected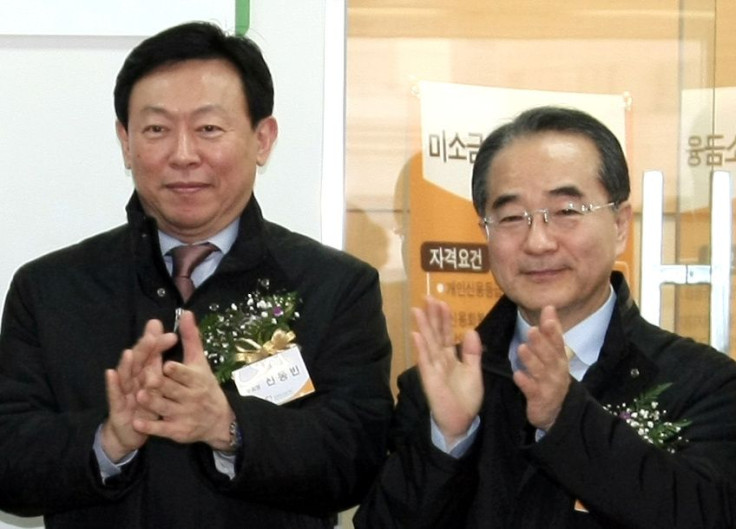 A senior executive at South Korea's Lotte Group was found dead on Friday, a suspected suicide, hours before he was to be questioned by prosecutors conducting a criminal probe into the family-run conglomerate, news reports said.
Lotte Group, in a text message to reporters, said it confirmed the death of Vice Chairman Lee In-won through police and other sources. It did not elaborate further or give the cause of death.
South Korea's Yonhap News Agency, citing unnamed sources, reported a body believed to be Lee's was found on a walking path outside Seoul on Friday morning. Police were trying to confirm the body was Lee's, Yonhap said, adding that a suicide note was found in the executive's car.
Prosecutors raided Lotte offices in June, looking into a possible slush fund as well as breach of trust involving transactions among the group's companies, sources said at the time.
Lee, who was 69, had been scheduled to appear before prosecutors on Friday morning for questioning, Yonhap said.
Park Ju-gun, head of corporate analysis firm CEO Score, said Lee's death is a blow to prosecutors given his high rank in the group.
"Lee's standing within Lotte was almost on par with that of the owner family members," he said.
Lee had been with the group since 1973 and was a top lieutenant of Chairman Shin Dong-bin, who last year saw off a bitter challenge from his older brother for control of the conglomerate founded by their 94-year-old father, Shin Kyuk-ho.
"He oversaw Lotte Group's overall housekeeping and core businesses and accurately understood the minds of Chairman-in-Chief Shin Kyuk-ho and Chairman Shin Dong-bin to be carried out well in subsidiary companies," Lotte Group said in a statement.
Lee was also engaged in finding new growth opportunities for Lotte, the group said.
"Vice Chairman Lee has always emphasized improving Lotte employees' sense of ethics as he believed ethical management directly translates to improving company value."
The investigation had already exacted a devastating toll on Lotte's business, which ranges from hotels to retail to chemicals. Its Hotel Lotte unit was forced in June to shelve an initial public offering to raise up to 5.7 trillion won ($5.12 billion), which would have made it the world's largest this year.
Also in June, its Lotte Chemical Corp unit withdrew from bidding for U.S.-based Axiall Corp, citing its difficulties in South Korea. Rival Westlake Chemical Corp ended up with a $2.33 billion deal for Axiall.
Fire department staff and police found a body believed to be Lee's, an official at the Yangpyeong fire department near Seoul told Reuters, declining to be named as he was not authorized to speak to media. Police officials could not be immediately reached for comment.
A South Korean prosecution official, who declined to be identified as he was not authorized to comment on the matter, expressed condolences for Lee's death and said prosecutors planned to reconsider the schedule for the ongoing investigation.
© Copyright Thomson Reuters 2023. All rights reserved.