Macy's Agrees To Pay $175,000 Civil Penalty For Immigrant Worker Treatment; Here Are The H1 Visa Workers Macy's Asked For In 2011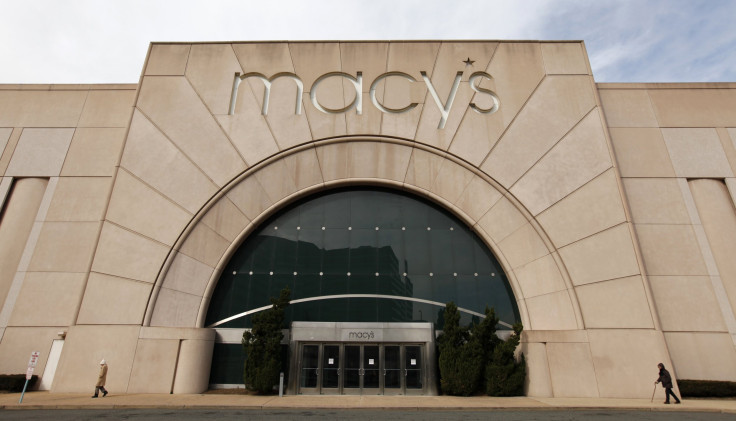 Without admitting any wrongdoing, Macy's agreed to pay a civil penalty of $175,000 and set up a $100,000 compensation fund to settle a Justice Department case involving the way it reverified its immigrant employees for continued employment.
"Based on the investigation, the department determined that Macy's engaged in unfair documentary practices against work-authorized immigrant employees during the employment eligibility reverification process and that some employees suffered economic harm through lost work or seniority as a result," the Justice Department said in announcing the settlement on Thursday.
The case underscores the problems, sometimes costly, that can emerge when companies utilize guest worker programs. Congress is currently debating a major immigration reform bill that would increase the number of these and other categories of guest workers allowed to work in the United States.
The Justice Department, which launched an investigation after receiving numerous complaints from these immigrant workers, claims the Cincinnati-based department store chain demanded documentation from these legal immigrant workers that they don't expect others employees to submit. The types of documents were not disclosed, but the government points out that these workers were already legally permitted to work in the U.S. and that the requirements of Macy's cost some of these employees lost wages. The company agreed to set up a $100,000 fund to dole out compensation to these workers.
Macy's employs about 180,000 workers in the U.S. It doesn't disclose how many of them are legal immigrant employees, but according to the Department of Labor's flcdatacenter.com site, which tracks applications for foreign workers, Macy's applied in 2012 to hire 47 workers under the H1 work visa -- the one for immigrant professionals.
Those workers were certified for legal U.S. employment in Macy's operations in New York City, Cincinnati, San Francisco and John's Creek, Ga. Most of the jobs were technical in nature, including CAD designers, Java programmers and ecommerce developers. The average annual salary for this batch of legal immigrant professionals was $86,206.
It's not clear if any of these workers were involved in the settlement – it could involve workers from previous years.
Here's the list of positions that Macy's wanted to fill with foreign legal professionals for the 2012 fiscal year. Two of them were withdrawn before they were certified. Certified positions still require the Department of Homeland Security to issue visas, but the government does not disclose information that would show how many of these positions were actually filled by legal foreign H1-visa certified workers. Companies typically do not share this information either. But here are the positions Macy's sought to fill for 2012, just one of thousands of companies that look for foreign professional temps every year: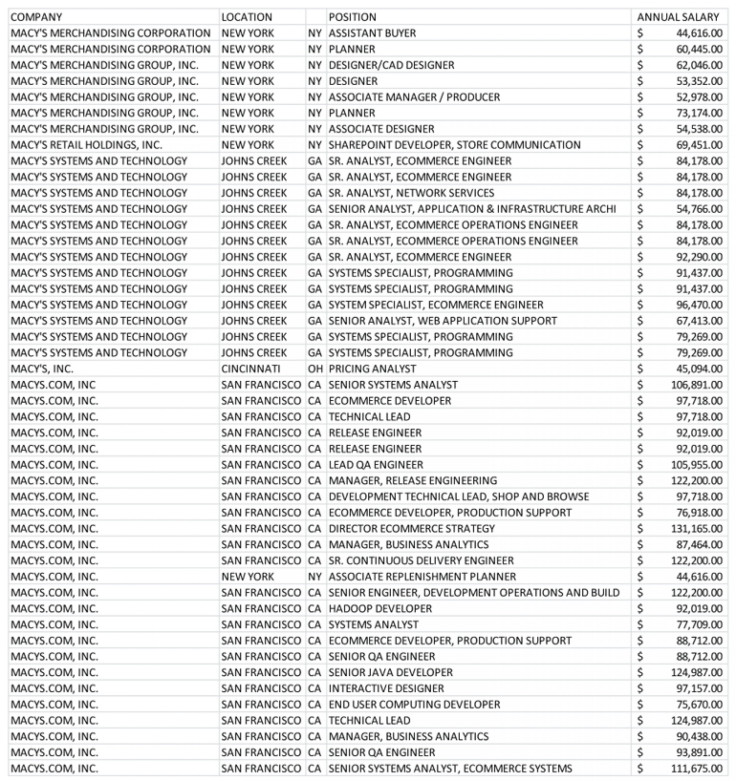 © Copyright IBTimes 2023. All rights reserved.