Magic Johnson To Buy Dodgers For $2 Billion: Timeline of Athlete's Tumultuous, Legendary Career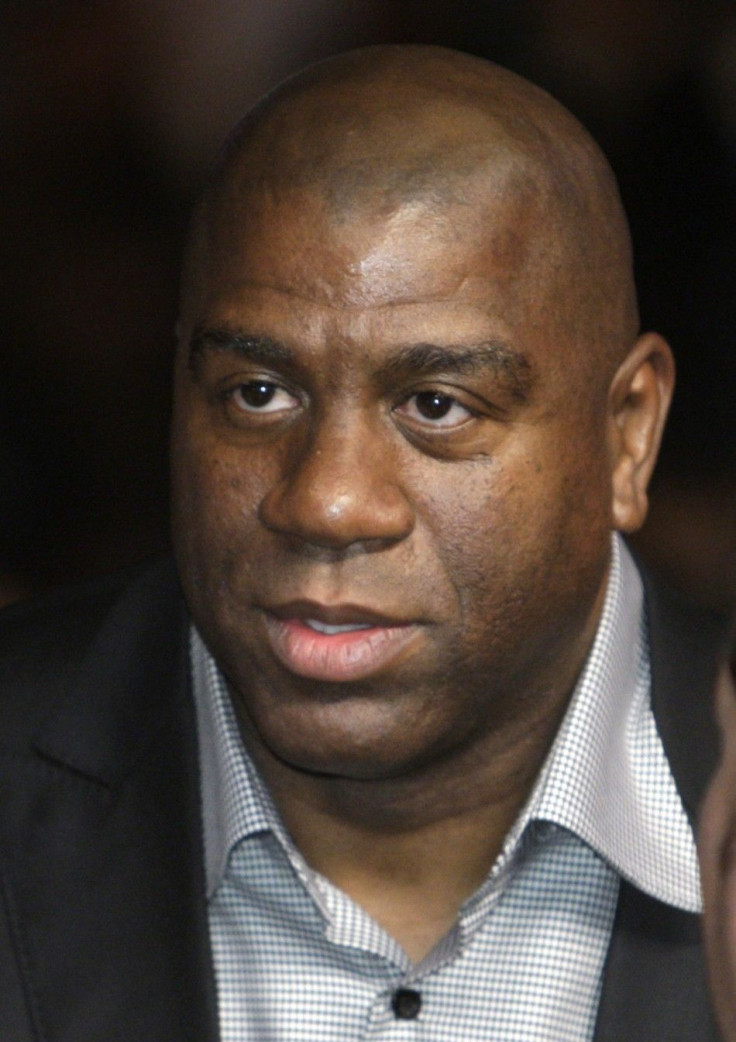 Magic Johnson, Guggenheim Partners and longtime baseball executive Stan Kasten agreed Tuesday night to buy the Los Angeles Dodgers from owner Frank McCourt for a record $2 billion, the largest amount any team has gone for in sports history.
The deal will culminate in the ultimate sale of the Dodgers in April, after its approval in federal bankruptcy court.
I am thrilled to be part of the historic Dodger franchise and intend to build on the fantastic foundation laid by Frank McCourt as we drive the Dodgers back to the front page of the sports section in our wonderful community of Los Angeles, Magic Johnson said in a statement.
The Dodgers could certainly use a comeback. After a messy divorce between McCourt and his ex-wife Jamie, the team is in bankruptcy protection. On the field, it has struggled to make an impact in recent years, failing to make the playoffs for the last two seasons. Attendance at Dodger Stadium continues to fall.
But if any man is going to bring the Los Angeles Dodgers to a glorious comeback season, it's Earvin Magic Johnson. The 52-year-old legend, responsible for bringing the triple-double into the lexicon of American basketball, has worn many hats (athlete, philanthropist, millionaire businessman) in his working life, and made more comebacks than almost any celebrity in American history.
As Johnson takes his first steps into the world of Major League Basketball, take a look back through our timeline of the sports star's varied, tumultuous, but ultimately legendary career as an American icon.
Part One: The Breakout Star
Aug. 14, 1959: Magic Johnson is born Earvin Johnson Jr. in Lansing, Mich.
1978: Johnson heads to Michigan State and joins its basketball team. He leads the university team to a 25-5 record and its first Big Ten title in 19 seasons.
March 26, 1979: Johnson secures Michigan State's NCAA championship title with a 75-64 victory over the previously unbeaten Indiana State and its star player, Larry Bird. The game remains the most-watched college basketball game of all time.
June 25, 1979: The basketball star is the No. 1 pick by the Los Angeles Lakers in the NBA draft.
Feb. 4, 1980: Johnson plays in the first of 12 All-Star Games, and becomes the first rookie starter in an All-Star Game since Elvin Hayes in 1969.
May 16, 1980: Johnson wins the NBA title and is the first rookie named MVP of the Finals. He becomes the third player in history, following Bill Russell and Henry Bibby, to win NCAA and NBA titles in consecutive seasons.
Nov. 19, 1980: The star player has his first set-back, with a sports injury that tears the cartilage in his left knee. Johnson misses 45 games.
June 26, 1981: Magic Johnson signs a 25-year, $25 million contract with the Lakers as its star point guard.
April 1982: Johnson joins Oscar Robertson and Wilt Chamberlain as one of only three players to get 700 points, rebounds and assists in the same season.
June 8, 1982: Johnson earns his second playoff MVP award and title.
1983: Johnson leads the NBA is assists for the first time, breaking Jerry West's club record. He is named to the All-NBA first team for the first of nine straight selections in his career.
Dec. 2, 1983: Johnson suffers his second injury, missing a month of games due to a dislocated right finger.
Apr. 1984: Johnson leads the NBA in assists (13.1) for the second straight year.
1984-1985: Magic Johnson and Larry Bird face off in a series of Converse ads and commercials. The two rivals become close friends, a relationship that continues into today.
May 15, 1984: Johnson sets a playoff record with 24 assists in a 118-102 victory over Phoenix in the Western Conference final.
June 1985: Magic Johnson wins third NBA title in six seasons.
Feb. 1986: Magic Johnson becomes the first player to receive more than a million votes in All-Star balloting.
Mar. 13, 1986: The star NBA player makes his 5,000th career assist.
Dec. 23, 1986: Magic Johnson scores 46 points for Los Angeles, a career high, in an overtime victory over Seattle.
Feb. 8, 1987: Johnson becomes the all-time All-Star assist leader.
May 18, 1987: The basketball player is named league MVP after averaging 23.9 points a game and leading the league with an average 12.2 assists.
June 14, 1987: Johnson is named Finals MVP for the third time.
1988: Johnson's third injury. He misses 19 games with a pulled groin.
June 21, 1988: Magic Johnson wins back-to-back NBA titles as Los Angeles becomes the first team to repeat since Boston in 1969.
April 1989: The player breaks his own club record for assists (988) and leads the NBA in free-throw shooting at 91.1 percent.
May 22, 1989: Magic Johnson leads the Lakers to their eighth consecutive division title. He also earns his second MVP award, beating out Michael Jordan for the honor in the closest voting since 1981.
June, 1989: Johnson injures his left hamstring in the third quarter of Game 2 of the NBA Finals. Detroit wins the game, and Johnson misses his first playoff game ever.
Feb. 11, 1990: Johnson scores 22 points in the West's 130-113 All-Star Game loss and is voted MVP of the game for the first time after nine appearances.
May 22, 1990: Johnson earns his third league MVP award, making him only the sixth player in NBA history to win the award three times.
Dec. 6, 1990: Johnson scores 21 points in an 83-73 victory at Minnesota. He becomes the 40th player in NBA history to reach a total of 16,000 points scored.
April 15, 1991: The player sets new record for career assists in a 112-106 victory over Dallas.
June 1991: Johnson leads the Lakers to the NBA Finals for the ninth time in his 12-year career.
Part Two: AIDS Reveal and Attempted Comebacks
Nov. 7, 1991: Magic Johnson holds a press conference to tell the world that he has been tested positive for AIDS. Before then, people were ostracized, in my estimation, for having the disease, Kenny Smith of the Houston Rockets recalls. Magic was the person, because his name reached far beyond sports, to make (HIV) acceptable, more a disease than a mark of shame.
November 1991: He retires from the NBA, ranked first in career assists (9,921) and second in career steals (1,698). Johnson later revealed that he contracted the disease through having multiple sex partners besides his wife Cookie during his playing career.
1991: Johnson creates the Magic Johnson Foundation to help combat HIV/AIDS, and is named to the National Commission on AIDS by President George H.W. Bush. To me, Magic is a hero, the president says. A hero to anyone who loves sports.
Feb. 9, 1992: Despite his retirement, Johnson is voted by fans as a starter for the NBA All-Star Game. He is crowned All-Star MVP, sealing the game for the West over the East with a last-minute three-pointer.
August 1992: Johnson is chosen to compete in the 1992 Summer Olympics as part of the U.S. basketball Dream Team. Despite playing infrequently due to recurrent knee problems, Johnson helps the U.S. beat Croatia for the gold medal.
September 1992: Magic Johnson retires from the National Commission on AIDS and announces his intention to return to the Lakers on a limited basis.
Nov. 2, 1992: Johnson retires again after some players, such as Utah's Karl Malone, generate controversy by refusing to compete against a player who tested HIV positive.
1994: Johnson takes over as head coach for the Lakers, only to see the team finish the season with a 5-11 record, including 10 straight losses to end the season (its own franchise record). Johnson announces that he won't return as coach. He does, however, purchase five percent interest in the Lakers.
1995: The first Magic Johnson Theatre opens in Los Angeles, Calif.
1996: Johnson is honored as one of the 50 Greatest Basketball Players in NBA History.
1996: Magic Johnson returns to the Lakers for real, 25 pounds heavier and playing as a power forward for 32 NBA games. He retires again in May, finishing his career with 10,141 assists and 17,707 points (a 19.5 average). I am going out on my terms, something I couldn't say when I aborted a comeback in 1992, Johnson says.
Part Three: From Athlete To Philanthropist To Businessman
June-August 1998: John son begins hosting a late night talk show on Fox called The Magic Hour. The show is canceled after two months because of low ratings.
October 1998: Johnson begins expanding Magic Johnson Enterprises with a record label called Magic's 32 Records, joining promotional companies Magic Johnson Theaters and Magic Johnson Productions and movie studio Magic Johnson Entertainment, as well as a talent agency.
1998-1999: The retired basketball player serves as a United Nations Messenger of Peace, and is the main speaker for the United Nations World AIDS Day Conference.
June 1999: Magic Johnson becomes a consultant for the Swedish team Magic M7.
1999: ESPN ranks him as one of the 50 Greatest Athletes of the 20th Century.
November 2001: Begins sixth season as vice president of Lakers.
2002: Johnson appears as a guest analyst with Turner Sports for the 2001-2002 NBA playoffs.
2001-2008: Johnson becomes a studio analyst for TNT before leaving for a similar role on ESPN, where he appears on GMC NBA Countdown: with Jon Barry, Michael Wilbon and Stuart Scott.
2002: Magic Johnson becomes a member of the Basketball Hall of Fame. He is also given the ROBIE Humanitarian Award from the Jackie Robinson Foundation.
2006: The former basketball player creates a contact food service with Sodexo USA called SoxedoMAGIC.
2006-2010: Johnson, a lifelong Democrat, becomes a vocal supporter of prominent politicians within the party. IN 2006, he publicly endorsed Phil Angelides for governor of California. In 2007, he supported Hillary Clinton for president, and in 2010 endorsed Barbara Boxer for her re-election as U.S. Senator (D-Calif.).
2006: Johnson begins advertising for GlaxoSmithKline, the company that makes his daily combination of drugs to combat the spread of AIDS in his body, and partners with Abbott Laboratories to publicize the fight against AIDS in African American communities.
2007: Magic Johnson is rated the greatest NBA point guard of all time by ESPN. With the assertion that it could be argued that he's the one player in NBA history who was better than Michael Jordan.
September 2007: Journalist Larry Schwartz credits the long-time rivalry between Magic Johnson and Showtime versus Larry Bird and Celtic Pride with helping to save the faltering NBA back in the 1980s.
October 2010: Magic Johnson sells his ownerships stake in the Los Angeles Lakers after holding the title of team vice president for years.
2012: Magic Johnson Enterprises is valued at $700 million. Johnson acknowledges how his Foundation has expanded from AIDS awareness to to developing programs that focus on educational, health and social needs in urban communities. I've been trying to improve the lives of people who live in urban America, put them to work, Johnson says. We're in 122 cities. So our footprint is big.
January 2012: Johnson joins with Guggenheim Partners and Stan Kasten in a bid for ownership of the Los Angeles Dodgers baseball team.
March 2012: The Magic Johnson group prepares to buy the Dodgers for $2 billion, the most any sports team has gone for in U.S. history.
This timeline was compiled with information from sources including ESPN, NBA.com, USA Today and TNT.
FOR FREE to continue reading
✔️ Unlock the full content of International Business Times UK for free
offer available for a limited time only
✔️ Easily manage your Newsletters subscriptions and save your favourite articles
✔️ No payment method required
Already have an account?
Log in
© Copyright IBTimes 2023. All rights reserved.