Malala Yousafzai, Likely Nobel Peace Prize Winner, Wants Pakistan To Talk Peace With Taliban Militants Who Shot Her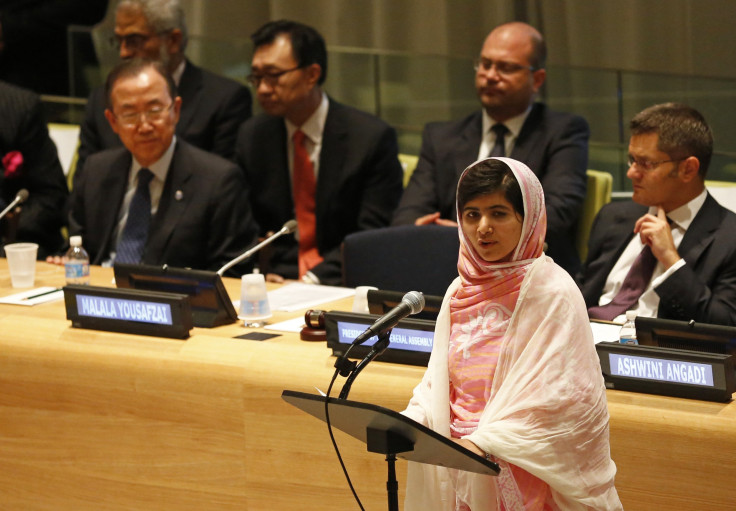 Malala Yousafzai, the teenage Pakistani girl who was shot by a Taliban gunman last year and became a global icon for women's education rights, has nonetheless urged the Pakistani government to enter into peace negotiations with the militant group which has killed thousands of her countrymen over the past dozen years.
Malala, 16, who is now living in Birmingham, England, after undergoing extensive surgery to heal and repair her gunshot wounds, is also likely to become the youngest winner of the Nobel Peace Prize later this week. "If I win [the] Nobel Peace Prize, it would be a great opportunity for me, but if I don't get it, it's not important because my goal is not to get Nobel Peace Prize, my goal is to get peace and my goal is to see education of every child," she told BBC.
She also advocated for Islamabad to talk with the Taliban – something that Prime Minister Nawaz Sharif and prominent opposition politicians like Imran Khan have also endorsed. "The best way to solve problems and to fight against war is through dialogue, and … through [a] peaceful way," she said. "But for me the best way to fight against terrorism and extremism is a simple thing – educate the next generation."
Referring to attempts by the Afghanistan and U.S. governments to enter into a three-way dialogue with the Taliban earlier this summer, which were later scuttled, she commented: "That's not an issue for me, that's the job of the [Pakistani] government ... and that's also the job of America."
Malala insisted the Taliban should be a crucial part of any peace deals. "They [Taliban] must do what they want through dialogue," she said. "Killing people, torturing people and flogging people … it's totally against Islam. They are misusing the name of Islam."
She also said she wants to return to her native country and likely enter politics herself. "I will be a politician in my future. I want to change the future of my country and I want to make education compulsory [for all]," she said. "I hope that a day will come [when] the people of Pakistan will be free, they will have their rights, there will be peace and every girl and every boy will be going to school."
The young Pashtun girl also shrugged off renewed threats on her life by the Taliban, asserting that the essential factor is that Pakistan needs massive improvements to make it a viable society. "The bad thing in our society and in our country [Pakistan] is that you always wait for someone else to come [to help]," she said. "If I'm saying that there is no one who is doing anything for education, if I say there is no electricity, there is no natural gas, the schools are being blasted, and I'm saying no one is doing this, why don't I go for it, why don't I do this? I believe that I will achieve this goal because Allah is with me, God is with me and he saved my life."
ABC News in the U.S. reported that a Taliban spokesman reiterated that they targeted Malala for "insulting Islam" not because she advocated for girls' education. "If we found her again then we would definitely try to kill her and will feel proud on her death," Shahidullah Shahid said. "We didn't target her for spreading education in her area, we targeted her for making jokes of Islam, and that was enough reason for attacking her."
Malala said that Great Britain has opened her eyes and provided a kind of culture shock, "especially for my mother because we had never seen that women would be that much free -- they would go to any market, they would be going alone with no men, no brothers and fathers." Still, she added that living in the U.K. would not change her. "I'm not becoming Western, I'm still following my own culture, the Pashtun culture," she declared.
Some observers worry that if Malala does indeed win the Nobel Prize, she will become an even bigger target for Islamic militants. Rob Crilly, the Pakistan correspondent for The Daily Telegraph, boldly stated he hopes she does not win the award.
"This week the world will go Malala-mad, marking the anniversary of her shooting, buying her memoir and watching her possible elevation to the status of Nobel Peace Prize laureate," he wrote. "Unpopular though this sentiment might be, I think it is time to say enough is enough."
Malala, Crilly noted, deserves to enjoy the rest of her teenage years completing the education that means so much to her. "This is a crucial time for her schooling and her development as a young woman," he noted. "Keep the politicians and bandwagon-jumpers away from her."
© Copyright IBTimes 2023. All rights reserved.