Malaysia Airlines MH370: Malaysian Authorities Say Last Words From Missing Plane Were Not What Was Previously Disclosed; Search Moves 700 Miles Northeast From Previous Location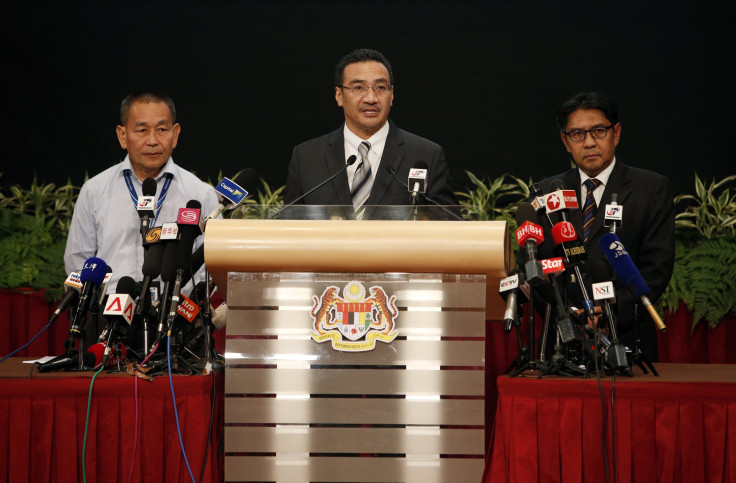 Malaysia's civil aviation authorities said late on Monday that the last words spoken by one of the pilots of the missing Malaysia Airlines Flight MH370 to the control tower were "Good Night Malaysian three seven zero," changing their previous account of the last communication as "All right, good night."
The latest version of the communication from the missing plane's cockpit was revealed after Hishammuddin Hussein, Malaysia's acting transport minister, was questioned at a news conference over the final communication between the pilots and air traffic controllers. The country's transport ministry said that they could only determine if the words were from the pilot or the co-pilot after a forensic investigation. Previously, Malaysian officials had identified co-pilot Fariq Abdul Hamid as the one who made the final transmission.
"We would like to confirm that the last conversation in the transcript between the air traffic controller and the cockpit is at 0119 (Malaysian Time) and is "Good night Malaysian three seven zero," the Transport Ministry said in a statement.
The statement also said that the investigating team has been instructed to share the full transcript of the conversation at the next briefing with "the Next of Kin."
While floating objects have been spotted in the southern Indian Ocean by search teams over the past few days, none has been identified as coming from the missing Boeing 777. A device known as a "towed pinger locator," or TPL, is reportedly being deployed by the search teams to listen for ultrasonic signals from the missing plane's black box. The signals from the flight recorders last about 30 days after a crash due to their limited battery life.
The Beijing-bound Malaysian Airlines flight MH370, carrying 239 people on board, mysteriously vanished on March 8 after taking off from Kuala Lumpur.
The Malaysian government has come under significant criticism from various quarters, not least from the Chinese government and the families of missing Chinese nationals travelling on the jet, for their handling of the investigation, and its role in sharing crucial information about its investigation into the plane's disappearance.
On Monday, the Wall Street Journal, citing people familiar with the matter, reported that the search area for the plane has been moved 700 miles northeast, and closer to the Australian coast, after combining data from two different investigations.
A lack of coordination among those involved in the massive investigation, which involves dozens of countries and agencies, had led to three days of futile search in an area hundreds of miles from where the plane is now believed to have likely gone down, the Journal reported.
Australian Prime Minister Tony Abbott reportedly said Monday that the rescue crews had put no time limit on the hunt for the missing jet.
© Copyright IBTimes 2023. All rights reserved.
FOLLOW MORE IBT NEWS ON THE BELOW CHANNELS