Manny Pacquiao Birthday 2020: 10 Quotes By The Filipino Boxer
Filipino boxer Manny Pacquiao, popularly known as "Pacman," turns 42 on Thursday. Pacquiao was born on Dec. 17, 1978, in Mindanao in the Philippines.
The boxing legend had a 15-bout winning streak that came to an abrupt end in June 2012.
In 2013, he was voted Person of the Year in the Philippines. He is currently serving as a senator in the country, a post to which he was elected in June 2016.
Here are a some quotes by Pacquiao, taken from the Brainy Quote, to celebrate his birthday.
1. "I remember as a little boy I ate one meal a day and sometimes slept in the street. I will never forget that and it inspires me to fight hard, stay strong and remember all the people of my country, trying to achieve better for themselves."
2. "Being a Christian means accepting Christ as your savior, your God. That's why you are called a 'Christian.' If you remove Christ, there's only 'ian' and that means 'I am nothing.'"
3. "In boxing you never know who you're going to face in ring."
4. "I've always fought for my country, in my own way, showing that Filipinos are a strong people and can do anything that they put their minds to."
5. "God's words first... obey God's law first before considering the laws of man."
6. "Human anger does not produce the righteousness that God desires."
7. "Well you know it's dangerous in politics, because especially in the Philippines there's a lot of killing in politics."
8. "I'm not against gay people. I have a relative who is also gay. We can't help it if they were born that way."
9. "Sometimes I don't feel good, but when you get in the ring, you can't say 'oh, I feel bad, can we stop?'"
10. "All those who are around me are the bridge to my success, so they are all important."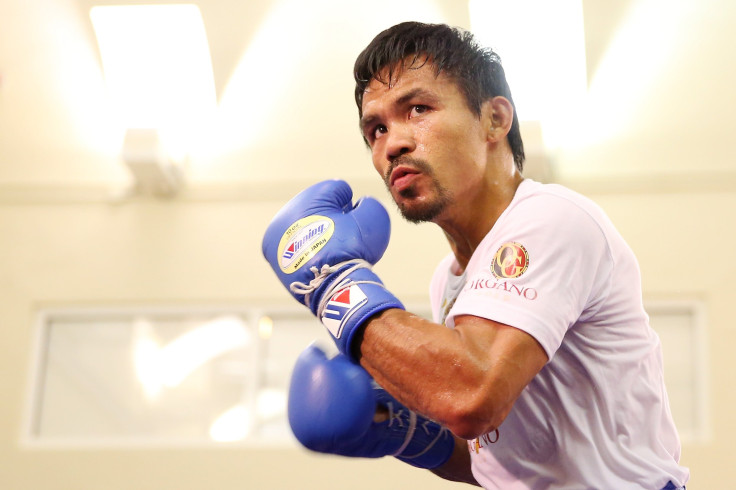 © Copyright IBTimes 2023. All rights reserved.