Marco Rubio Water Bottle Meme: 2016 Presidential Candidate Most Famous For Awkward Sipping Moment From 2013 National Speech [VIDEO]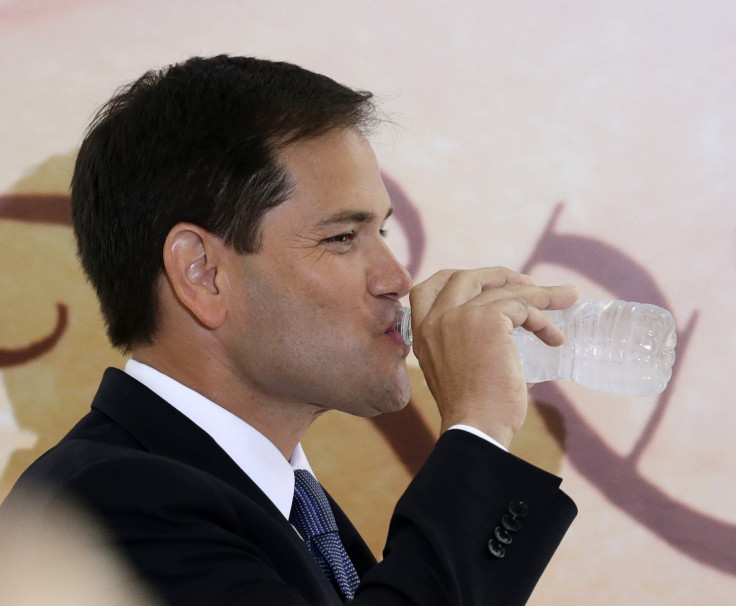 U.S. Sen. Marco Rubio, R-Fla., can't seem to shake off that awkward moment when he reached for a bottle of water to alleviate his dry mouth during his response to President Barack Obama's State of the Union address in February 2013. But Rubio has been in on the joke since then, recently telling Fox News host Sean Hannity "there's nothing wrong with drinking" before reaching for a bottle of Poland Spring at a conservative political event in late February. Rubio is expected to announce he is running for president on Monday.
Video of Rubio drinking water quickly went viral after the 2013 speech, overshadowing the Florida Republican's criticism of Obama's policies. On YouTube, an ABC News clip of the uncomfortable footage of Rubio rubbing his lips with his hand and his voice crackling has nearly a half-million views. Meanwhile, NBC's "Saturday Night Live" poked fun at the senator over the incident, which had been dubbed "Watergate."
CNN raised eyebrows when anchor Wolf Blitzer moderated a segment on whether the water incident could "break" Rubio's career, as a graphic label "Career-ender?" displayed on the screen, reported NewsBusters, which has a video of the segment's teaser here. "Can a drink of water make or break a political career?" Blitzer said in the tease. "A U.S. senator, possible presidential candidate. We're going to find out, whether he likes it or not."
One panelist, Cornell Belcher, didn't directly answer the question but said the incident would be damaging to Rubio. "He goes in stylistically, he's sweating like Nixon. He goes for the water in a really awkward way, which will, quite frankly, be what's most remembered from this," Belcher said, as Fox News reported. "Style matters. And he fumbled."
Watch Rubio awkwardly sipping water below:
© Copyright IBTimes 2023. All rights reserved.