'Mario Kart 8' Release Date In May: Watch New Game Play And Info Trailer Here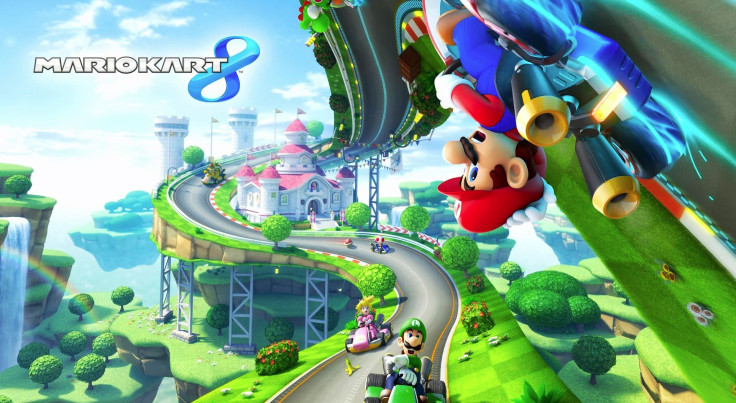 Nintendo's "Mario Kart 8" is set to hit shelves for the Wii U on May 30, and Nintendo is already marking the game's release date with a 36 minute-long "Mario Kart 8" Direct video -- complete with details about the upcoming title and a history of the "Mario Kart" franchise.
Nintendo also said it would release a "deluxe" $330 bundle similar to the Mario and Luigi-themed bundles that were announced last week for the U.K. market. The package includes the game, a 32GB black Wii U, a red Wii U wheel and a Mario Wii Remote Plus.
"Everyone loves Mario Kart," said Scott Moffitt, Nintendo of America's executive vice president of sales and marketing, in a statement. "It's a franchise that brings people together for fun at a family gathering, a frenzied race against friends or just an afternoon break at the office. The numerous new features of Mario Kart 8 make this the most ambitious version yet, and one that will have players of all skill levels racing for the checkered flag."
Nintendo said that players who buy "Mario Kart 8" and register the game with Club Nintendo before July 31 will receive a free Nintendo eShop download code for any of the following Wii games: "New Super Mario Bros. U," "Pikrim 3," "Monster Hunter 3 Ultimate," "The Legend of Zelda: The Wind Waker HD" or "Wii Party U."
The Japanese company announced that up to 12 players can race together online in four separate multiplayer modes.
"'Mario Kart 8' lets players chat with one another in the lobby area using the Wii U GamePad microphone or text phrases as they wait for their friends to join. Players also can create public or private tournaments for which they specify the day of the week, the time and the rules," the company said. "Per tradition, players will be able to race against ghost data from friends or even the top 10 worldwide racers. They can try to beat them or just pick up a few tips and tricks from studying the best. If you beat the development team's ghosts, you'll get cool stamps for use in Miiverse posts."
To many players' disappointment, the game won't have a track editor.
"This is the eighth game in the series, and when we work on a Mario Kart title, we work on courses and we create them and then we work on them again, and again, and again, and we revise until we come up with something that we think is going to be fun for everyone to play over and over again. So we have a lot of confidence in our ability to do so, but we understand what a tough challenge it is to create those courses," explained Producer Hideki Konno during a roundtable discussion at the Game Developers Conference in San Francisco from March 17-21.
"I just don't know that at this point we're able to do that at a level that would satisfy anyone, myself included, or the customer. Someday, if we can come up with a solution and implement in a way that makes everyone happy, or we think will make everyone happy, we'll come back to that issue and maybe re-address it. We're always optimistic and thinking about what we're going to do in the future."
Still, the game looks pretty amazing. Like "Mario Kart Wii," players will be able to choose between bikes and karts. There's also an interesting lineup of characters, zero-gravity racing and two Rainbow Roads.
© Copyright IBTimes 2023. All rights reserved.
FOLLOW MORE IBT NEWS ON THE BELOW CHANNELS