'Marvel vs. Capcom: Infinite' Full Roster Revealed In New Leak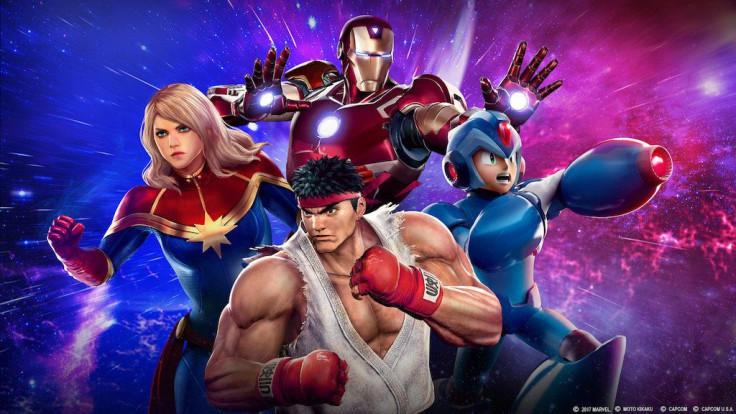 The full roster of "Marvel vs. Capcom: Infinite" has allegedly been leaked ahead of its first full appearance this June during E3 2017. The roster of the game sees the return of franchise favorites and new heroes and villains, but some prominent characters appear to be missing.
The full roster of "Marvel vs. Capcom: Infinite" was shared on the NeoGAF forums by a user named Ryce. He didn't say how he acquired the information simply stating that he had "permission" to share it.
Capcom
Arthur
Chris
Chun-Li
Dante
Firebrand
Jedah
Monster Hunter
Morrigan
Nemesis
Ryu
Spencer
Strider Hiryu
?
Marvel
Ant-Man
Captain America
Captain Marvel
Doctor Strange
Gamora
Hawkeye
Hulk
Iron Man
Nova
Rocket/Groot
Spider-Man
Thanos
Thor
Ultron
Ryce says that the Capcom side of the roster is missing one character, but his best guess is that it might be Frank West from the "Dead Rising" series. He also says that the base roster will have a total of 28 playable characters, and the first DLC will add another six.
Sigma has already been confirmed as one of the first DLC characters, while Spider-Man villain Venom has been leaked as another additional DLC character. However, the leaker doesn't exactly know when Venom will be released.
Another thing that's been pointed out by the leaker is the character of Rocket. Ryce says that the character was specifically named to him as "Rocket/Groot," and it's unclear what that would actually mean.
It's possible that Rocket Raccoon will simply have Groot on the side as an assisting character. However, it's also being speculated that Rocket/Groot might just be a combination of the two characters, a redesign from Rocket's appearance in "Ultimate Marvel vs. Capcom 3."
Overall, this current roster for "Marvel vs. Capcom: Infinite" seems like a complete change in the franchise's Marvel side. Disney, which currently owns Marvel, appears to be really pushing its "Avengers" characters with the inclusion of numerous newcomers like Ant-Man, Gamora and Captain Marvel.
The new Marvel roster seems to be receiving some negative feedback from fans as "Marvel vs. Capcom: Inifinite" doesn't appear to have any characters from "X-Men." There's no Wolverine, Magneto, Cyclops or Storm in sight.
The X-Men film franchise is currently owned by Fox. Disney seems to be blocking the X-Men characters from the game to further put its "Avengers" characters front and center. This would be Disney's way of further promoting its massively successful film franchise, which Fox is trying to compete with using the X-Men franchise.
Although the X-Men might not be part of the base roster of "Marvel vs. Capcom: Infinite," Ryce says that those characters might simply end up being DLC characters. There's no word yet on when the other seasons of DLC characters will be released.
As for the Capcom side, there are no huge surprises here. The only new character is Jedah Dohma, a villain from Capcom's "Darkstalkers," the same fighting game where Morrigan came from.
It's been confirmed that "Marvel vs. Capcom: Inifinite" will be shown heavily at this year's E3 conference in Los Angeles, which kicks off on June 13. Attendees will have a chance to to try out the upcoming fighting game at the event.
"Marvel vs. Capcom: Infinite" will also be available to play in public during the CEO 2017 in Orlando, Florida from June 16-18, according to WWG. The game is might also make an appearance during the EVO 2017 championship tournament in Las Vegas from July 14-16.
"Marvel vs. Capcom: Infinite's" release date is Sept. 19 for the PlayStation 4, Xbox One and the PC.
© Copyright IBTimes 2023. All rights reserved.
FOLLOW MORE IBT NEWS ON THE BELOW CHANNELS