Meet Ryan Leslie's 'SuperPhone': How This Hip-Hop Artist Turned Tech Entrepreneur Can Text Every Fan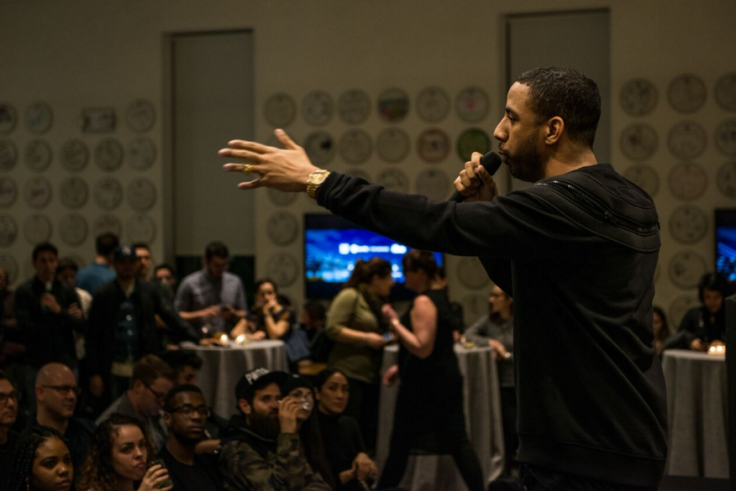 When Ryan Leslie performed at Soho House during Social Media Week festivities in New York last week, his voice was smooth but occasionally dropped lower to rap. Music producer for the likes of Kanye West and 50 Cent, he sang his own songs like "Addiction" and "Diamond Girl." Then he did something unusual for a celebrity: He gave out his number and urged his fans to "just text me."
The onetime Grammy nominee and now tech entrepreneur wasn't kidding; earlier, at a performance at Spotify's New York headquarters, he repeated his number three times to make sure everyone got it down. Text Ryan Leslie and in all likelihood he'll text you back. Indeed, he says he's able to follow thousands of simultaneous conversations with fans. How? With technology he calls a "SuperPhone."
Leslie is trying to solve a problem faced by nearly every internet user: keeping track of contacts and managing social media apps. While he may make make phone calls, send texts and view Instagram like many other smartphone owners, the way he does it is completely different. All those functions — and more — are nestled within one network that Leslie accesses on the mobile web.
How is Leslie's phone not always ringing or crashing? SuperPhone only lets contacts marked as priority call his phone; the rest are sent to voicemail. It's a mix of automation and intelligence that lets him navigate the 45,000 — and counting — text conversations.
So far, SuperPhone is available to 2,500 beta testers. The pricing starts at $20 per month, and he's pitching the product to anyone once he releases it to the public. Currently, it's available on the mobile web, iOS and Android. No matter how many fans SuperPhone owners have, they're able to text and sort through all contacts by location, profession and social following.
Leslie calls himself the world's most connected man — through SuperPhone — but he admits that some people are even more connected than him. Take, for example, Ben Horowitz of venture capital firm Andreessen Horowitz. He's personally invested in a seed-funding round for Leslie's business.
One of Horowitz's colleagues had passed along Leslie's pitch, and the venture capitalist agreed to a meeting. Not only was Horowitz quite familiar with music pitches, he knew who Leslie was and is a fan of "Swiss Francs," one of Leslie's songs. "The one that goes, 'The dollar isn't what it used to be,'" Horowitz told International Business Times.
What stood out to Horowitz was the unique nature of Leslie's pitch. "I have viewed so many music pitches. In the tech world they usually come in the form of: the record labels have been stealing all the artist's money and now all the money is going to come to us," Horowitz said.
"What Leslie did was quite different. He was one of those guys who had a fan base, like a real fan base, but couldn't sell enough records to really earn a living on a label. So he set out to develop the technology so he himself could earn a living," he said.
Leslie's backstory sounds more like that of an entrepreneur than artist. He famously entered Harvard University at 15 and graduated at 19. A few years later he landed a record deal with the help of Sean Combs, formerly known as Diddy. Eight years ago, he made the Billboard 100. In 2011, his album was nominated for a Grammy. At 37, Leslie is still performing worldwide and producing music.
In 2014, Leslie started seriously working on what would later become his SuperPhone. But the origin story dates back much further. In the mid-2000s, Leslie helped artist Cassie rise to fame by powering her MySpace page. She became famous for selling as many albums as followers she had on one of the earliest social media sites: 650,000.
Leslie had sold 180,000 copies of his self-titled album from 2008. But his next album fell to 60,000 in sales. Not only could Leslie not identify why he his numbers had fallen so drastically, he was frustrated that the label couldn't identify who bought the albums.
That's when the wheels started turning. For his next independently produced album, Leslie chose to put up a pre-order before he had a finished copy. In that way he could see how many people were interested and who they were. "I thought it would be really cool to be the first artist to thank everyone on text who bought an album," Leslie said. "That's what this all was originally."
The next step was to get their numbers and communicate with these supporters. Originally, he used Google Voice and Facebook's WhatsApp to manage conversations, but both had flaws. Google's product didn't work everywhere, and WhatsApp often crashed once he passed 20,000 conversations.
He wanted something that could handle capacity and allow him to organize contacts. Leslie scanned the market again, but nothing matched his needs. So, Leslie began building his own system. He was decently familiar with coding as someone who always created his own websites, and he also took a few online classes through Code Academy.
Many months of studying and many, many hours of coding later, Leslie had produced what he called a "crude web app" that allowed him to forward all his calls and messages to one place.
Leslie began giving out his number at performances, and he displayed it in his Facebook, Twitter and Instagram profiles, which sparked the attention of Brandon Brisbon. A former engineer for the National Security Agency who later worked at social network Ello, Brisbon texted Leslie to ask about the project. Soon, Brisbon was on-board and "obliterated any coding," that had been done, Leslie said.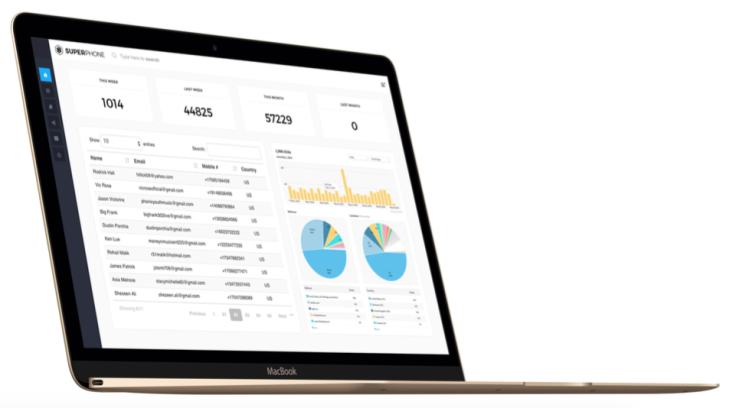 The two were joined by Nathan McCartney. He was a "superfan." Whenever Leslie released an album, McCartney would buy 50 of them on Amazon. In January 2009, McCartney had sent Leslie a Facebook message saying he really enjoyed his music and was there to help him if he needed it. Back then, McCartney had recently started working in the music division at Verizon.
McCartney and Leslie bonded about the disconnect they both saw in fans supporting artists and artists supporting fans.
McCartney asked how he could help Leslie's career. Beyond buying albums, in 2015, he chose to take a risk by leaving his corporate job — after seven years — and choosing to help build Leslie's startup.
McCartney and Leslie are now the cofounders of Disruptive MultiMedia, where SuperPhone is their main product.
McCartney helped Leslie carve out the business model and the sales pitch for his company, which, originally, had been something Leslie had simply built for himself. "Think of it like an airline," McCartney said on the phone. "They understand how frequently you fly and whether you should be upgraded. Why can't we offer that level of customer service to fans? We need to know how much they're underwriting you."
The system assists Leslie in understanding who his fans are. Searching for the name "Flynn" brings up five entries. He can then look at every contact's location, Twitter and Instagram if they choose to include it when submitting their information. An integration with Shopify lets him see how much money they have spent on his website, and he can organize his list by spend.
Sitting in the back of his Escalade on the streets of New York, Leslie brings up the contact profile of one of his "superfans." At the top of his spend list is the profile of a man from Oslo. According to his spending profile, he recently bought two pairs of his shoes: one red, one black. Leslie opens up the fan's Instagram, where he sees photos of them together at Leslie's New Year's Eve party in Vienna.
Through his SuperPhone, Leslie can choose to give the fan a call or send him a text. He does it frequently, he says — never forgetting a birthday. When first introducing SuperPhone, Leslie shared that it reminds him to call his mother every day at 7:30 p.m. "It's about the gentle nudge, the gentle reminder," Leslie said. "You need the nudge because these people are so close that time can slip by."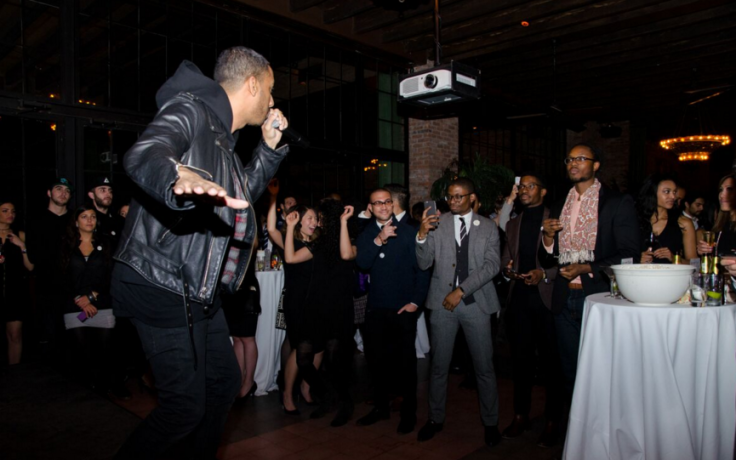 Leslie's music career is pushing forward in part thanks to SuperPhone. Instead of creating his own albums, he's chosen to release a song about once a month until he loses interest in music. He then distributes that over text. Without a record label, Leslie pulled in over $2 million over the course of one album cycle through the support of 15,000 fans. Instead of $0.99 on iTunes or free streaming on Spotify, Leslie's fans can choose how much they want to pay.
For at least four to five hours a day, Leslie said he's purely focused on his product. It may account for much more. Since college, Leslie has trained himself to only sleep three hours each night, which leaves plenty of time for building and recording.
The initial stages of SuperPhone were funded out of Leslie's pocket, but he has since taken venture-capital funding. While based in New York, Leslie has been pitching to traditional Silicon Valley. "In an early stage venture, it's always about how much runway. The more runway you can get out of the gate, the more you can focus on building the team necessary to get the product," Leslie said.
Horowitz calls Leslie's SuperPhone a "FanPhone" because of its ability to connect him and any other artist with fans. Yet, Horowitz cautioned that Leslie still needs to prove that other artists need it, and it's not just his own life hack.
But Leslie envisions much grander plans for SuperPhone. Mylez McBange, who has worked for Leslie over the last year, is also a SuperPhone user. "I hate getting someone's business card. I get a very ugly feeling when someone hands me one," he said.
Even though his Instagram followers don't trump Leslie's, with Superphone, McBange can say the same catchphrase: "Just text me."
Even Leslie cannot feel personally tied to each contact in his SuperPhone. He pointed to Dunbar's number, a theory that a person can only effectively manage 150 personal relationships. Leslie may say he's the "most connected man," but he admits he can't remember everyone. What SuperPhone does is help him identify the influences in his life. "If you want to live a better life, your life is going to better based on who you're talking to every day," Leslie said. "You can change your life by looking at your most contacted."
If one week you're talking a lot to your personal trainer and the next week you're not, there may be something wrong.
When it comes to building his business, Leslie is meeting with executives and marketers at companies looking for new social-engagement opportunities. Recently, he sat down with a cosmetics company and a sports drink company about doing campaigns through SuperPhone.
Both retailers and entertainers face the same frustration in low engagement on social media. "I have all the fans, but why do I get such low views? What happened to the other people? Did they not like it? You don't know."
As an investor, Horowitz said he envisioned SuperPhone as a long-term venture within the field of disrupting the music industry. "It's not a quick hit like a Kimoji," he said.
An hour after shouting his number during his performance at Spotify, Leslie looked down at his phone in the elevator ride up to his recording studio. "Is this really your number?" a text message read.
Does that happen every time he gives out his number on stage or individually?
Leaning in and displaying a wide grin, Leslie said, "Yes, all the time."
© Copyright IBTimes 2023. All rights reserved.
FOLLOW MORE IBT NEWS ON THE BELOW CHANNELS